BREAST CANCER AWARENESS~ WHEN CONVENTIONAL AND ALTERNATIVE THERAPIES MEET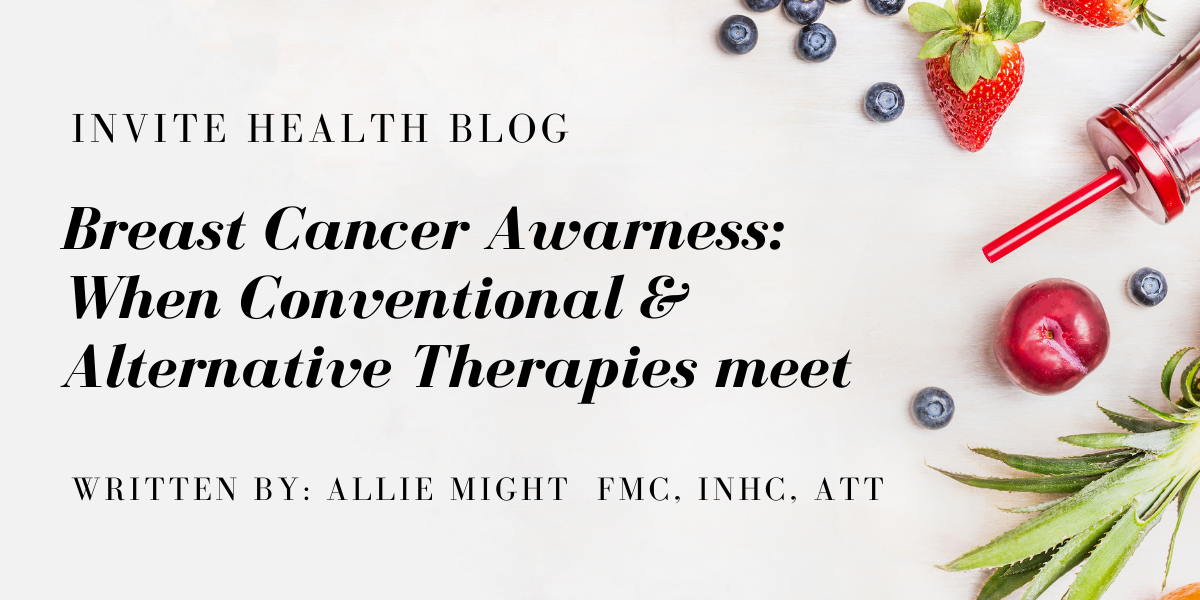 Written by: Allie Might, FMC, INHC, ATT

When one receives a diagnosis of breast cancer, treatments options are always discussed. An oncologist will go over one or more types of treatment based of one's test results and diagnosis. Let's go over some of the common options that may be recommended when diagnosed with breast cancer.†
An article titled "Breast Cancer Treatment (adult)-Patient Version" from the National Cancer Institute goes over many aspects of this topic in depth. Here is a condensed outline I've put together for easy guide of some of the most common treatments that may come up in conversations with loved ones as well as when discussing treatment(s) with a doctor.†
CONVENTIONAL THERAPIES
SURGERY:
Breast conserving surgery is when a tumor or tissue is removed but the breast is not removed. This is often referred to as a lumpectomy.†
A total mastectomy is the complete removal of the breast as well as some of the lymph nodes. This is sometimes called a simple mastectomy.†
A modified radical mastectomy is the removal of the entire breast as well as most of the lymph nodes. This type of mastectomy often includes the removal of the nipple, areola and skin. When one thinks about a mastectomy, this is commonly what is thought of as the procedure.†
After a mastectomy, there is usually the option for reconstructive surgery. This is done by using non-breast tissue or implants. This is a conversation to have with your doctor and definitely a personal choice. While some women love their mastectomy scars, see them a "badge of honor" and a symbol of their personal strength, other women find the option of reconstructive surgery as a way to take back their personal power.†
Check out https://www.fda.gov/medical-devices/implants-and-prosthetics/breast-implants for more information from the Food and Drug Administration.†
RADIATION THERAPY:
Radiation therapy can be given internally or externally, depending on the type of cancer, however, external radiation is more commonly used for breast cancer than internal radiation therapy. This is used to aid in killing or halting the growth of cancer cells.†
CHEMOTHERAPY:
Unfortunately, we have probably all heard of this type of treatment. Chemotherapy is designed to kill or stop the cancer cells from multiplying. It is often administered by injection or IV drip, but can sometimes be taken orally. There are a wide variety of chemotherapy medications that an oncologist may recommend. For more information on these, check out https://www.cancer.gov/about-cancer/treatment/drugs/breast .†
HORMONE THERAPY:
If one's breast cancer is hormone receptor positive (HR-positive), then a doctor may recommend hormone therapy as part of the treatment. This type of therapy helps to inhibit hormones form attaching to receptors on cancer cells which would cause the cancer cells to grow. Factors such as whether a woman is pre- or post- menopausal would help the doctor determine which hormones and enzymes would need to be blocked. This article also tells us that while this type of treatment can me quite long, is can also be quite effective. For more information on some of the options a doctor may discuss as part of hormone therapy, please refer to the link in the chemotherapy section above.†
TARGETED THERAPY:
Targeted therapy is just that…..a form of therapy that targets certain cells. It may be recommended as an additional treatment in such areas as HER2-positive or HER2-negative/HR-positive cancers. It may also be added to help repair DNA in triple negative cancers and BRCA mutations.†
IMMUNOTHERAPY:
Immunotherapy is a type of treatment that may be used in a unique way. This uses the body's immune system to fight cancer cells. In a nutshell, it uses the body's T-cells to help fight the cancer and help to keep it from spreading to other parts of the body.†
There are also some nutrients that can aid in these conventional treatments. Melatonin and L-Theanine are a couple of supplements that may be considered while in treatment as they can offer amazing benefits.†
ICYMI: BREAST CANCER AWARENESS & DETECTION, INVITE HEALTH PODCAST, EPISODE 593>>LISTEN NOW!
COMPLEMENTARY SUPPORT 
MELATONIN:
Melatonin is a common nutrient that most people have heard of and usually associate with sleep. However, it's been studied and some incredible results have been combined in an article from the National Center for Biotechnical Information entitled "Melatonin-A New Prospect in Prostate and Breast Cancer Management". Here we learn that melatonin may be helpful in halting the spread and growth of cancerous cells, as well as improving their sensitivity when exposed to radiation therapy and/or chemotherapy.†
According to a study from PubMed titled "Light Exposure at Night, Sleep Duration, Melatonin and Breast Cancer: A Dose-Response Analysis of Observational Studies" the research shows that having a serum melatonin level >39.5pg/mL may help reduce the risk of breast cancer by up to 14%.†
L-THEANINE:
L-Theanine seems to be an underrated nutrient. L-Theanine is an amino acid found in green tea. Those that have tried it always seem to come back and rave about how amazing it has helped them to relax. But how can this be helpful in regards to breast cancer? An article published by the International Journal of Molecular Sciences titled "Tea and its Components Prevent Cancer: A Review of the Redox-Related Mechanism" gives some insight into this nutrient. This article shows that L-Theanine can be helpful in reducing many of the side effects of Chemotherapy, such as reducing antioxidant enzyme activity and increasing lipid peroxidation.†
In conclusion, you can see that doctors have a variety of way to treat breast cancer, as well as supplemental nutrients to compliment these treatment. As always, inform your doctor and alternative health professional of any and all things you are taking. This type of cancer is widely studied and there always seems to be research and clinical trials being done. If you are interested in taking part in a clinical trial, speak to your doctor and review the following:†
ICYMI: BREAST CANCER AWARENESS~ HEALTHY RECIPE GUIDE>>TAKE A LOOK! 
Clinical trials can be found online at https://www.cancer.gov/about-cancer/treatment/clinical-trials or by calling the Cancer Information Service from the National Cancer Institute at 1-800-422-6237.†
As always, understanding the diagnosis and treatment options, along with open communication with your oncologist can be helpful and offer some piece of mind when going through cancer, or any other type of treatment.†
REFERENCES
https://www.cancer.gov/types/breast/patient/breast-treatment-pdq#_185
https://www.fda.gov/medical-devices/implants-and-prosthetics/breast-implants
https://www.cancer.gov/about-cancer/treatment/drugs/breast
 https://www.cancer.gov/about-cancer/treatment/clinical-trials
https://www.ncbi.nlm.nih.gov/pmc/articles/PMC8525668/#:~:text=Melatonin%20exerts%20its%20oncostatic%20effect,both%20prostate%20and%20breast%20cancer
https://pubmed.ncbi.nlm.nih.gov/24858716/
https://www.ncbi.nlm.nih.gov/pmc/articles/PMC6862630/


---
---