Why Do cGMP and Non-GMO Matter? – InVite Health Podcast, Episode 355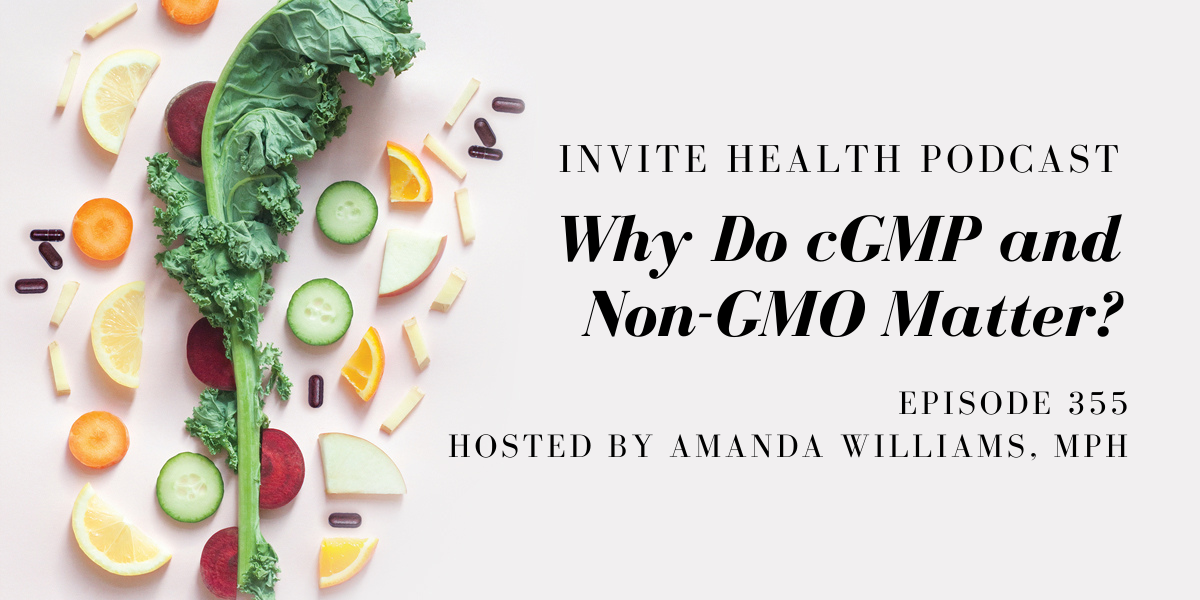 non-GMO
Invite Health Podcast, Episode hosted by Amanda Williams, MPH
Subscribe Today!
When it comes to taking supplements, quality definitely matters. This is an area I want to address today. You may hear us use terms such as non-GMO and cGMP, but you may not know what this entails. I want to break down what these terms actually mean and why these distinctions matter, as well as why you can be sure that quality and purity are at the forefront of every single InViteⓇ Health formulation.†
What does non-GMO mean?
When it comes to supplements, non-GMO means that we are not using any nutrient that has been genetically modified. When you look at a genetically modified organism, like a plant or microorganism, it has been manipulated to enhance factors such as growth rate. We want to try to minimize any type of exposure to things that are manipulated or synthetic as their true function can be altered.†
We certainly do not want to mess around with manipulated ingredients when it comes to the nutrients we are putting into our body. This is especially important when it comes to supplementation. When we look at clean and pure supplements, they are packed with raw materials. At InViteⓇ Health, we only choose nutrients that have been certified non-GMO. This is really relevant to our overall health because it keeps us from adding additional risks in our body throughout the aging process.†
CONSIDER TAKING THESE NUTRIENTS AS YOU AGE, PART 1 – INVITE HEALTH PODCAST, EPISODE 315. Listen Now>>

The importance of cGMP
You'll often hear us say that our products are formulated following cGMP guidelines. This actually means current Good Manufacturing Practices. This term refers to a system of different processes, procedures and documentation that have been set in place to ensure that the product has the strength, composition, quality and purity that it states on its label. These cGMP requirements are very relevant when it comes to national standards of dietary supplementation.† 
Every single InViteⓇ Health supplement is subject to cGMP guidelines. This means that there are audits on all of the different production facilities that manufacture, package and warehouse any of the raw materials and supplements that we produce. There are reviews, quality control and testing procedures for the raw materials, as well as for the finished product.† 
At the end of the day, this all comes down to choices and how important these choices are for our body. You can choose to eat really clean, healthy foods or you can choose to eat things that are laden with different chemicals. The same thing is true when you look at supplements. You may be able to get some knock-off brand of supplements online or in a big box store, but you cannot guarantee the quality, purity or manufacturing practices of the nutrients inside. When it comes to your health, you don't want to cut corners. That's why the accuracy of what is in InViteⓇ Health products has been scientifically validated to be both non-GMO and cGMP.†
FORGO FAST FOOD FOR YOUR OVERALL HEALTH – INVITE HEALTH PODCAST, EPISODE 278. Listen Now>>
In this episode, Amanda Williams, MPH explains what the terms non-GMO and cGMP mean. She discusses why these distinctions are so important and details the reviews that our products must go through in order to meet our level of quality.† 
Key Topics:
The growing popularity of non-GMO

How InViteⓇ Health sources clean materials

What does cGMP mean?

Examples of cGMP at work
Thank you for tuning in to the Invite Health Podcast. You can find all of our episodes for free wherever you listen to podcasts or by visiting www.invitehealth.com/podcast. Make sure you subscribe and leave us a review! Follow us on Facebook, Twitter and Instagram at Invite Health today. We'll see you next time on another episode of the Invite Health Podcast.


---
---