Green Tea and It's EGCG Antioxidant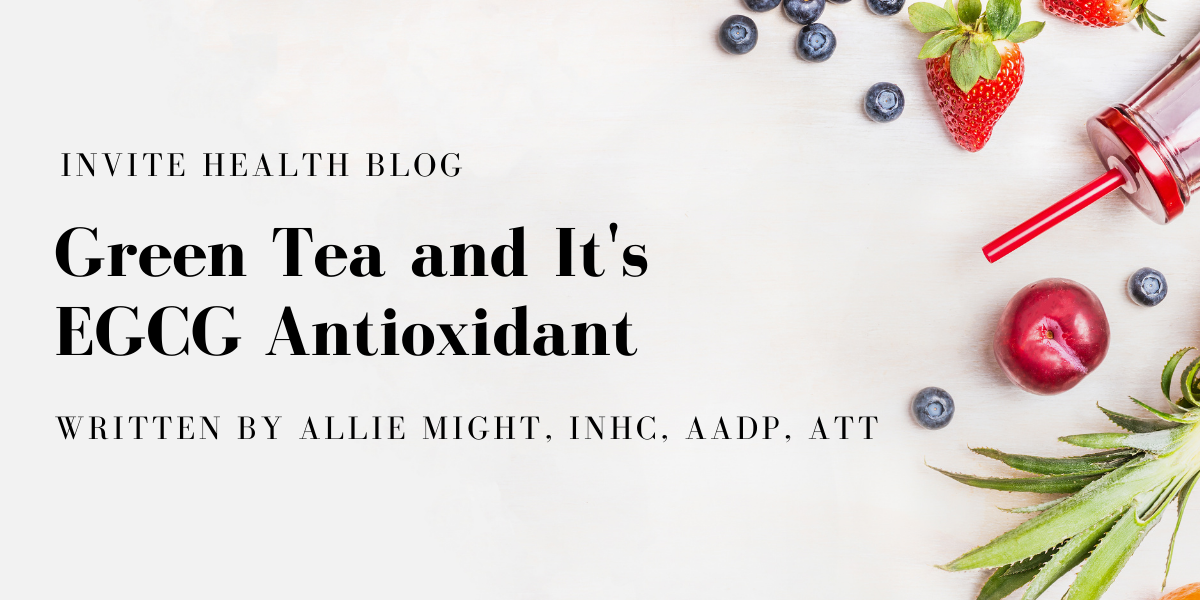 Written by Allie Might, INHC, AADP, ATT EGCG
For further questions or concerns email me at amight@invitehealth.com
WHAT IS GREEN TEA?
Green tea comes from the camellia sinensis plant and is considered one of the four "real teas". The others are white tea, oolong tea and black tea. The amount of processing or oxidizing determines which of the four teas is made.
THE MANY BENEFITS FROM BLACK TEA EXTRACT – INVITE HEALTH PODCAST, EPISODE 419 >> Listen Now!
WHAT IS EGCG?
Epigallocatechin gallate, or EGCG, is a type of antioxidant known as a catechin. This component found in green tea is responsible for so many of the benefits offered. When taking higher doses of the EGCG, a recommended therapeutic amount of 400-800mg per day, can support a healthy metabolism and help the body to burn fat for weight loss.
WHAT ARE THE BENEFITS OF GREEN TEA?
Weight loss is not the only benefit. Much of these benefits are because green tea supplies antioxidants, which protects the cells and promotes healthy cell division, and has polyphenols that have been shown to manage inflammation within the body. It can also help to energize cells to get through the day easier and is lower in caffeine then a typical cup of coffee, making it a good alternative for those that are sensitive to caffeine. It's often recommended for healthy heart function. Its been shown to help maintain a healthy blood pressure and cholesterol levels. This is important to keep the circulatory system flowing properly. Green tea has been widely studied, particularly when it comes to breast and prostate tissues. These studies have shown that the polyphenols in the tea may be helpful in promoting healthy cell division. This is because the polyphenols can help to protect the cells from free radical damage.
When it comes to skin care, and anti-aging, it has been a huge ingredient featured in products. Tea can be used not only internally, but as a main ingredient in such things as cleansers and moisturizers. This is used for the antioxidants and to help manage inflammation.  It is beneficial in managing breakouts and acne as well as inflammatory conditions like alopecia, atopic dermatitis and rosacea. You can also use brewed,  cooled tea bags on the eyes as a compress to reduce puffy eyes.
It's easy to see the wide range of  benefits green tea has to offer. In addition to the natural skin care products that incorporate this super antioxidant, try these delicious recipes throughout the year to elevate your health and protect you cells.
SUPER ANTIOXIDANT GREEN TEA
1 tea bag OR 1 teaspoon loose organic green tea
2 droppers of Green Tea Tx
1 slice organic lemon
Steep the tea bag or loose tea (in a strainer) in boiled water for 5 minutes. Remove bag or strainer and add lemon slice. Sip and enjoy!
MOON MILK THE PERFECT SLEEP REMEDY – HEALTHY & HELPFUL TIPS WITH MELISSA >> Make Now!
GREEN GODDESS DRINK
3 droppers Green Tea Tx
1 scoop Greens Hx
½ avocado
1 cup water
1 cup ice
Combine all ingredients in a blender until smooth. Drink and enjoy!
Sources
https://www.medicinenet.com/egcg_epigallocatechin_gallate_benefits_dosage/article.htm
https://www.sciencedirect.com/science/article/abs/pii/S026156141500134X
https://www.webmd.com/diet/health-benefits-green-tea
https://www.breastcancer.org/managing-life/diet-nutrition/dietary-supplements/known/green-tea
https://www.healthline.com/health/benefits-of-green-tea-for-skin#green-tea-extract-and-your-skin


---
---