The Many Benefits From Black Tea Extract – InVite Health Podcast, Episode 419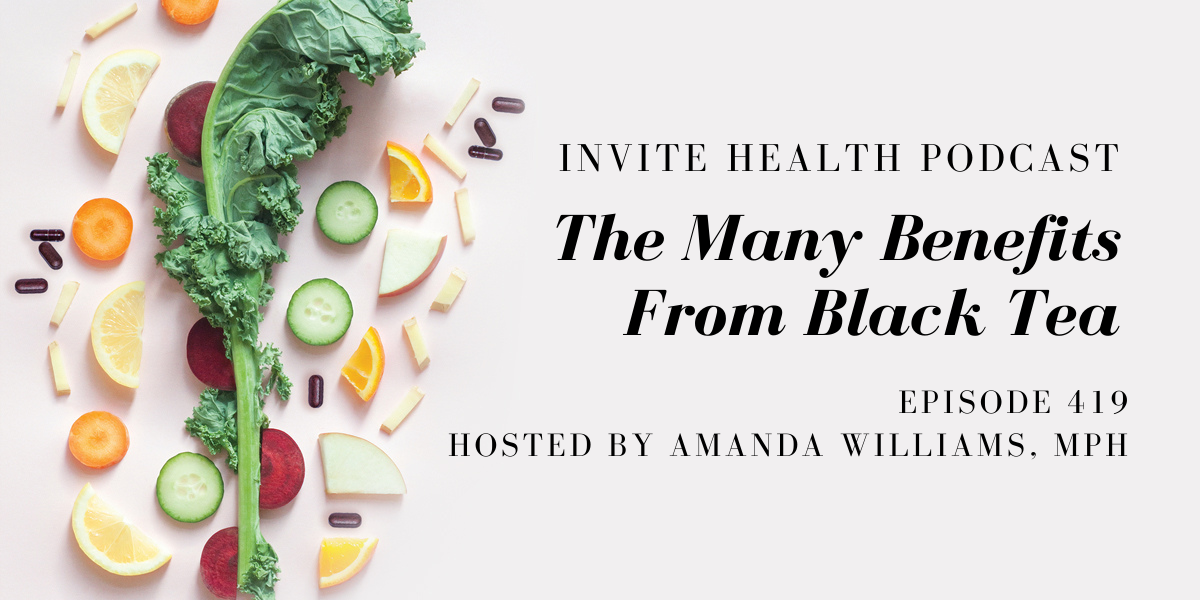 black tea
InViteⓇ Health Podcast, Episode hosted by Amanda Williams, MPH
Subscribe Today!
You've probably heard about all of the amazing benefits of green tea, but today, I want to talk a little bit about black tea. It is unique in its own way by providing a very active constituent theaflavin.†  
What are theaflavins?
Theaflavins have been studied for a variety of health conditions. They possess this really unique ability to influence our health by helping to regulate genes, especially genes that are in control of inflammatory cytokines. When we think about inflammation, this is key because we know that low-grade chronic inflammation is problematic to all of the different chronic disease states, including heart disease, arthritis and diabetes. By using the theaflavins coming specifically from black tea, we can see all of the potential benefits.† 
HOW DIFFERENT TYPES OF INFLAMMATION IMPACT YOUR BODY – INVITE HEALTH PODCAST, EPISODE 314. Listen Now>>
When we're looking at black tea, the polyphenol that is derived from it seems to act specifically on tumor necrosis factor alpha. We know that TNF-alpha is a master driver for inflammation in the body.† 
Theaflavins don't just work in the inflammatory pathway. We can actually see how it's also beneficial when it comes to vascular support and targeting viruses and bacteria.†

Getting theaflavins from black tea
Theaflavins are generally hard to come by. We know that the normal concentration of theaflavins in black tea is generally pretty low. So, if we're just consuming black tea, are we going to be getting all the real power of the theaflavins? It's not likely.†
This is why using the extracted form is going to be the way to go. We know all the power of green tea and all the power of black tea. When we combine the two together, like we have in our Green Tea HxⓇ formulation, it packs a powerful punch. Not only do these capsules contain the power of EGCG, but also you are yielding a really good amount of those theaflavins. It has 75mg of black tea extract, which is providing that potent polyphenol that has been studied across so many different aspects of health.†   
GREEN TEA AND DIABETES – INVITE HEALTH PODCAST, EPISODE 399. Listen Now>>
In this episode, Amanda Williams, MPH discusses theaflavin, a powerful polyphenol that comes from black tea extract. She also details how this nutrient has been studied in the setting of inflammation.†
Key Topics:
What is EGCG?

The history of tea

Studies on theaflavins 
Thank you for tuning in to the InViteⓇ Health Podcast. You can find all of our episodes for free wherever you listen to podcasts or by visiting www.invitehealth.com/podcast. Make sure you subscribe and leave us a review! Follow us on Facebook, Twitter and Instagram at InViteⓇ Health today. We'll see you next time on another episode of the InViteⓇ Health Podcast.


---
---