Why Melatonin Is Important During COVID-19 – InVite Health Podcast, Episode 209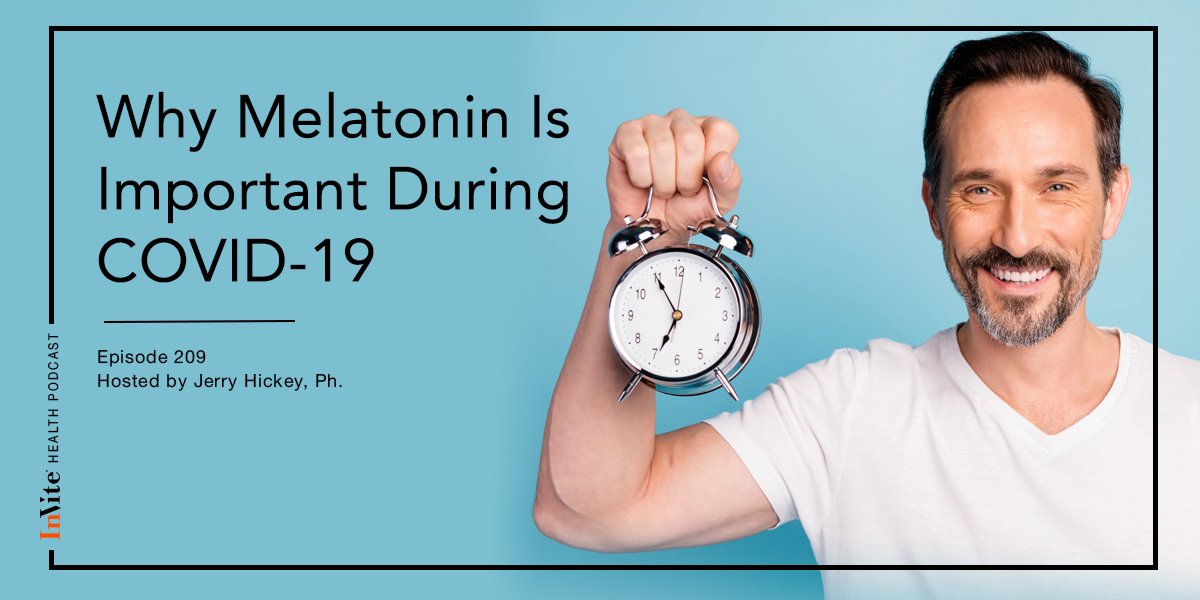 melatonin

Invite Health Podcast, Episode hosted by Jerry Hickey. Ph
Subscribe Today!
Today, we're going to discuss melatonin. Is it important to use during the time of the COVID-19 infection? The indication is yes. 
But let's get this straight. There have been no studies to my knowledge directly testing melatonin with the current coronavirus. However, this nutrient is really important for the immune system. Melatonin is a very good anti-inflammatory nutrient, and melatonin is very safe. It has an antiviral effect. In fact, it helps prevent a lot of the damage caused by other viruses.†  
What is melatonin and what does it do?
Melatonin is a hormone that we release from different parts of our bodies. For instance, most people know that it's released in a part of the brain called the pineal gland at night when it's getting dark to help us sleep at night. But it has many other activities. The lining of our intestines can release melatonin. It's needed for good digestion.† 
COVID-19 Update: T-Cells and Immunity – InVite Health Podcast, Episode 178. Listen Now >>
It's also expressed by immune cells. That's how important it is to the immune system. They've shown that it's really important for making the immune system more competent. Many of the cells in the immune system depend on melatonin for direction, plus melatonin helps prevent an overwhelming attack by our own immune system, which is one of the things that happens with the coronavirus.† 
People who are very sick with this virus wind up in the hospital fighting, sometimes for their life. What happens is the virus triggers inflammation, and then the immune system itself can also trigger inflammation, and it can get to a serious level. The end result is that it can damage the lungs, the heart, the lining of the intestines, and the brain.
In fact, a recent study looked at people admitted to the hospital with COVID-19. Eighty percent (80%) of them had neurological symptoms, and they're finding through postmortem autopsies that somehow, the coronavirus is getting into the brain and causing persistent brain damage. So it's important to have things available to us at this point that can help protect our brain, lungs, heart, and digestive tract.†
Some reports on the efficacy of melatonin
A study titled "Coronavirus Disease 2019 (COVID-19) and Its Neuroinvasive Capacity: Is It Time for Melatonin?" was published in August in the journal Cellular and Molecular Neurobiology. The University of Texas Health Science Center at San Antonio was one of the academic institutions involved with this study, as well as the Department of Pharmacology and Toxicology at the University of Madrid. The study says that the virus is entering into the brain and causing brain damage, though it's not known how or why. The researchers said that high doses of melatonin are not only good for your immune system, but it can also help block the inflammation in the brain caused by the coronavirus.†    
MELATONIN SUPPORTS IMMUNITY, SLEEP & BEYOND – INVITE HEALTH PODCAST, EPISODE 87. Listen Now >>
Once again, they haven't designed studies directly using this nutrient and SARS-CoV-2, but a lot of doctors are recommending melatonin because they know it has antiviral and anti-inflammatory activity and is very safe. The problem is that many people with compromised immune systems are lacking melatonin. The activity of melatonin also drops with age.†    
Here's Molecular Biology Reports. It's a study done in September by the Department of Pharmacology, Faculty of Dentistry, Near East University in Nicosia, Cyprus. The study looked at a protein that's expressed by our immune system that's called CD147. CD147 works with immune cells, but it's also responsible for the cytokine storm in the lungs, which is when the immune system damages the lungs. The researchers said that melatonin had previously been found to help protect from cardiac damage relating to other viruses and CD147, so melatonin should also be useful with the coronavirus. They said that melatonin may help prevent severe symptoms in coronavirus patients.†
For more research about the impacts of melatonin on COVID-19 patients and symptoms, tune into the full podcast episode. 
Thank you for tuning in to the Invite Health Podcast. You can find all of our episodes for free wherever you listen to podcasts or by visiting www.invitehealth.com/podcast. Make sure you subscribe and leave us a review! Follow us on Facebook, Twitter and Instagram at Invite Health today. We'll see you next time on another episode of the Invite Health Podcast.


---
---