Spotlight on Colostrum – InVite Health Podcast, Episode 453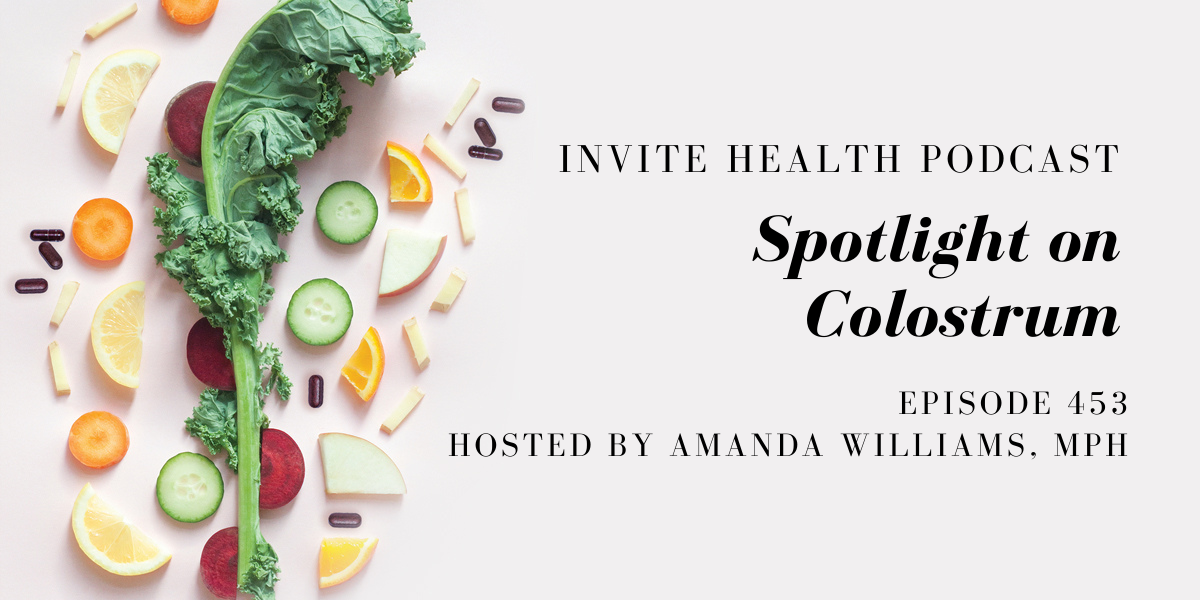 colostrum
InViteⓇ Health Podcast, Episode hosted by Amanda Williams, MPH
Subscribe Today!
We are into the start of cold and flu season and I know many people have concerns about their immune systems and what they can be doing. I want to focus on a particular formulation that can really do so much when it comes to bolstering up our immune defenses. Today, I want to talk about colostrum.†
The role of colostrum in the body
Many times, people have no idea what in the world colostrum is. When we think about why someone would be utilizing colostrum, we can cross multiple spectrums. It's not just for the immune system. We can also think about muscle recovery after workouts. There are a lot of different ways in which colostrum promotes overall wellness.†
DEALING WITH AGE-RELATED MUSCLE LOSS, PART 1 – INVITE HEALTH PODCAST, EPISODE 408. Listen Now>>
We always refer to colostrum as "the first milk." When mothers breastfeed, they are giving powerful immune-boosting components to the baby, including colostrum.†
When we think about colostrum, this is a complex biological liquid that has really powerful antimicrobial peptides, immune-regulating compounds and different growth factors. It helps to modulate our immune response, create balance within the intestinal microbial environment and enhance and repair different tissues in the body.†

The components of this nutrient
Most of the initial studies looking at lactoferrin coming from colostrum have been geared more toward virology, we know that it goes beyond that. We know that it can target bacteria. We know that it can be beneficial when it comes to different parasites. Anytime that we are utilizing something that's coming from nature that can boost up our immune defenses, we know that we are on the right tract.†
The colostrum itself contains all of these different things. It contains protein, hence the lactoferrin. It has good, healthy fats, vitamins and minerals and all of these different things that help to enhance the innate and adaptive immune systems.†
PROTEIN & THE BENEFITS OF ITS AMINO ACIDS, PART 1 – INVITE HEALTH PODCAST, EPISODE 100. Listen Now>>
The many scoping components are key to colostrum when we think about its antimicrobial and antiviral properties. It also does so much to support tissue recovery.†
In this episode, Amanda Williams, MPH discusses the many benefits of the nutrient colostrum. She explains the important components found in this complex liquid and details where it comes from.†
Key Topics:
How this nutrient works in the body
What is lactoferrin?
Thank you for tuning in to the InViteⓇ Health Podcast. You can find all of our episodes for free wherever you listen to podcasts or by visiting www.invitehealth.com/podcast. Make sure you subscribe and leave us a review! Follow us on Facebook, Twitter and Instagram at InViteⓇ Health today. We'll see you next time on another episode of the InViteⓇ Health Podcast.


Tags:
antimicrobial
,
antiviral
,
baby
,
breastfeed
,
cold
,
colostrum
,
cough
,
exercise
,
flu
,
intestine
,
lactoferrin
,
microbiome
,
muscle recovery
,
protein
,
workout
---
---