Why Ubiquinol May Improve Scary Blood Test Results, Part 2 – Invite Health Podcast, Episode 173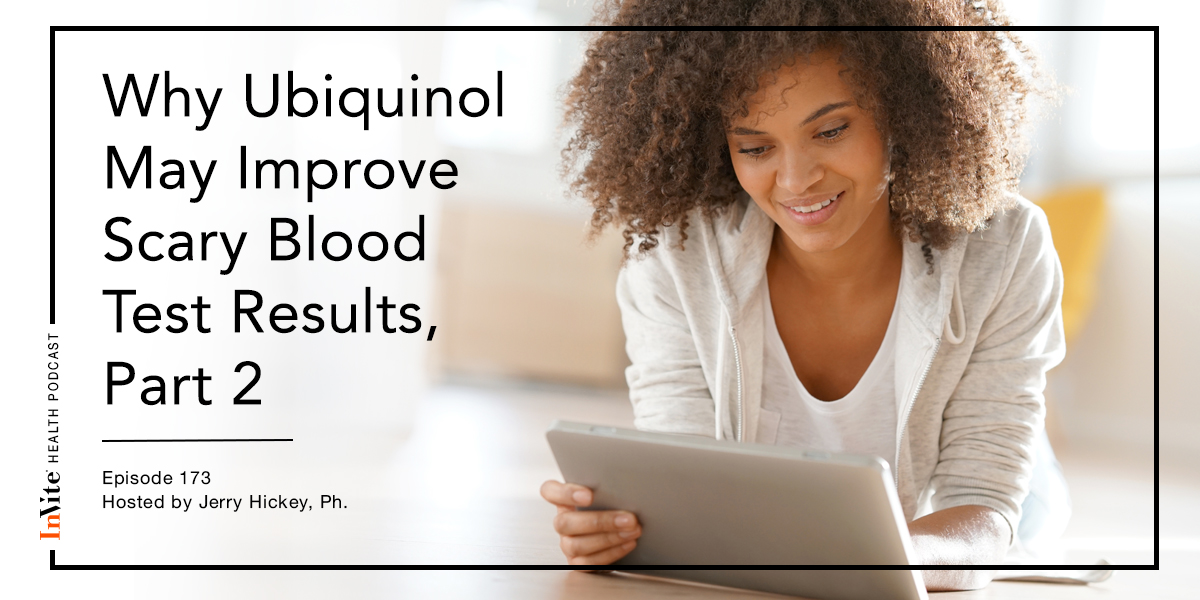 Invite Health Podcast, Episode hosted by Jerry Hickey. Ph
Subscribe Today!
Welcome to part 2 of 'Why Ubiquinol May Improve Scary Blood Test Results'. If you missed part 1, click here to listen now! We're continuing our conversation about the active form of coenzymeQ10, called ubiquinol, which lowers the level of various scary results on a blood test that are connected with heart health. When these levels are elevated, they're scary. When they're lower, that's good for the heart, survival, longevity, physical activity and wellness.  
Make sure to check out the first part of this episode for more background on ubiquinol and heart health, as well as the first of the 3 blood tests that predict heart health.  
More Information on NT-proBNP
As discussed in the first part of this podcast, NT-proBNP is a protein released by cardiomyocytes primarily from the left side of the heart. It helps tell you the health of your heart. NT-proBNP tests are not common in typical blood work, unless there is some sign of heart damage like heart failure or heart attack. Research also indicates that NT-proBNP reflects the youthfulness and strength of your heart muscle. It is continually produced in small quantities by your heart. It is released in larger quantities when the heart senses that it needs to work harder. 
A young person's NT-proBNP level might read at 16, whereas someone who has heart damage might reach a level of 200. It also increases with age as fibrous build up in the heart. Doctors can use NT-proBNP levels to gauge the severity of damage to the heart. They also look to see if the levels increase to check if treatment methods are working. 
Ubiquinol may help decrease levels of NT-proBNP. The Division of Cardiology at the University of Minnesota and the Division of Cardiology at the Minneapolis VA Medical Center performed a study published in the journal Annals of Vascular Surgery. In this study, researchers worked with heart surgery patients. The patients were randomly broken up into groups and for three days prior to their surgery, were given either a placebo or a high dosage of coQ10, the inactive form of ubiquinol. The researchers checked their NT-proBNP before the surgery and for two days afterwards to test the impact of the ubiquinol. They found that NT-proBNP levels in the blood dropped as coq10 levels increased.  

The last value that can predict heart health is Troponin. This is a group of proteins that help regulate the contractions of the heart and skeletal muscles. Troponin 1 and Troponin T are two variations of the protein that are released by the heart when it is damaged. 
A study done by researchers in Northern Italy and published in the journal Aging worked with 50 elderly patients who were receiving surgery for severe aortic valve stenosis. One group of the patients took placebo for a week prior to surgery and for five days post surgery, while the other took ubiquinol for the same amount of time. The researchers found that patients who had taken placebo saw a greater increase in Troponin 1 related to the heart surgery than patients on ubiquinol did. This indicates that the ubiquinol was protecting the heart during valve replacement surgery. 
My Heart Health Recommendations
The studies shared in both parts of this podcast indicate that ubiquinol can help decrease levels of hs-CRP, NT-proBNP and Troponin in the body. I recommend it and take it every day. Always take ubiquinol with food and remember that the body absorbs it much better than regular coQ10.†  
While ubiquinol is extremely beneficial to anyone with heart damage, it can also be helpful to others. Diabetics can strongly benefit from ubiquinol because they struggle with converting coQ10 into ubiquinol. Aging people could benefit as well, as the body slows ubiquinol creation in your 40s. I usually recommend that people start taking ubiquinol around the age of 55.†
Avoid coQ10 or ubiquinol formulas that contain titanium dioxide. This is a heavy metal that makes shaving creams and paints white. It can damage the lining of your intestines and create leaky gut syndrome.†
Questions about CoQ10? Leave a comment below to join the discussion today! 


---
---