Experiencing Brain Fatigue? L-Tyrosine Can Help! – InVite Health Podcast, Episode 190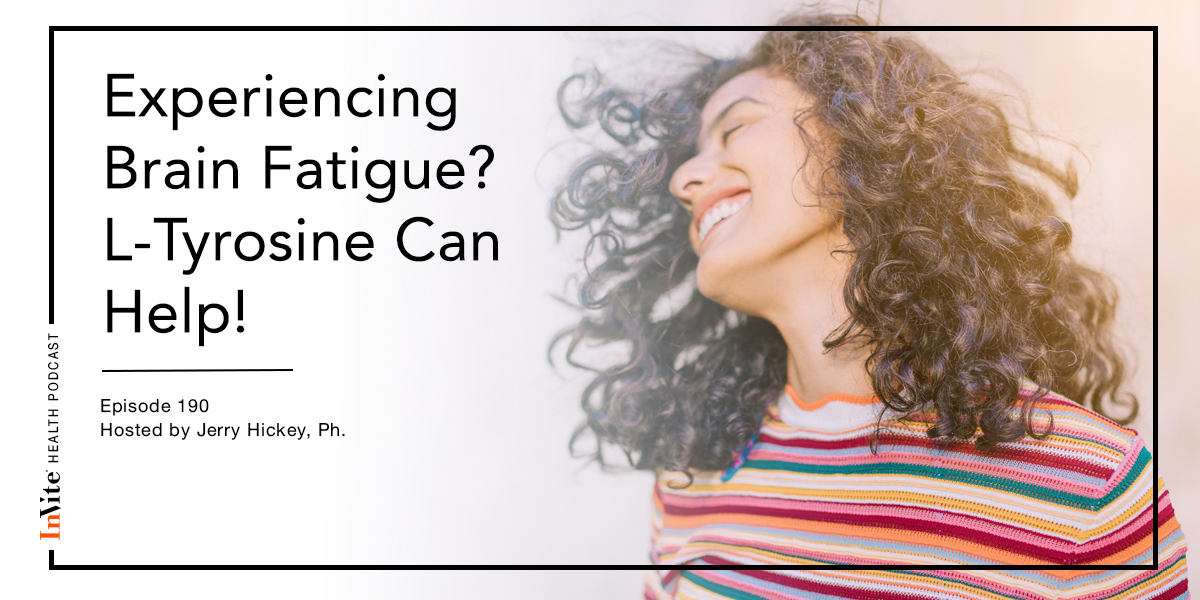 Invite Health Podcast, Episode hosted by Jerry Hickey. Ph
Subscribe Today!
We've all experienced staying out late at night, but still having to get up early for work the next morning. You can feel awful and miserable all day long. If you've ever burnt the candle at both ends like this, the supplement L-Tyrosine can help. L-Tyrosine can offset the mental grogginess, grouchiness and fatigue, so you don't feel awful all day. L-Tyrosine is not a replacement for sleep, but on days when you have not had enough sleep, L-Tyrosine can combat mental fatigue.†
Why Should Tyrosine Help Fatigue?
Our brain uses a wide variety of chemicals called neurotransmitters that are used to communicate messages. Science knows approximately 100 different neurotransmitters. Our body uses tyrosine to make neurotransmitters for mental alertness and focus. L-Tyrosine enters the brain and makes these important neurotransmitters. They are called dopamine and norepinephrine. When released appropriately, these neurotransmitters foster arousal, alertness, attention, motivation, and anticipating and seeking a reward but also, and importantly, reducing brain fatigue. L-Tyrosine enters our brain easily and is quickly converted into the neurotransmitter dopamine. It can also be converted into norepinephrine and, when needed, epinephrine, which is also known as adrenaline.† 
Feeling Burnt Out? Rhodiola Can Help! – InVite Health Podcast, Episode 186. Listen Now >>
When tyrosine is converted into dopamine, it is involved in the reward system. This takes place in conjunction with other neurotransmitters and multiple brain regions, but mostly takes place in the mesolimbic dopamine pathway and the mesocortical dopamine pathway. These pathways improve motivation and reward seeking. Norepinephrine is involved with alertness, focus, attention, and arousal.

Dopamine and norepinephrine support many activities of the brain, including:
 

Memory†

Sleep and awake regulation†

Paying attention and being focused†

Arousal†

Alertness†

Motivation for willingness and goal seeking†

Seeking reward†

Motivation†

Reducing brain fatigue†
Tyrosine is commonly used to improve learning, memory, and alertness, and works especially well if used during stressful situations.†
What is L-Tyrosine?
L-Tyrosine is an amino acid. Proteins are made out of amino acids, so when you eat protein you get some L-Tyrosine. When you eat yogurt, meat, fish, eggs, nuts, beans, oats, and wheat, you get some L-Tyrosine. But you're not getting enough to combat occasional fatigue or help during stressful situations.†
Turmeric and Boswellia for Brain Health – Invite Health Podcast, Episode 24. Listen Now >>
When to use an L-Tyrosine supplement
Mental performance:

Research shows that taking tyrosine improves mental performance under stressful conditions. These include cold-induced stress, noise-induced stress, or even studying for an important exam like the LSATs or MCATs.†

Memory:

Research shows that taking tyrosine improves memory during stressful conditions. These include cold-induced stress, multi-tasking, or just overload of the brain.†

Improving alertness following the loss of sleep:

Taking tyrosine helps people who have lost a night's sleep stay alert for about 3 hours longer than they otherwise would. Also, early research shows that tyrosine improves memory and reasoning in people who are sleep-deprived.†
For jet lag, take melatonin at bedtime and L-Tyrosine when you wake up. Tyrosine is not used in elderly people for brain energy or memory. It is used in healthy adults who've just overdone it and are experiencing brain fatigue. You don't use it every day, you use it when it's needed. You can keep tyrosine in your medicine cabinet and have it at your disposal for weekends when you stay up too late or have to focus on an important exam. To learn more about the role of tyrosine in the body, make sure to tune into the full podcast episode. 


---
---