Calcium…Why Is It So Important?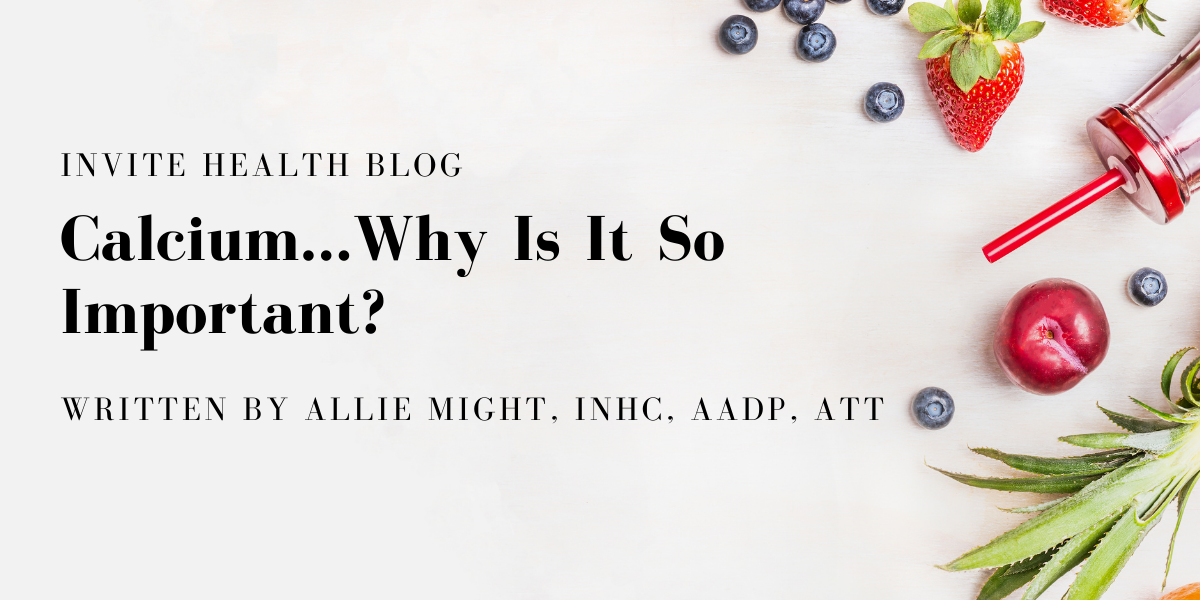 Written by Allie Might, INHC, AADP, ATT calcium
For further questions or concerns email me at [email protected]

What is Calcium?
Calcium is probably one of the most well-known minerals out there. From a young age, we always heard "you need calcium for strong bones." However, do we really know what it does and why it's so important for us? So what exactly does it do? In an article published by the Harvard T. H. Chan School of Public Health, it is confirmed that the body uses 99% of the calcium we consume to maintain healthy bones and teeth; the other 1% is used for tissues, contracting of muscles and clotting of blood.
FROM BONES TO OSTEOPENIA: THE BENEFITS OF CALCIUM >> Listen Now!
What are the recommended amounts?
The U.S. Food and Drug Administration (FDA) recently updated calcium recommendations from 1000mg per day to 1300mg per day. Calcium is found in foods like dairy products, almonds and leafy green vegetables. Calcium supplements can also a good way to get the recommended amount that is needed on a daily basis. As we age, particularly women, we may become at risk for the loss of bone density, resulting in Osteopenia or even Osteoporosis. This can be determined by a bone density test ordered by a doctor. The National Library of Medicine advises taking Calcium, along with Vitamin D, and doing weight-baring exercise like walking can help to lower the risk of bone density loss.
Osteopenia is the weakening of the bones, while osteoporosis is a more advanced weakening making the bone more at risk for fractures. According to an article from WebMD, those that may develop Osteopenia doesn't automatically mean it progresses into Osteoporosis. Speaking with a doctor or other health professional, about an exercise plan and vitamin plan that includes nutrients such as, Calcium, Magnesium and Vitamin D can be key in keeping the bones strong and healthy throughout our life.
BONE BUILDING BREAKFAST BOWL
INGREDIENTS
1 cup plain Greek organic yogurt
½ cup fresh organic blueberries
¼ cup rolled oats
¼ cup almonds, chopped
½ teaspoon pure vanilla extract
1 scoop Bone Powder
1 scoop Collagen Hx
DIRECTIONS
Preheat oven to 300 degrees
Toss oats and almonds with vanilla and toast for 5-7 minutes
While the oats and almonds cool, mix the Bone Powder and Collagen Hx into the yogurt until well combined
Assemble breakfast bowl beginning with the Greek yogurt mixture in a bowl
Add the toasted oats and almonds on yogurt, and top the oats with fresh blueberries Eat and enjoy!
GOLDEN MILK OVERNIGHT OATS RECIPE – HEALTHY & HELPFUL TIPS WITH MELISSA >> Make Now!
Sources
https://www.fda.gov/food/new-nutrition-facts-label/daily-value-new-nutrition-and-supplement-facts-labels
https://www.medicalnewstoday.com/articles/248958#why-we-need-calcium
https://medlineplus.gov/bonedensity.html
https://www.webmd.com/osteoporosis/guide/osteopenia-early-signs-of-bone-loss


---
---