From Pain To Gain: Back & Neck Comfort Program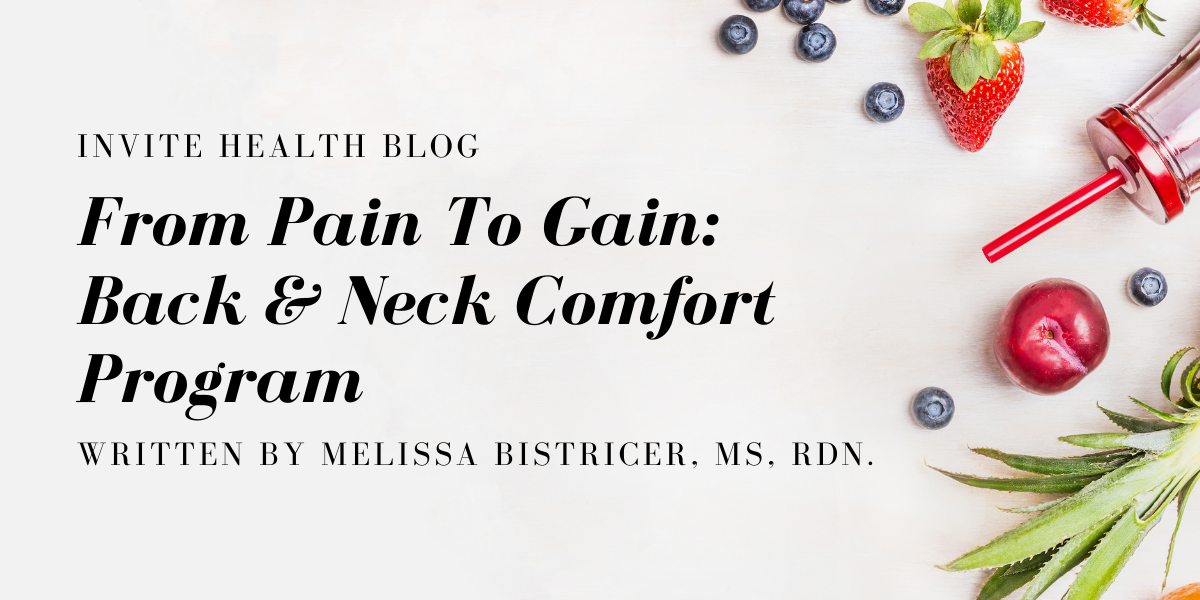 back and neck pain 
Written by Melissa Bistricer, RDN
For further questions or concerns email me at mbistricer@invitehealth.com
Did you know that the spine has over 120 muscles, about 220 ligaments, and 100 joints. That is just the spine alone. Imagine if it is damaged or you're in pain how many muscles, ligaments, and joints are affected too. We don't want to continuously be in discomfort and pain. Let us go into some details about clinically-studied nutrients that have been shown to fend off discomfort throughout the body.†
What is Back and Neck Pain?
We can simply define pain as "physical suffering or discomfort caused by illness or injury" but does everyone feel the same type of pain? No, because back and neck pain can vary from mild aches to persistent severe pain where it can be disabling. This can occur from overuse, strenuous activity, fractures, trauma, infection, obesity, osteoporosis, muscle tension, poor bone density, and joint problems.†
HOW DIFFERENT TYPES OF INFLAMMATION IMPACT YOUR BODY – INVITE HEALTH PODCAST, EPISODE 314 >> Listen Now! 
According to Hopkins Medicine, factors that contribute to back and neck pain can be aging, lack of exercise, medical conditions, smoking, physiological conditions, or obesity. Some symptoms to be aware of if you feel you are experiencing back and neck pain are leg numbness, persistent pain, sharp/shooting pain, loss of bladder and bowel control, and weakness in the legs.†
Nutritional Diet Recommendation
Anti-Inflammatory Diet: Will help to relieve some of the back and neck pain. The diet will help to reduce inflammation in the body. Inflammation is bound to happen to most individuals, whether you know or not. Our immune systems create inflammation to help protect the body from infection, injury or diseases. We want to make sure we are not causing any harmful inflammation from consuming a diet rich in processed foods, sugary foods, or pre-packed items. A diet rich in fruits, vegetables, whole grains, and healthy fats are part of practicing an anti-inflammatory diet to help reduce inflammation. The best foods to start to consume are tomatoes, avocado, olive oil, green leafy vegetables; spinach, kale, collards, fatty fish; salmon, tuna, mackerel, and fruits; strawberries, blueberries, cherries, oranges.†
Vitamins, Minerals, & Herbs
Nutrition is where it starts to improve and get rid of inflammation in the body. Given the proper recommendations for vitamins and minerals the body has the optimal potential to regenerate. These nutrients will help to play a critical role in helping reduce inflammation, discomfort, back, and neck pain.†
Curcumin is a powerful antioxidant, also commonly known as turmeric. The effects of curcumin are limited due to its low bioavailability. Research has suggested the use of bio-curcumin rather than curcumin due to the relatively higher bioavailability and absorption rates. In a clinical study published in the Indian Journal to study the bioavailability of curcuminoids, the bioavailability of BMC-95 was approximately 6.93 fold compared to just curcumin and about 6.3 fold compared to curcumin-lecithin-piperine formula.† 1
5-loxin is derived from Boswellia serrata extract enriched with "30% 3-O-acetyl-11-keto-beta-boswellic acid (AKBA)." This has anti-inflammatory properties by inhibiting the 5-lipoxygenase enzyme.2 A double blind, randomized placebo-controlled study was completed to assess the efficacy and safety of 5-loxin for treatments of osteoarthritis of the knee. 2 At the end of the study, results showed significant improvements in discomfort in osteoarthritis patients. 5-loxin has been shown to help reduce discomfort, reduce inflammatory modulators, improve physical function and joint health.† 2
Hyaluronic acid is naturally found in the body's fluids in the eyes and joints. Hyaluronic acid acts as a protective cushion to the joints and other tissues. It helps the body respond to injury or decrease swelling. When the body is lacking hyaluronic acid, this can cause joint pain and inflammation. Recent research suggests the benefits of hyaluronic acid therapy for osteoarthritis patients.† 3
Devil's claw was introduced to Europe in the early 1900s, where the dried root was used to restore appetite, relieve heartburn, and reduce pain and inflammation. Evidence suggests that devils claw is beneficial to fend off back and neck discomfort. In a large research study of 197 men and women with chronic back pain, taking devils claw daily for a month had significant results with less discomfort and taking fewer painkillers than those of the placebo group.† 4
Strontium is a metal and the same group of periodic elements as calcium. It has been recognized that strontium in high concentrations may be displaced and replaced by calcium in the bones. 5 There is evidence that states a low dose of strontium can increase bone formation rate and trabecular bone density related to strontium-induced stimulation of osteoblastic activity.† 5
WHY STRONTIUM IS AN IMPORTANT MINERAL FOR BONE HEALTH – INVITE HEALTH PODCAST, EPISODE 257 >> Listen Now! 
Back & Neck Pain Comfort Program
Bio-Curcumin 5-Loxin is highly absorbable that supports the body's inflammatory response and helps with discomfort in the joint, back and neck†
Hyaluronic Acid with Devils Claw supports joint lubrication and overall connective tissue needs†
Strontium is a mineral that offers support for bone and back health, as 99% of strontium's supply is stored in the bones†
For further questions or concerns related to dietary and nutritional supplement recommendations email me at mbistricer@invitehealth.com
Sources
1) Antony B, Merina B, Iyer VS, Judy N, Lennertz K, Joyal S. A Pilot Cross-Over Study to Evaluate Human Oral Bioavailability of BCM-95CG (Biocurcumax), A Novel Bioenhanced Preparation of Curcumin. Indian J Pharm Sci. 2008;70(4):445-449. doi:10.4103/0250-474X.44591
2) Sengupta, Krishanu & Alluri, Kr & Satish, Andey & Mishra, Simanchala & Golakoti, Trimurtulu & Sarma, Kadainti & Dey, Dipak & Raychaudhuri, Siba. (2008). A double blind, randomized, placebo controlled study of the efficacy and safety of 5-Loxin (R) for treatment of osteoarthritis of the knee. Arthritis research & therapy. 10. 10.1186/ar2461.
3) Bowman S, Awad ME, Hamrick MW, Hunter M, Fulzele S. Recent advances in hyaluronic acid based therapy for osteoarthritis. Clin Transl Med. 2018;7(1):6. Published 2018 Feb 16. doi:10.1186/s40169-017-0180-3
4) Devil's Claw. Mount Sinai Health System. https://www.mountsinai.org/health-library/herb/devils-claw. Accessed March 18, 2022.
5) Genuis SJ, Bouchard TP. Combination of Micronutrients for Bone (COMB) Study: bone density after micronutrient intervention. J Environ Public Health. 2012;2012:354151. doi:10.1155/2012/354151


---
---