Gray Hair and Catalase – InVite Health Podcast, Episode 343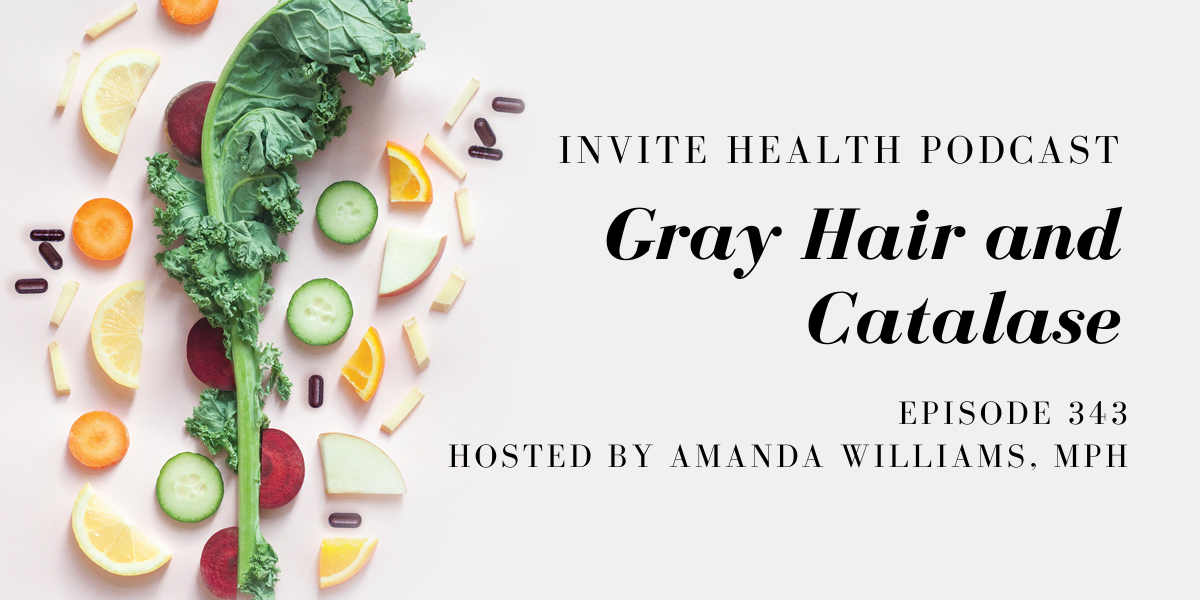 gray hair

Invite Health Podcast, Episode hosted by Amanda Williams, MPH
Subscribe Today!
When it comes to aging, people are always looking for ways to try to combat this. One of the first indications of aging tends to be changes in the skin and graying hair. Some people may start experiencing gray hair as early as in their 20s. No matter when the graying begins, this can drive up a lot of alarm for many people, sending them out to find something to cover up their grays. Today, I want to talk about a nutrient called catalase that can be very beneficial in your daily routine.
COLLAGEN LOSS MAY ACCELERATE AGING – INVITE HEALTH PODCAST, EPISODE 226. Listen Now>>
What is catalase?
Catalase is a naturally-occurring, endogenous antioxidant. As we age, we begin to lose many of our endogenous antioxidants, so it is important to take measures to help support these levels. This is why taking catalase as a supplement can be very helpful. 

When the body experiences oxidative stress, our endogenous antioxidants start to target that, but the levels of these antioxidants don't bounce back. This is frequently the case with catalase. This antioxidant enzyme helps to fend off oxidative stress by destroying cellular hydrogen peroxide and converting it into water and oxygen. 
How this relates to gray hair
The body naturally produces hydrogen peroxide and as hydrogen peroxide levels start to take over in the body, we see that end result in our hair. It is bleaching the hair, so your gray hair is coming from the excessive hydrogen peroxide. We know that catalase controls hydrogen peroxide in the body, so if we have a deficiency or a malfunction in catalase, then we know that this can lead to the pathogenesis of gray hair and other age-associated diseases. 
FINDING THE ROOT CAUSE OF HAIR LOSS – INVITE HEALTH PODCAST, EPISODE 323. Listen Now>>
In this episode, Amanda Williams, MPH discusses the importance of having adequate catalase levels. She shares studies on the role that catalase plays in the body, especially for the aging process and graying hair.
Key Topics:
How people combat graying hair

The function of catalase in the body

How low catalase levels impact diabetes, blood pressure and more

Studies on catalase and graying hair
Thank you for tuning in to the Invite Health Podcast. You can find all of our episodes for free wherever you listen to podcasts or by visiting www.invitehealth.com/podcast. Make sure you subscribe and leave us a review! Follow us on Facebook, Twitter and Instagram at Invite Health today. We'll see you next time on another episode of the Invite Health Podcast.


---
---