Healthy Hair Growth Tips – InVite Health Podcast, Episode 341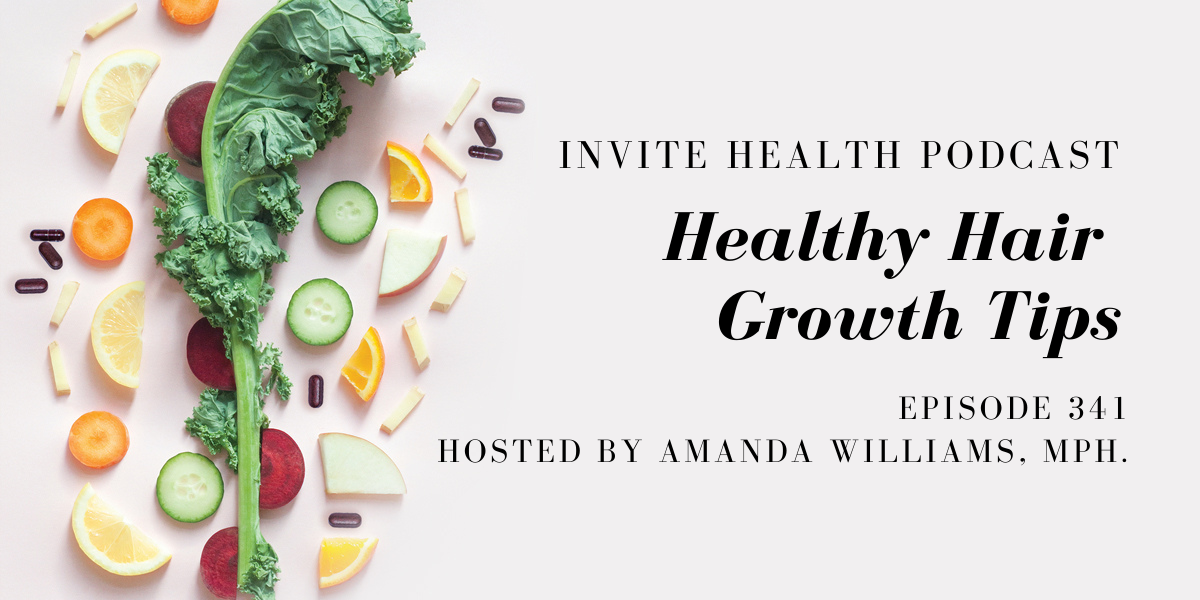 hair growth

Invite Health Podcast, Episode hosted by Amanda Williams, MPH
Subscribe Today!
There are so many things that can impact the health of your hair, particularly in terms of its growth. I want to talk about some of the factors that play a role in this.†
How nutrients can impact hair growth
Nutrient deficiencies in things such as Vitamin D, Vitamin E, collagen and zinc are going to be big contributors to loss and thinning of hair, as well as the lack of growth of hair. Studies have shown that people who have poor dietary intake from following the Standard American Diet often have lower rates of hair growth. On the other hand, people in other countries who consumed more fruits and vegetables were found to have healthier hair in general. Many medications can contribute to these nutrient deficiencies, ultimately impacting your hair growth as well as your overall wellness.†
THE UNSPOKEN DANGER OF PRESCRIPTION MEDICATION ON IMPORTANT NUTRIENTS – INVITE HEALTH PODCAST, EPISODE 262. Listen Now>>
Hormonal implications will also have an impact on your hair. This may include issues with testosterone, insulin and glucose. Thyroid dysfunction can certainly play a role in the health of the hair as well. This is why it is important to monitor your body's hormone levels.†

Promoting healthy hair
Chemicals can certainly impact the health of the hair. Many shampoos, conditioners and other hair products are packed with chemicals that will only add insult to injury. Instead, we want to be using plant-based nutrients from nature. The InViteⓇ Health shampoo and conditioner are great options because they are also free of alcohol, colorants and other toxins. We also offer a Hair and Scalp Stimulant that is made of rosemary, lavender, apple cider vinegar, sage, lemon peel extract and more. These nutrients help to nourish the hair shaft from the inside out.†
IT'S TIME TO GO CLEAN WITH YOUR HAIR CARE ROUTINE! – INVITE HEALTH PODCAST, EPISODE 180. Listen Now>>
We can also look at changes in diets to help promote hair growth. We need to ensure that we are getting adequate healthy fats, key antioxidants and nutrients such as magnesium and zinc. Things such as tocotrienols are incredibly nourishing to the hair shaft itself and can help to enhance the overall growth of the hair. For many people, when they start to use tocotrienols in conjunction with a high-quality multivitamin like our Core Multivitamin, they'll notice significant changes in their hair.†
In this episode, Amanda Williams, MPH explains various factors that may be impacting your hair growth. She discusses how nutrients and chemicals can impact hair health and provides recommendations for helping your hair grow.†
Key Topics:
Studies on factors that impact hair growth

Nutrients that play a role in hair health

How hormones can impact your hair

Stress and telogen effluvium 

How medications can affect hair growth

The powerful nutrients found in the InViteⓇ Health hair care collection
Thank you for tuning in to the Invite Health Podcast. You can find all of our episodes for free wherever you listen to podcasts or by visiting www.invitehealth.com/podcast. Make sure you subscribe and leave us a review! Follow us on Facebook, Twitter and Instagram at Invite Health today. We'll see you next time on another episode of the Invite Health Podcast.


---
---