Can A New Device, Cefaly®, Help to Prevent Migraines?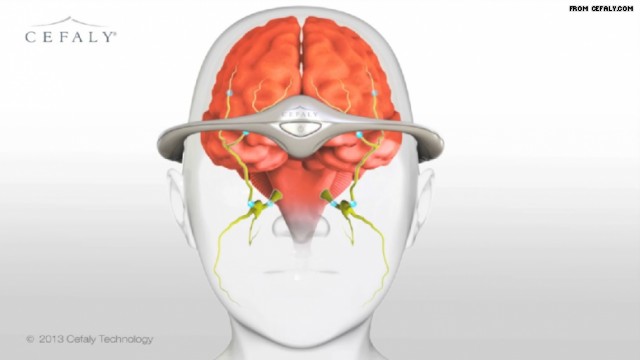 Photo rights: Cefaly™
Sensitivity to noise, nausea, even fainting and blacking out are common symptoms for those who suffer from migraines. Migraines are is different from other headaches. Migraine headaches are a neurological disorder, like epilepsy. They come along with severe and debilitating pain that's far worse than your average headache, generally manifesting as intense throbbing on one side of the head. Migraines occur more frequently in women and may run in families, but children are susceptible to them as well. Some migraine sufferers experience intense nausea, vomiting, severe sensitivity to light and sound, and extreme dizziness during an attack, which can last anywhere from four hours to three days.
A Migraine Device to Prevent Migraines?
The FDA has released a new device that's said to prevent migraines all together. Wait … Prevent? It sounds too good to be true for migraine sufferers. The device is called Cefaly, and it works by stimulating the nerves beneath your forehead. The Cefaly is shaped like a tiara and sits across the head. This battery-powered device has an electrode that's positioned just above the patients' eyes. Electric currents are delivered through battery power, giving a tingling sensation to the person wearing it.
New Research: Study Shows Great Promise for Migraine Sufferers
A recent study published in the Journal of Neurology last month focused on a group of 67 people who suffer from chronic migraine attacks. The numbers showed that 38% of those studied saw a significant reduction of outbreaks when they wore the Cefaly – almost 50% fewer migraines than those who didn't wear it!
Patients are cautioned to wear the device for no more than 20 minutes per day. In contrast to migraine medications, Cefaly has no known side effects and can be combined with other prescription and OTC drugs. The manufacturer of the device is STX-Med, a company based in Belgium. The Cefaly is already being sold in Canada, where it costs $250. So far, it hasn't been released in the United States. However, when it does it store shelves in the US, the Cefaly is very likely to benefit many of the nearly 28 million people who suffer from migraines in the country.
*Update (March 2017) – Cefaly is availble at www.cegaly.us/en and has been approved by the FDA for use under prescription.
According to their website, patients satisfaction is 81%, migraine attacks in users is down 54%, medication intake is down 75%, and responders rate is 75%.
Do you suffer from migraines? Would you try the Cefaly? Share your feedback in the comments!
Source: CNN.com: Suffer from Migraines? Device Worn on the Head May Prevent Them   
---
---