What The Heck Is Collagen? – InVite Health Podcast, Episode 565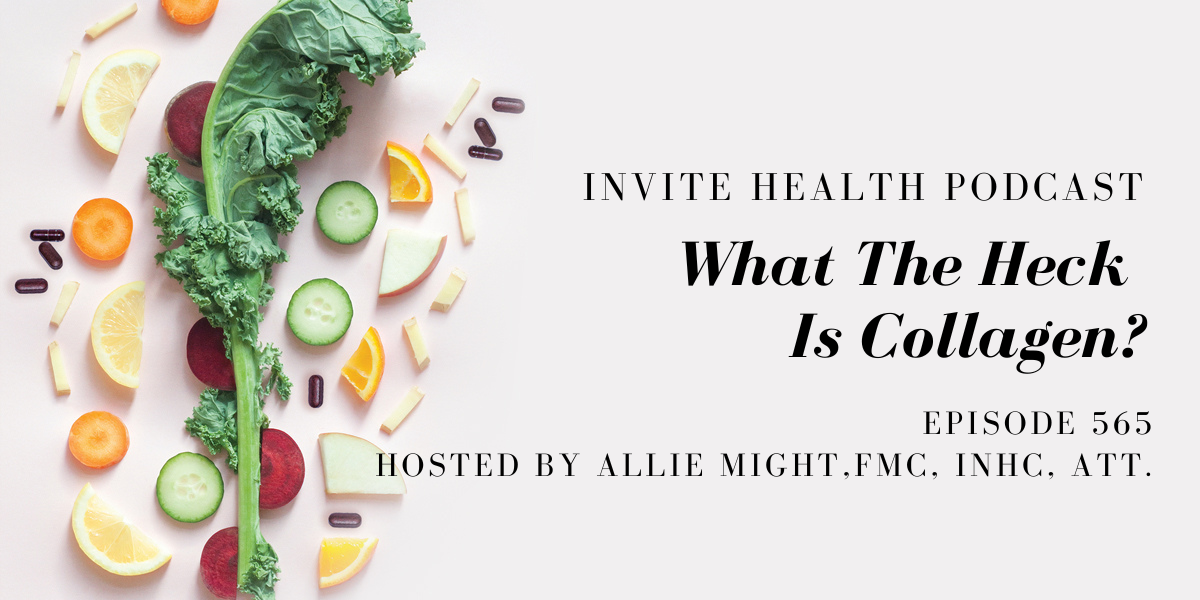 Collagen
Subscribe Today!
Please see below for a complete transcript of this episode.
What The Heck Is Collagen? – InViteⓇ Health Podcast, Episode 565
Hosted by Allie Might, FMC, INHC, ATT
*Intro music*
InViteⓇ Health Podcast Intro: Welcome to the InViteⓇ Health Podcast, where our degreed healthcare professionals are excited to offer you the most important health and wellness information you need to make informed choices about your health. You can learn more about the products discussed in each of these episodes and all that InViteⓇ Health has to offer at www.invitehealth.com/podcast. First time customers can use promo code PODCAST at checkout for an additional 15% off your first purchase. Let's get started! †
*Intro music*
Allie Might, FMC, INHC, ATT: [00:00:42] Welcome to the InViteⓇ Health podcast, where today we will discuss one of my favorite things, collagen. This is Alli Might, integrative nutrition health coach and functional medicine coach here to navigate you through the world of collagen. We've all heard about collagen, but it can seem overwhelming when trying to decide which is the best option for one's needs. There are sources such as bovine or cow, chicken and marine or fish and 28 different types. Let's focus on the most common sources bovine and chicken and types one, two and three. † [00:01:17]
[00:01:18] Type one collagen is the most common. It helps bone matrix, which is the foundation of building bone. And supports the connective tissues like hair, skin, nails, as well as muscles, tenants and ligaments. Type two collagen is commonly known as cartilage. This is solely used to support and maintain the cartilage within our joints. Type three Collagen is helpful for our organs, gut and blood vessels. It can also help improve elasticity in the skin. Now that we had a quick crash course in the sources and the main types of collagen, let's discuss the many options we have here at InViteⓇ Health. † [00:02:01]
I KNEED BONE HEALTH TO HELP MY PAIN >> Read Now! 
[00:02:02] Let's start with Collagen HxⓇ as it's our original collagen supplement. This bovine source collagen is partnered with Boswellia, which adds some nice anti-inflammatory relief. I recommend this product to almost everyone. It's an ideal option for anyone looking to maintain strong connective tissues such as hair, skin, nails, muscles and joints. It can also help support those not only suffering from osteoarthritis, but collagen helps build bone matrix, which is the building block for bone building, making it ideal for anyone with a bone injury, osteopenia or osteoporosis. Incorporating two scoops of our vanilla flavored Collagen HxⓇ per day in water, plain yogurt or a smoothie starts you on the right path. The Collagex HAⓇ from Dr. Pressman is a wonderful collagen formula that not only has a proprietary blend with natural anti-inflammatories, but also contains nutrients like glucosamine sulfate and hyaluronic acid to help support the joints. Taking one scoop a day is a great way to help support joints and spine issues such as bulging discs. For those who prefer something in a pill form instead of powders, the Collagen 3000 tablets are something to consider. These tablets don't have any anti-inflammatories added, but is strictly a source of collagen taking 5 to 7 tablets a day gives you the collagen you're looking for and it's also an easy way to pack for a weekend getaway or longer trip without taking up too much space. † [00:03:47]

[00:03:48] Over the past few years, I've become a big fan of our True Beauty Collagen, similar to the Collagen 3000 tablets. It's also strictly a collagen supplement without the added anti-inflammatories. It's also flavorless, so it can easily be added to any liquid. It's only one scoop a day and a nice option for someone who's never used collagen before. I also like it for maintaining healthy and fresh hair, skin and nails. When it comes to tenants and ligaments, collagen can be beneficial in not only keeping them strong for our joints but can help these connective tissues recover from injuries. Flex HxⓇ has a specific collagen protein that is most helpful for the tendons and ligaments and is the perfect complement to the Collagen HxⓇ. While all of these bovine sourced options are collagen types, one and three. I want to also talk about type two collagen. † [00:04:44]
ACHING JOINTS? YOU NEED THESE NUTRIENTS – INVITE HEALTH PODCAST, EPISODE 455 >> Listen Now! 
[00:04:45] This is more commonly known as cartilage, and ours is sourced from chicken sternum. This is used to support the collagen within the joints. We know that over time this cartilage can start to deteriorate. Usually due to activity level and the normal aging process. Adding just one small capsule a day can help maintain the health of the joints. And doubling up can help relieve some of the joint damage. As you can see, collagen can be a complex topic. For more information on all of collagen benefits, check out my companion blog on our website invitehealth.com. You can also contact me, Allie Might at our uptown location on Second Avenue and 71st Street by phone at 2122492036 or email me at a.m.i.g.h.t@invitehealth.com. I want to thank you for tuning into the InViteⓇ Health Podcast. Remember, you can find all of our episodes for free wherever you listen to podcasts or by visiting invitehealth.com/podcasts. Please make sure you subscribe and leave us a review. You can follow us on Facebook, Twitter and Instagram at at InViteⓇ Health. And we will see you next time for another episode of the InViteⓇ Health Podcast. Until then, stay healthy. † [00:04:45]
*Exit Music*


---
---