What Supplement Is Good For Hair, Skin, Nails, And Joint Health?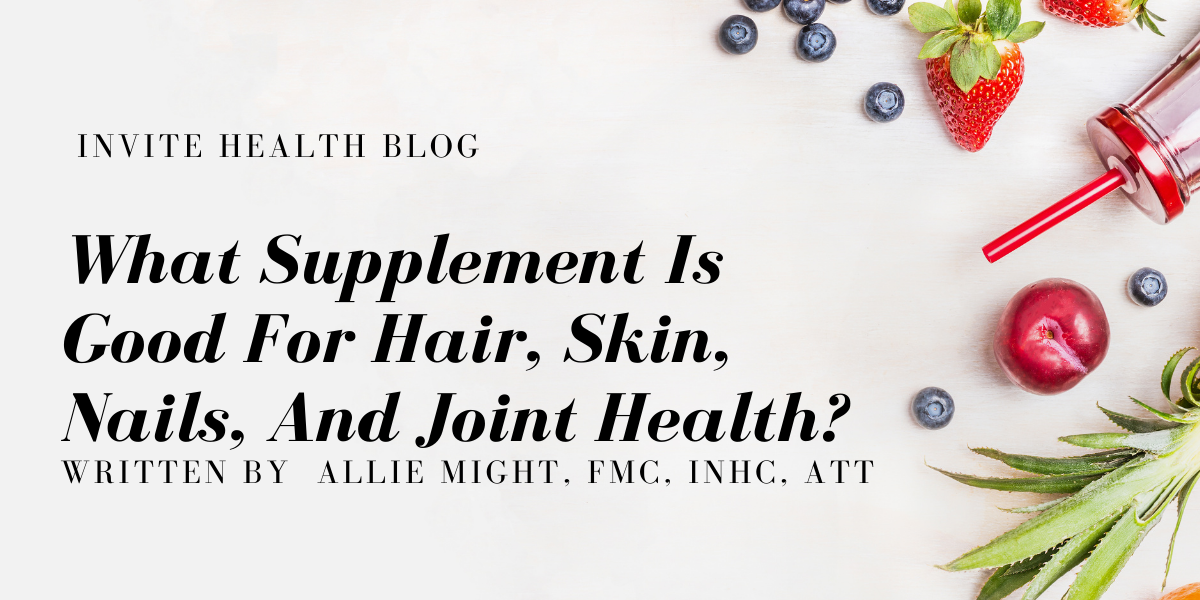 Written By: Allie Might, FMC, INHC, ATT
For further questions or concerns email me at carcidiacono@invitehealth.com
Everyone's heard of collagen. It's typically associated with cosmetic fillers and beauty products. However, collagen is also an essential nutrient as it is vital to every part of the body. This is due to the benefits collagen has for the connective tissues.†
What Exactly Is Collagen?
Well, collagen is a protein that helps to make up the body and is sourced from bovine (cow), fish and chicken to make the supplements we use. The most common types are type 1, 2 and 3 as they have specific functions. Types 1 and 3 are helpful for hair, skin, nails, bones and the muscular system. Type 2 is most commonly used to help the cartilage within the joints.†
When it comes to healthy hair, skin and nails, collagen always seems to be the first nutrient looked at, for good reason. It is needed to help strengthen the nails, which helps them grow and keep any breaks and splitting to a minimum. It also helps to nourish the hair follicle to allow for hair growth and strengthens the hair to avoid brittle strands. Many skin care products contain marine collagen, useful to maintain a youthful appearance. It is needed to help smooth (or avoid as much as possible) fine lines and wrinkles, heal scarring and even adds elasticity to the skin. Collagen also can aid in the hydration of the skin to help combat dry, flaky skin. Establishing a good skincare routine that includes collagen can set up a lifetime of healthy skin.†
SUMMER THE MEDITERRANEAN WAY FOR HEALTHY SKIN – INVITE HEALTH PODCAST, EPISODE 552 >> Listen now! 
Whether it's through the normal aging process, an injury or even a surgical procedure, the muscular system (which includes muscles, tendons and ligaments) can really experience a lot of trauma. While collagen is needed to help maintain the strength and flexibility of these tissues, it can also help in recovery. Studies have shown that adding collagen a couple days after surgery can be effective in the healing process. Collagen can help to heal the wound, as well as strengthen the tissues.†
Collagen is an important part of the bones. It is the foundation of the bone matrix, allowing the calcium to "stick" and form bone. Approximately 40% of our bones are made up of water and matrix, with 90% of the matrix to be collagen. The collagen is quite strong and aids in the formation of bone and cartilage. This is important for healing from breaks and fractures, as well as to strengthen the bones due to osteopenia and osteoporosis. These issues can arise through the normal aging process, causing lower bone density and brittle bones, making collagen a perfect companion to calcium and magnesium.†
BONE HEALTH BASICS – INVITE HEALTH PODCAST, EPISODE 405 >> Listen now! 
Collagen is needed by every part of the body for varying reasons. It is effective supplement for aging and healing damaged tissues. Incorporating skincare products with natural ingredients and collagen, as well as adding our powdered Collagen HxⓇ (my go-to option) into water, plain yogurt or even a nutritious smoothie can put anyone on the path to a strong, healthy body.†
Sources
https://www.getthedose.com/blog/bovine-collagen-vs-marine-collagen
https://www.drugwatch.com/health/collagen/types/
https://www.medicalnewstoday.com/articles/collagen-vs-biotin#best-for-hair
https://www.webmd.com/beauty/marine-collagen
https://www.ncbi.nlm.nih.gov/pmc/articles/PMC3602539/
https://www.ncbi.nlm.nih.gov/pmc/articles/PMC2790195/
https://www.healthline.com/health/osteoarthritis/osteopenia-vs-osteoporosis


---
---