Knowledge is Power: Learn More About the Brain Health Program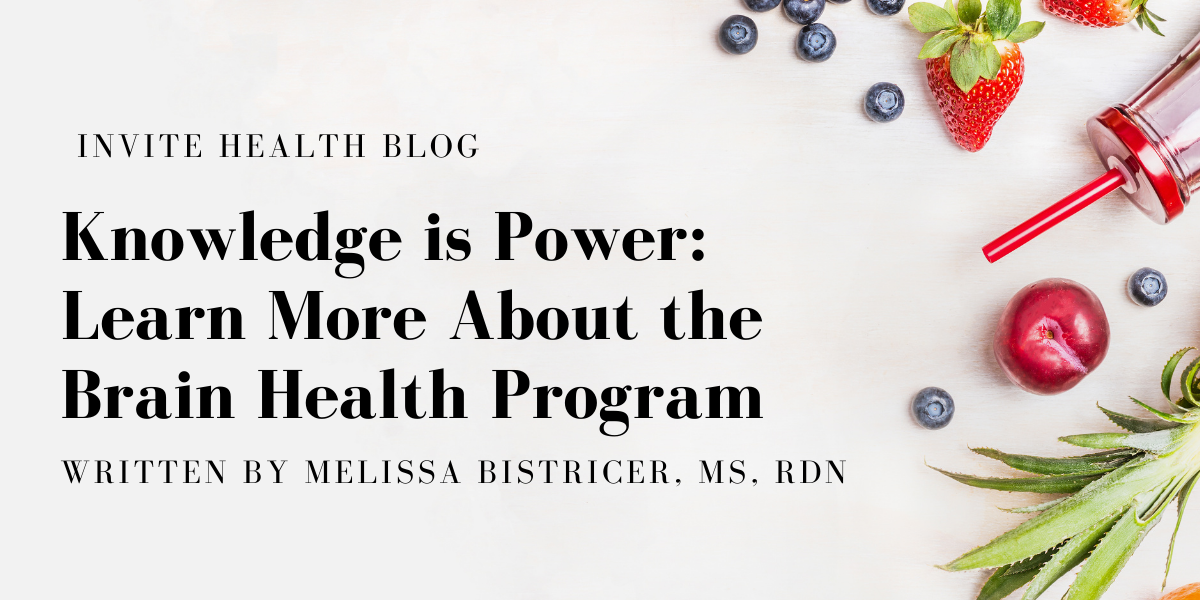 Written by Melissa Bistricer, RDN
For further questions or concerns email me at mbistricer@invitehealth.com
Did you know that the brain is mostly made up of fat and is the fattest organ in the human body? The human brain has the ability to generate ~23 watts of power when awake. If you feel a cognitive dysfunction, this can alter the brain function leading to complicated issues such as memory loss, or decreased energy. So, let's learn about the ways we can help improve your brain function.†
What is Brain Health?
Brain health is defined as the preservation of optimal brain integrity with cognitive function.1 Brain function can be affected as we age with a stable function called mild cognitive impairment and then progressing to worse stages like brain diseases such as Dementia or Alzheimer's disease. There are changes as individual's age and make lifestyle adjustments to positively impact the brain.†
Mild cognitive impairment is generally expected as we get older and age.2 Individuals with mild cognitive impairments still have the ability to perform normal functions. Some minor memory loss can occur and is often called "senior moments." Even though some individuals with mild cognitive impairment remain stable, half of them progress to Dementia. Though, there are ways to prevent the progression by controlling risk factors with lifestyle modifications. Lifestyle modifications that are discussed to benefit brain health can be exercise, cognitively stimulating activities, sleep, and nutrition.† 3
LUTEIN AND ZEAXANTHIN: YOU NEED THESE FOR YOUR MEMORY – INVITE HEALTH PODCAST, EPISODE 537 >> Listen Now! 
Brain Health Nutrition Therapy
The MIND diet has been studied and is recommended for individuals with cognitive decline. The MIND diet is a combination of the Mediterranean and DASH diet. The focus being on wholesome fruits, vegetables and whole grains. It focuses mainly on leafy vegetables 7 days a week, 2 or more servings of berries a week and fatty fish like salmon 1 time a week or more. In the MIND diet it is recommended to avoid trans-saturated fats, hydrogenated oils, and saturated fats.†
Vitamins, Minerals & Herbs
Krill oil is shellfish derived that supplies EPA and DHA important omega-3 fatty acids. Fatty acids have to support healthy blood vessels function and circulation as well as brain health.†
A study provides insight that omega-3 polyunsaturated fats have an effect on cognitive function in the elderly population. This has been studied specifically with krill oil, a mostly omega-3-fatty acids with phosphatidylcholine.†
Acetyl-L-Carnitine, also called Alcar, provides energy to the mitochondria of the cells. The mitochondria is known as the "powerhouse" of the cells. Alpha-lipoic acid, also called ALA, is an antioxidant naturally produced in the body to help support glutathione. Alcar + ALA are combined together at InViteⓇ Health to help counteract oxidative stress in the body. Alcar has been studied for its numerous effects specifically on the brain and muscle metabolism. Alcar protects against neurotoxicity and may be an effective treatment for certain forms of depression.4 Preclinical studies suggest that ALA has free radicals, reduces inflammation and protects the brain cells from conditions like stroke, multiple sclerosis and Alzheimer's disease.† 5
Resveratrol Max HxⓇ has naturally sourced active trans-resveratrol in the formula and powerful antioxidants like grape seed extract and quercetin. Resveratrol comes from the skin of red grapes commonly known as the "red wine antioxidant."†
Resveratrol is a long-term treatment with adequate dosages with improved bioavailability and can possibly exert clinically significant protective effects against cognitive decline in humans.†
RESVERATROL AND BRAIN PROTECTION – INVITE HEALTH PODCAST, EPISODE 445 >> Listen now! 
Grape Seed Extract contains flavonoids and is a powerful antioxidant and anti-inflammatory. Polyphenols and flavonoids maintain cellular proteostasis which is closely involved with amyloid diseases, in particular, neurodegenerative diseases. 8 Grape Seed Extract is valuable in therapeutic agents. Amyloid disease is an abnormal protein produced in the bone marrow causing deposits in any tissue or organs.†
Brain Health Program
Krill oil Advanced supports cardiovascular and brain health with the use of EPA, DHA, Astaxanthin and Omega-3 phospholipids †
Alcar + ALA supports for energy, memory, nerve health and metabolism †
Resveratrol Max HxⓇ supports brain health, cardiovascular, pulmonary and metabolic health †
For further questions or concerns related to dietary and nutritional supplement recommendations email me at mbistricer@invitehealth.com
Sources
1. Wang Y, Pan Y, Li H. What is Brain Health and why is it important? The BMJ. https://www.bmj.com/content/371/bmj.m3683#:~:text=Definition%20of%20brain%20health,-Currently%2C%20there%20is&text=Brain%20health%20 may%20therefore%20be, that%20effect%20 normal%20brain%20function. Published October 9, 2020. Accessed March 31, 2022.
2. Gauthier, Serge, et al. "Mild cognitive impairment." The lancet 367.9518 (2006): 1262-1270.
3. Mintzer J, Donovan KA, Kindy AZ, Lock SL, Chura LR, Barracca N. Lifestyle Choices and Brain Health. Front Med (Lausanne). 2019; 6:204. Published 2019 Oct 4. doi:10.3389/fmed.2019.00204Mintzer J, Donovan KA, Kindy AZ, Lock SL, Chura LR, Barracca N. Lifestyle Choices and Brain Health. Front Med (Lausanne). 2019; 6:204. Published 2019 Oct 4. doi:10.3389/fmed.2019.00204
4. Smeland OB, Meisingset TW, Borges K, Sonnewald U. Chronic acetyl-L-carnitine alters brain energy metabolism and increases noradrenaline and serotonin content in healthy mice. Neurochem Int. 2012; 61(1):100-107. doi:10.1016/j.neuint.2012.04.008
5. Alpha lipoic acid. Alzheimer's Drug Discovery Foundation. https://www.alzdiscovery.org/cognitive-vitality/ratings/alpha-lipoic-acid#:~:text=Preclinical%20research%20 suggests%20that%20 ALA, multiple%20sclerosis%2C%20and%20Alzheimer's%20disease. Accessed April 1, 2022.
6. Konagai C, Yanagimoto K, Hayamizu K, Han L, Tsuji T, Koga Y. Effects of krill oil containing n-3 polyunsaturated fatty acids in phospholipid form on human brain function: a randomized controlled trial in healthy elderly volunteers. Clin Interv Aging. 2013; 8:1247-1257. doi:10.2147/CIA.S50349
7. Cicero AFG, Ruscica M, Banach M. Resveratrol and cognitive decline: a clinician perspective. Arch Med Sci. 2019; 15(4):936-943. doi:10.5114/aoms.2019.85463
8. Mahdipour R, Ebrahimzadeh-Bideskan A, Hosseini M, et al. The benefits of grape seed extract in neurological disorders and brain aging [published online ahead of print, 2022 Mar 28]. Nutr Neurosci. 2022; 1-15. doi:10.1080/1028415X.2022.2051954


---
---