Why Coenzyme Q10 Ubiquinol Is So Important – InVite Health Podcast, Episode 233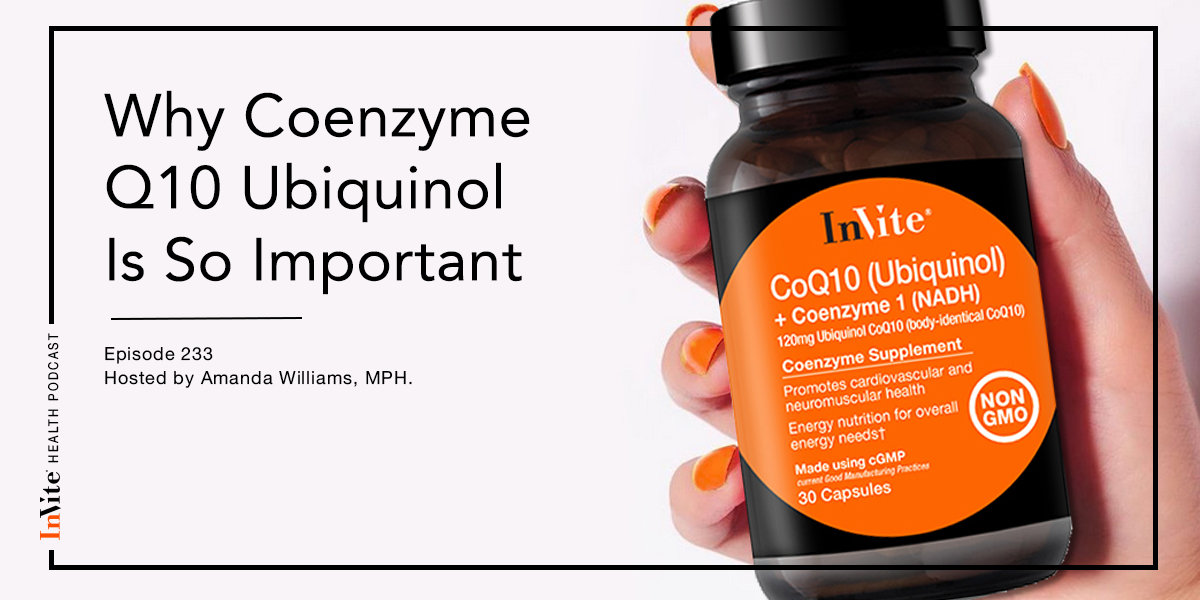 coenzyme q10

Invite Health Podcast, Episode hosted by Amanda Williams, MPH
Subscribe Today!
What is the difference between CoQ10 and Ubiquinol? This is a question that comes up on a frequent basis. Today, I want to talk about some science behind Coenzyme Q10 in the Ubiquinol form. 
What is CoQ10?
Coenzyme Q10, commonly called CoQ10, is a substance that helps the body to convert food into energy. Coenzyme Q10 is found in almost every single cell within the body and it is a very powerful antioxidant. 
CoQ10 is a member of the ubiquinone family of compounds. When we have the reduced, really powerful antioxidant form, that is Ubiquinol. That's where that difference comes into play. When we're supplementing, we ideally want to be using Ubiquinol, that reduced, highly absorbable form of Coenzyme Q10.† 
CoQ10, the ubiquinone, refers to the ubiquitous presence of these compounds within living organisms and it's defining their actual chemical structure, which contains this functional group known as benzoquinone. The ubiquinones are a fat-soluble molecule and ubiquinone is found in humans as CoQ10. 
How To Optimize Heart Health – InVite Health Podcast, Episode 210. Listen Now >>
CoQ10 is required within the mitochondria for ATP synthesis. This is the energy. ATP is adenosine triphosphate. We also know that CoQ10 functions as an antioxidant within the cell membranes, as well as lipoproteins. Antioxidants help to fend off damaging particles that are in the body known as free radicals. The free radicals can damage cell membranes and can screw up our cellular DNA. They can even create a situation where the cell itself dies. Antioxidants such as Coenzyme Q10 can help to neutralize these free radicals. This is why we find Coenzyme Q10 Ubiquinol to be a very powerful antioxidant.†

CoQ10's impacts on the body
Researchers have analyzed the way that the body utilizes CoQ10. Studies with Coenzyme Q10 have been shown to be really important when it comes to cardiovascular health and the way the body responds to heart attacks. They've been able to show that people who take Coenzyme Q10 are much less likely to have a heart attack. Researchers have done extensive studies when it comes to heart failure, recognizing that CoQ10 is required for that mitochondrial energy production. When you take someone who has heart failure, their heart has no ability to actually generate energy.†
We've looked at how Coenzyme Q10 works in terms of the stabilization of blood pressure and when it comes to fending off oxidative stress that can be damaging within our cholesterol, creating a situation where you have oxidized LDL.† 
Why Ubiquinol May Improve Scary Blood Test Results, Part 1 – Invite Health Podcast, Episode 172. Listen Now >>
Certainly, it's been studied across the spectrum when it comes to different metabolic disorders. In diabetics, for example, they've been able to detect that low levels of Coenzyme Q10 can be extremely detrimental to a diabetic's health, not only because of that greater likelihood of cellular damage throughout the body, but also when we think about the energy.†
For more information about the importance of CoQ10, tune into the full podcast episode.
Thank you for tuning in to the Invite Health Podcast. You can find all of our episodes for free wherever you listen to podcasts or by visiting www.invitehealth.com/podcast. Make sure you subscribe and leave us a review! Follow us on Facebook, Twitter and Instagram at Invite Health today. We'll see you next time on another episode of the Invite Health Podcast.


---
---