Green Tea and Longevity – InVite Health Podcast, Episode 336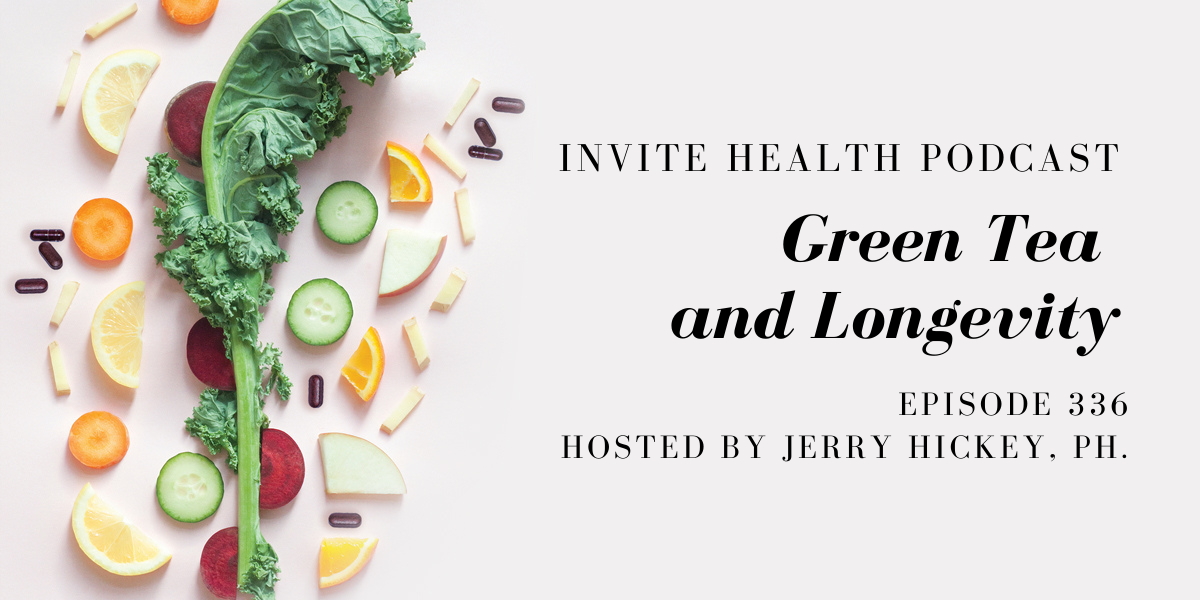 green tea

Invite Health Podcast, Episode hosted by Jerry Hickey, Ph.
Subscribe Today!
Green tea possesses many proven health benefits. Studies have shown that tea may support your healthspan and lifespan. Your healthspan is how long you stay healthy and the goal is to be healthy right up until your last minute. Lifespan refers to how long you live.† 
The health benefits of green tea
A number of studies have shown that green tea specifically improves the benefits of exercise. Together, these two factors have an additive effect that helps to build strong bones and improve strength. Taking a green tea capsule such as our Green Tea HxⓇ prior to exercise allows you to build more muscle and strengthen your bones while working out.†  
There are quite a few studies showing that green tea helps prevent fragility and support balance. A study completed in Singapore looked at 2400 adults aged 55 years or older. The researchers found that tea consumption was connected to better balance in aging people, as well as a stronger and healthier gait. The gait can reveal a lot about an elderly person's overall health.†
FISH OILS, AGING AND MUSCLE HEALTH – INVITE HEALTH PODCAST, EPISODE 335. Listen Now>>

What are blue zones?
Blue zones are regions of the world where people have a trend of living much longer. There's a blue zone above Venice, Italy, one in Ikaria, Greece, one in Loma Linda, California, one in Ecuador and one off the coast of Japan in Okinawa. People in these regions typically live far longer than people from other surrounding areas. It's not uncommon in these regions for people to live to 90 or 105 years old.†  
A study done on the blue zone in Ikaria, Greece looked at 673 people aged 65 to 100. Researchers then followed up with them several years later. They found that some factors that contributed to the longevity of these subjects included coffee packed with polyphenols, fruit intake, high-quality olive oil and drinking tea. Antioxidants may also contribute to long, healthy lives.†
HOW ANTIOXIDANTS CAN SUPPORT TELOMERE LENGTH AND OVERALL HEALTH – INVITE HEALTH PODCAST, EPISODE 284. Listen Now>>
In this episode, Jerry Hickey, Ph. speaks about the powers found in green tea. He discusses the phenomenon of blue zones and delves into studies demonstrating how the nutrients in green tea may be related to trends of longevity found in blue zones and beyond.†
Key Topics:
Research on the benefits of green tea

The difference between various types of teas

Fragility syndrome in elderly patients

Lack of protein and sarcopenia

What makes blue zones special?

Studies on all-cause mortality
Thank you for tuning in to the Invite Health Podcast. You can find all of our episodes for free wherever you listen to podcasts or by visiting www.invitehealth.com/podcast. Make sure you subscribe and leave us a review! Follow us on Facebook, Twitter and Instagram at Invite Health today. We'll see you next time on another episode of the Invite Health Podcast.


---
---