Vitamin C Serum: Your Summer Skin Favorite – InVite Health Podcast, Episode 357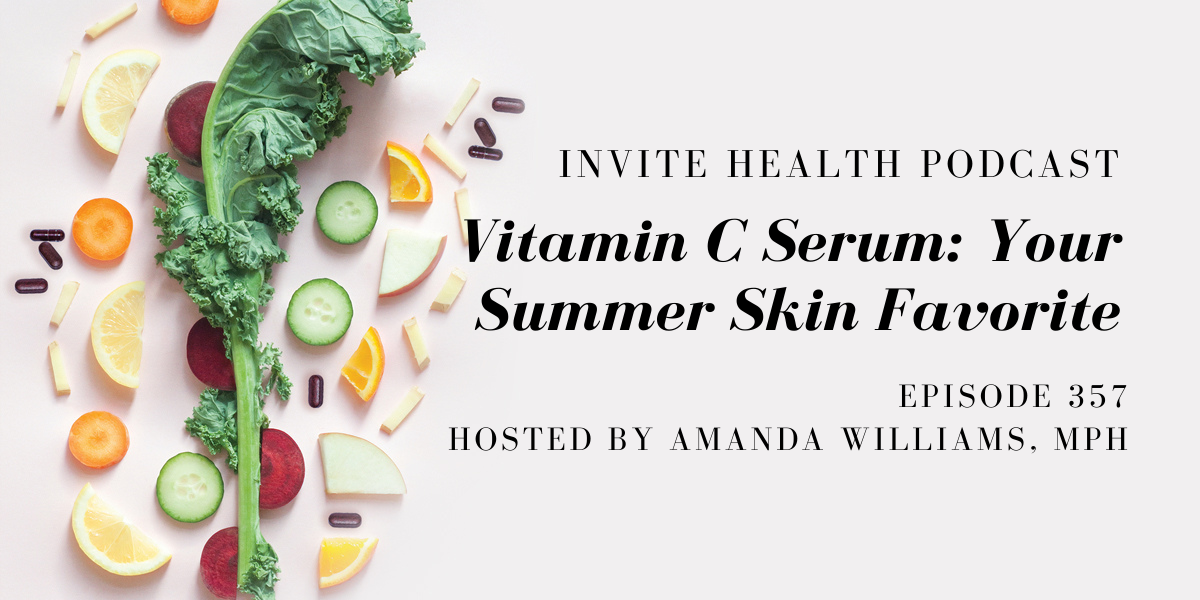 vitamin c serum

Invite Health Podcast, Episode hosted by Amanda Williams, MPH
Subscribe Today!
With the heat of the summer upon most areas of the country, I wanted to discuss something that is very important. Hydration matters. Staying hydrated throughout the summer months is key because we have a lot more fluid loss. I always turn towards the Alkalizer Powder during the spring and summer, when you have a lot more humidity, which can make us more prone to electrolyte imbalances. This is because we lose the minerals in our body as we lose fluids. While hydrating the whole body is extremely important, today I want to talk about a skin care tip for the summer months.† 
THE IMPORTANCE OF HYDRATION IN THE HEAT OF SUMMER – INVITE HEALTH PODCAST, EPISODE 111. Listen Now>>
Nourishing your skin with Vitamin C serum
Let's talk about our Vitamin C serum. This is a really handy thing to have along with you for the hot summer months. It contains 10% Vitamin C, which is a high amount. It is combined with aloe, an Italian fine wine blend and marine collagen. These ingredients offer antioxidants that help to nourish, hydrate and support the skin. Vitamin C and collagen pair especially well together because they work synergistically to maintain the elasticity and tone of the skin.† 
This Vitamin C serum is especially useful during the summer because we know we're going to be exposed to high amounts of skin-damaging free radicals, not only from the environment, but also from the sun's UV radiation. Studies have shown that overexposure to these two factors can accelerate the aging of the skin, partly because it causes the collagen in your skin to degrade. We're already losing collagen as we get older, but then we add insult to injury by adding UV radiation and environmental pollutants. This drives up oxidative stress in the skin and that is why we need Vitamin C.†

Where does collagen fit in?
Vitamin C helps to promote collagen formation, which helps to mitigate damage caused by free radicals. This allows us to maintain the firmness and youthfulness of our skin. We know that topical Vitamin C is one of the most effective ways to help to bolster up your collagen synthesis.† 
I oftentimes say that it's a two-pronged approach: you want to take an internal, hydrolyzed collagen such as the Collagen HxⓇ or the Collagen tablets. Then, we want to be using our Vitamin C serum topically to help support the collagen fibers from the outside in, so this is really key.† 
ALL ABOUT HYDROLYZED COLLAGEN – INVITE HEALTH PODCAST, EPISODE 23. Listen Now>>
In this episode, Amanda Williams, MPH explains why a Vitamin C serum can be so beneficial for your skin. She describes the relationship between collagen and Vitamin C and offers recommendations for promoting your skin health this summer.†
Key Topics:
Why hydration is crucial

How Alkalizer Powder helps with hydration 

The benefits of wine as a topical for the skin

The role of Vitamin C serum in aging skin
Thank you for tuning in to the Invite Health Podcast. You can find all of our episodes for free wherever you listen to podcasts or by visiting www.invitehealth.com/podcast. Make sure you subscribe and leave us a review! Follow us on Facebook, Twitter and Instagram at Invite Health today. We'll see you next time on another episode of the Invite Health Podcast.
---
---