Creatine: A Powerful Amino Acid for Brain & Brawn – Invite Health Podcast, Episode 157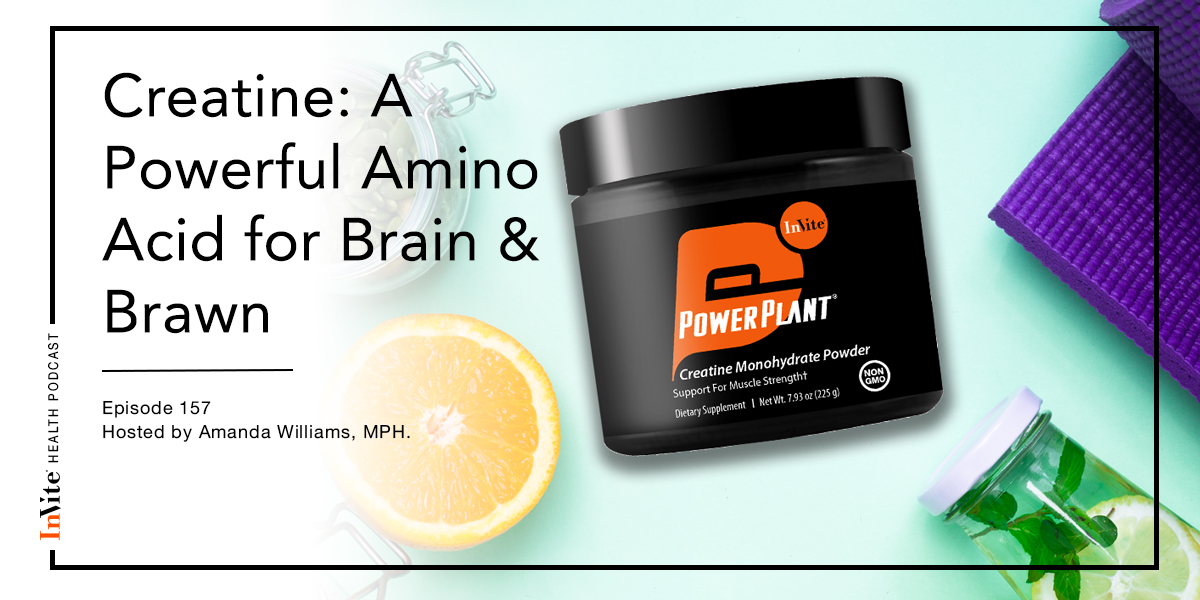 Invite Health Podcast, Episode hosted by Amanda Williams, MPH.
Subscribe Today!
The body requires 20 different amino acids in order to function properly. Each one of these individual amino acids play a highly critical role in certain pathways, in certain functionalities of organ systems and our overall wellness. Creatine is one of those amino acids. It is commonly thought of as just a workout supplement, helping to build muscle mass. But on today's episode, we are going to discuss more of the critical roles that it plays in the human body and some of the science behind it.
What is Creatine?
Creatine happens to be one of those nifty little amino acids that has all of this potential in the human body. You often hear about being using a Creatine Monohydrate supplement to support the building of muscle mass during workouts, pre- or post-workout, especially with energy output and ATP.
The majority of clinical research studies looking at Creatine are in the setting of athletic performance. In the journal of International Sports Nutrition, researchers were studying the effects of pre- vs. post-workout supplementation with the utilization of Creatine Monohydrate, looking at body composition and strength. It was shown to promote healthy fat mass and muscle mass.
Creatine Also Supports Memory! Learn More By Clicking Here >>

The Science Behind Creatine
Another study that was done in Canada at McMaster University were looking at the benefits of Creatine Monohydrate supplementation in elderly individuals. Researchers were studying its impact on elderly individuals, in terms of helping to increase skeletal muscle mass but also looking at maintaining a healthy energy output and healthy body fat. What they discovered was that, not only was in beneficial for the maintenance of muscle mass but there was also a positive brain benefit.
Study after study has now been focused on its benefit for brain health, specifically cognitive function. Published in the journal of Neurology, researchers were studying this amino acid for its benefit in individuals that had neuromuscular diseases, like muscular dystrophy. This is important, because as we age we can end up with lipofusion, which is a build up of "cellular garbage" in the brain. The addition of Creatine seemed to be help clean this up and boost cellular energy.
Thank you for tuning in to the Invite Health Podcast. You can find all of our episodes for free wherever you listen to podcasts or by visiting www.invitehealth.com/podcast. Make sure you subscribe and leave us a review! Follow us on Facebook, Twitter and Instagram at Invite Health today. We'll see you next time on another episode of the Invite Health Podcast.


---
---