What to Do for Fibromyalgia Pain, Part 1 – InVite Health Podcast, Episode 385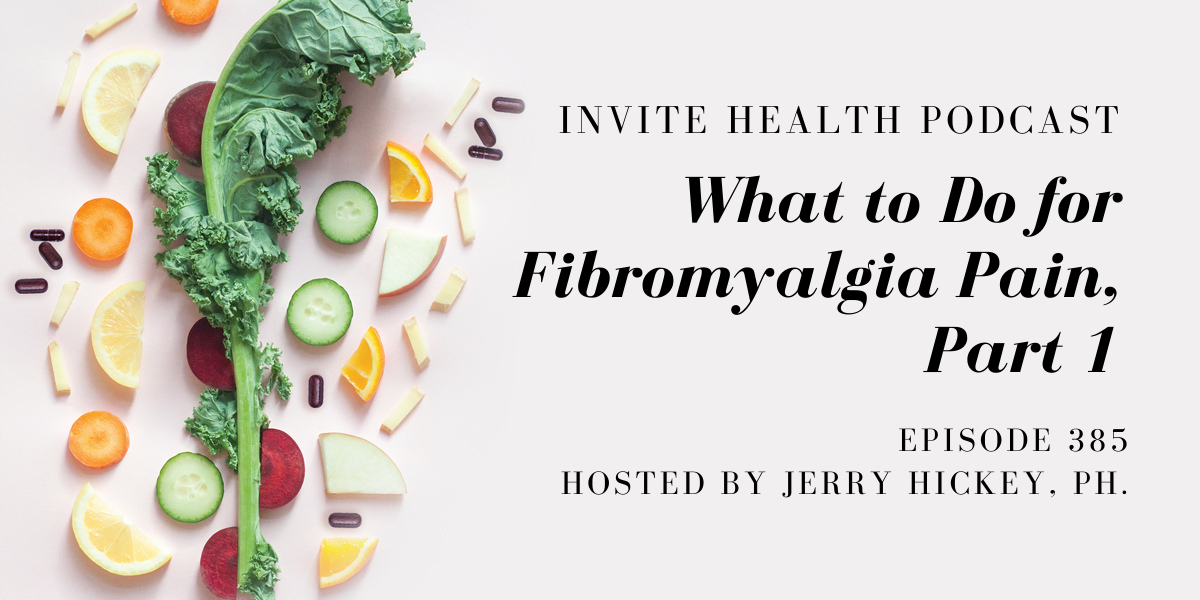 fibromyalgia
InViteⓇ Health Podcast, Episode hosted by Jerry Hickey, Ph.
Subscribe Today!
Fibromyalgia is more common than you think. It's a chronic pain condition that can be quite terrible for people. In a strange way, fibromyalgia is in the brain, but not in the sense that you'd need a psychiatrist or psychiatric-type medications to help.† 
Details on fibromyalgia
Fibromyalgia is probably the most common chronic pain syndrome. You may have pain in specific areas or it might be more generalized. It's an aching kind of pain. It's estimated that over 5 million Americans are suffering from this issue, the lion's share of which are women. They can experience stiffness and pain in their muscles, ligaments and tendons. The pain can occur anywhere in the body.† 
These people are also fatigued and drained of energy, which can impact their ability to sleep, focus and have conversations. Many of these people also experience headaches like tension headaches or migraines. They may also have intestinal issues such as Irritable Bowel Syndrome (IBS), where they have constipation, diarrhea, gassiness, bloating and more.†
OMEGA-3 FATTY ACIDS TO TARGET MIGRAINES – INVITE HEALTH PODCAST, EPISODE 383. Listen Now>>
Sometimes, really minor things can set off pain in someone with this issue. They may have a sensitivity to noise, strong odors, certain foods, flashing lights, bright lights and even strong breezes.†

Nutrients that can help
One thing you want to help with issues related to fibromyalgia is curcumin. At the end of your nerves, there is a neurotransmitter called Substance P that stimulates the pain receptors in your body. This is normally elevated in people with fibromyalgia. Curcumin and other ingredients in turmeric have been shown in human clinical trials to reduce Substance P release at the nerve ending. Well-absorbed curcumins like our Curcumin Blend or Bio-Curcumin 5-Loxin can help support people with fibromyalgia.†
Studies have also found that people with fibromyalgia are commonly low in the mineral magnesium, as well as Vitamin D. Supplementing with these nutrients can be beneficial for people with this issue.†
WHY SHOULD I SUPPLEMENT WITH MAGNESIUM? – INVITE HEALTH PODCAST, EPISODE 359. Listen Now>>
In this episode, Jerry Hickey, Ph. explains the chronic pain condition called fibromyalgia. He details the different types of pain, as well as studies indicating what nutrients may help with this issue. Stay tuned for part 2 of this episode, coming soon!†
Key Topics:
Typical issues associated with this condition

The different types of pain 

Studies on nutrients for fibromyalgia
Thank you for tuning in to the InViteⓇ Health Podcast. You can find all of our episodes for free wherever you listen to podcasts or by visiting www.invitehealth.com/podcast. Make sure you subscribe and leave us a review! Follow us on Facebook, Twitter and Instagram at InViteⓇ Health today. We'll see you next time on another episode of the InViteⓇ Health Podcast.


---
---