Why Quercetin Is The "Can Do" Flavonoid – Invite Health Podcast, Episode 138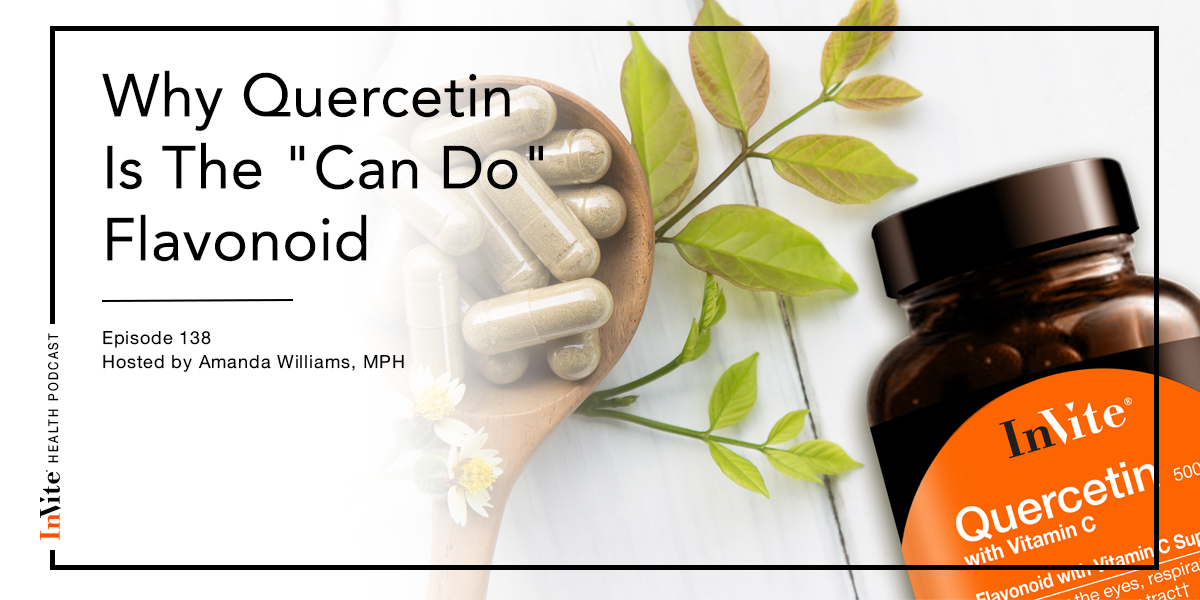 Invite Health Podcast, Episode hosted by Jerry Hickey. Ph
Subscribe Today!
We have all heard the saying, "you are what you eat". But have you thought about what foods have common components? Interestingly enough, when we look at specific foods – apples, onions, berries, grapes, citrus fruits – they have a common component, called Quercetin. Quercetin is an extremely powerful flavonoid that provides the body with a significant amount of antioxidant power. This is important we want to be able to neutralize free radicals, that can damage cell membranes, damage our cellular DNA, leading to cell death.  But the more antioxidants we have on board, the more we can fend off that type of oxidative stress and damage that can occur.
What is Quercetin?
Quercetin in a plant-based flavonoid, sometimes referred to as a citrus bioflavonoid, found naturally in some the healthiest known food sources, such as dark berries, organic tomatoes, and black tea. Generally speaking, we do not obtain a high enough amount of this antioxidant through our diet alone. Most individuals are not following a balanced diet that has adequate amounts of antioxidants from fruits and vegetables alone. To do this, a diet I would highly recommend is the Mediterranean Diet. Click here to learn more about the Mediterranean Diet now! 

The University of Maryland released a great breakdown, where they described the way in which Quercetin has been researched in terms of being able to help stabilize cells. This is extremely important because, when we think about histamine in the case of seasonal allergies or hives, Quercetin has been studied in the stabilization of the cells that release histamine in the body, demonstrating an anti-inflammatory and anti-histamine effect. "In the setting of asthma, allergies, hay fever, hives it has been shown that Quercetin has been very beneficial," according to researchers. This scientific research has also demonstrated the link between Quercetin and cardiovascular health. Its powerful flavonoids have been shown to protect against the damage caused by elevated cholesterol and high blood pressure. Quercetin has also been shown to support urinary tract and prostate health.†
Research on Quercetin
Published in the journal Frontiers of Immunology, a couple of different universities are currently studying Quercetin and Vitamin C's impact on the COVID-19 virus – Eastern Virginia Medical School, a major university in Italy and Saint Peter's Hospital in England. They are "presenting current evidence for the utilization of Vitamin C and Quercetin, both for prophylactic and high risk populations as well as for the treatment of COVID-19 patients." This is something that we should all keep our eyes on!†
Questions for Amanda Williams, MPH? Leave a comment below to join the discussion!
Thank you for tuning in to the Invite Health Podcast. You can find all of our episodes for free wherever you listen to podcasts or by visiting www.invitehealth.com/podcast. Make sure you subscribe and leave us a review! Follow us on Facebook, Twitter and Instagram at Invite Health today. We'll see you next time on another episode of the Invite Health Podcast.


---
---