A Thyroid Health Summary Overview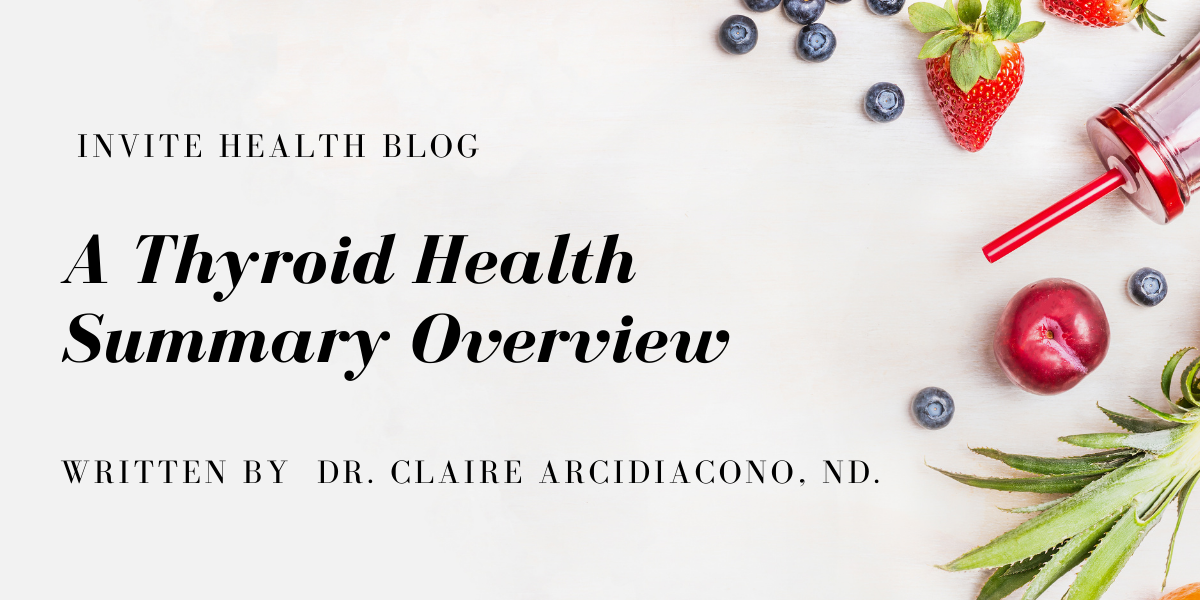 Thyroid Health
Written by Dr. Claire Arcidiacono, ND
For further questions or concerns email me at carcidiacono@invitehealth.com
The Overview of Thyroid Health
A few weeks ago I finished my mini-series on thyroid health. I wanted to give everyone a chance to review it before I did a summary. So today I will do a quick summary of the thyroid. Throughout this series, we've learned what the thyroid is, what it does and why this is so important. We have gone over many of the lab tests that are important to thyroid health. Once labs have been done we have covered what to consider when it comes to complementary care. Conventional treatment is just as important. If you have a TSH of 6 which as we know indicates a low thyroid, this must be treated with both conventional and holistic methods. While it is important to work with your doctor to determine the best medication for your desired outcome, you have to know your options. These can include Armor, Synthroid, and Levothyroxine for under-active thyroid. (1) For overactive thyroid treatments can include thionamides or radioactive iodine therapy.†(2)
In addition to going over basic hypothyroidism and hyperthyroidism, we have covered autoimmune issues that can affect the thyroid and how it can affect other systems such as the adrenals, female health and even weight.†
SUMMER AND AUTOIMMUNE DISEASE FLARE-UPS – INVITE HEALTH PODCAST, EPISODE 378 >> Listen Now! 
What can you do if you haven't been feeling well and suspect it might be the thyroid? First, make a list of symptoms you are experiencing. Relying on memory is never exact. I know I personally get anxious waiting to see my primary care. Symptoms of thyroid disorder as I previously mentioned include weight gain/weight loss, feeling hot/cold, changes in sleep pattern, fatigue, menstrual irregularities, mood changes, hair loss, bone loss, constipation, and dry skin/hair. (3) I go through a complete list of symptoms in my blog about hyper and hypothyroidism.†
Once you have this list of symptoms, go to your doctor for blood tests. You can talk to your doctor about TSH, T3, T4 and antibodies to get as many details as possible. If weight gain or weight loss is an issue, do your food log. My previous blog goes into depth on these topics!†
Once you have a food log and blood work, talk to a nutritionist to see what is going on. You can also check out a blog on InViteⓇ Health that relates to you. Do you seem to have adrenal fatigue? Are you a woman postmenopausal? These are all things that are important to address.†
Working with the underlying issues is most important. However, that can take time. Working with the symptoms can also be important so that you feel better now. There are a number of InViteⓇ products that can be helpful. I've included products relating to symptoms not addressed in my prior blogs:†
Fatigue
This can accompany both hyper and hypothyroidism. What are some things that can be helpful? InViteⓇ Health has a wonderful multivitamin designed to help with energy called Performance Multivitamin. For those who do not like swallowing pills, a powdered multi called Multi energy powder can help. Studies show that long term, a good multivitamin helps with energy.† (5)
IS A POWDERED MULTIVITAMIN BENEFICIAL? – INVITE HEALTH PODCAST EPISODE 551 >> Listen Now! 
Digestive Issues
For those with digestion problems, InViteⓇ has Digestive HxⓇ. Studies show that supplementation with enzymes helps with bowel movements and digestive function. (6) A probiotic, for example Probiotic HxⓇ, helps with constipation, diarrhea, gas and bloating. Studies show that a good probiotic is very important for a health digestive tract! †(7)
Anxiety
L Theanine has been found in studies to be helpful with reducing anxiety. †(8)
Dry skin / nails / hair
Fish oil has been found in studies to be good for dryness in skin, and hair.† (9)
Source
https://www.drugs.com/drug-class/thyroid-drugs.html
https://www.nhs.uk/conditions/overactive-thyroid-hyperthyroidism/treatment/#:~:text=Medicines%20called%20thionamides%20are%20commonly,before%20you%20notice%20any%20benefit.
https://www.drugs.com/drug-class/thyroid-drugs.html
https://www.nhs.uk/conditions/overactive-thyroid-hyperthyroidism/treatment/#:~:text=Medicines%20called%20thionamides%20are%20commonly,before%20you%20notice%20any%20benefit.
https://www.ncbi.nlm.nih.gov/pmc/articles/PMC4750202/
https://www.ncbi.nlm.nih.gov/pmc/articles/PMC6910206/
https://www.health.harvard.edu/vitamins-and-supplements/health-benefits-of-taking-probiotics
https://www.ncbi.nlm.nih.gov/pmc/articles/PMC6836118/
https://www.medicalnewstoday.com/articles/fish-oil-for-skin#how-to-use


---
---