Burn Belly Fat with Apple Cider Vinegar – InVite Health Podcast, Episode 382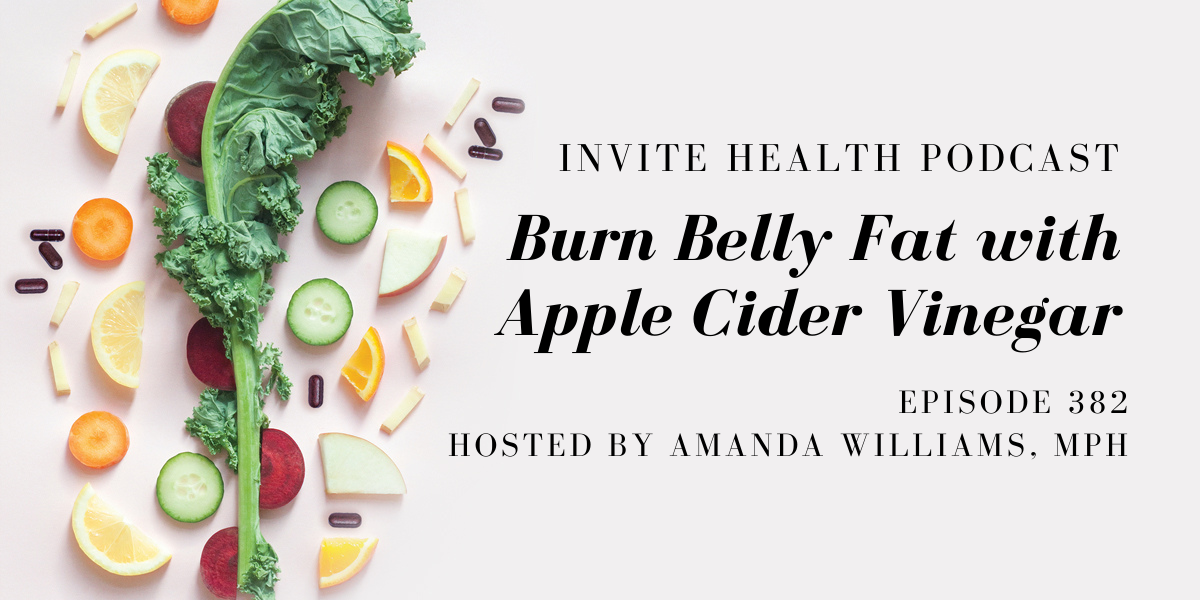 apple cider vinegar
InViteⓇ Health Podcast, Episode hosted by Amanda Williams, MPH
Subscribe Today!
Just over a decade ago, researchers in Japan were studying the effects of vinegar. An interesting finding came out of this study and it was that vinegar could potentially help to burn fat, thus functioning as a weight loss agent. This is an interesting way to think about vinegar apart from a salad dressing or an alternative cleaning agent. What we now know is that apple cider vinegar has a really unique way of promoting thermogenesis, which is natural fat burning.† 
TARGETED APPROACH TO BURN BELLY FAT – INVITE HEALTH PODCAST, EPISODE 250. Listen Now>>
Research on the benefits of vinegar
People are always looking for different ways to burn fat. The researchers in Japan said that vinegar may be a natural fat fighter. They found that when they were utilizing vinegar, they were starting to see that it was helping people by preventing additional weight gain. They were looking at people's weight, percentage body fat and Body Mass Index (BMI).† 
In the journal of MedGenMed in 2006, there was a study that came across another interesting finding with vinegar. They found that it had these anti-glycemic effects, which means it was more in terms of the regulation of blood glucose. Though there are many different types of vinegar, we certainly know that apple cider vinegar really seems to have this heightened amount of medicinal benefits.†
What makes apple cider vinegar special?
Across the board, when we're looking at cholesterol, weight and gastrointestinal health, apple cider vinegar has been shown to be very beneficial, especially in the setting of the microbiome. Whenever we can control our microbial environment, this will also help to support our weight. Apple cider vinegar has also been looked at for cardiovascular health and blood pressure.† 

In that same study from 2006, the researchers looked at how apple cider vinegar could help to regulate blood glucose levels by enhancing insulin sensitivity. This helps create a more balanced blood sugar, helping to prevent spikes in blood glucose. One of the things that we know about weight gain is that it is often paired with insulin resistance, so people who are struggling to lose weight generally have elevated cortisol, elevated insulin and erratic glucose levels. Cortisol coming from adrenals then gets stored as fat, so you may be trying different things to burn fat, but if you're having this dysregulation because of glucose and insulin, you're always going to be struggling. We know now that vinegar helps to modulate this.†     
HOW TO SUPPORT YOUR ADRENAL GLANDS – INVITE HEALTH PODCAST, EPISODE 380. Listen Now>>
Many times, people are struggling to find ways to promote fat burning in the body. We know that apple cider vinegar has been shown to have all of these other properties in terms of the immune system, digestive system and cardiovascular system, so why not give it a shot when it comes to weight management and belly fat? Check out our Apple Cider Vinegar formulation to help support all of these systems in the body.†
In this episode, Amanda Williams, MPH discusses the many benefits associated with apple cider vinegar, especially in terms of burning fat. She also details multiple studies related to vinegar.†
Key Topics:
The frustration associated with having excess body fat

Finding the root cause of weight gain

Studies on apple cider vinegar
Thank you for tuning in to the InViteⓇ Health Podcast. You can find all of our episodes for free wherever you listen to podcasts or by visiting www.invitehealth.com/podcast. Make sure you subscribe and leave us a review! Follow us on Facebook, Twitter and Instagram at InViteⓇ Health today. We'll see you next time on another episode of the InViteⓇ Health Podcast.


---
---