Green Tea and Bone Health – InVite Health Podcast, Episode 332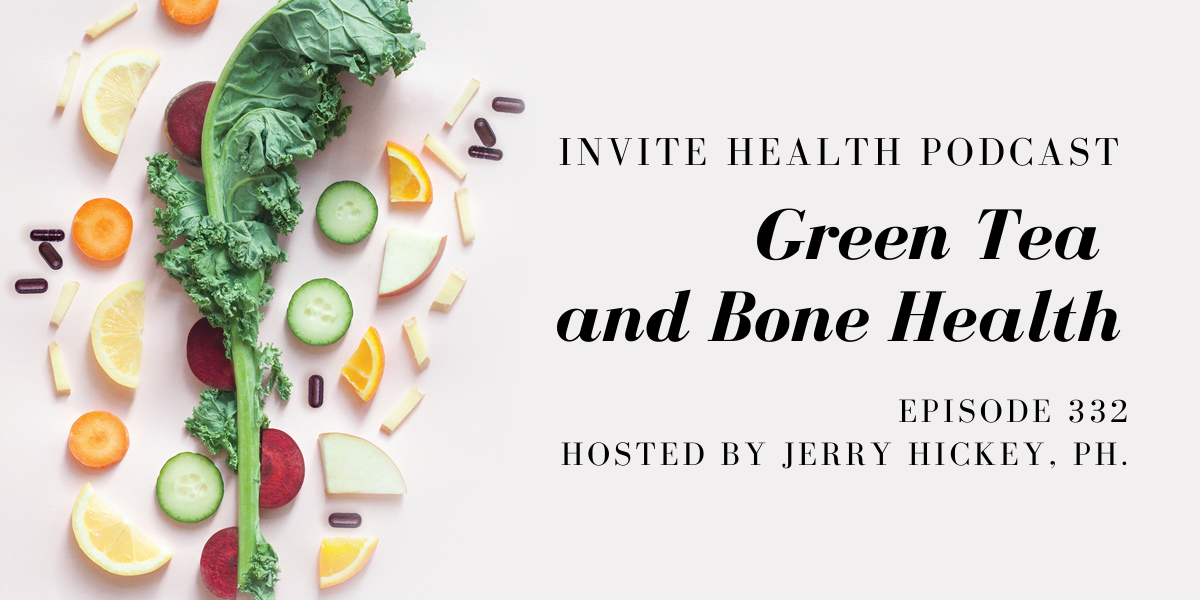 bone health

Invite Health Podcast, Episode hosted by Jerry Hickey, Ph.
Subscribe Today!
There is evidence that the incidence of osteoporosis and osteopenia is increasing. This bone loss is seen especially in women. The problem with this deterioration of the bone is that it increases your risk of dangerous fractures known as fragility fractures.† 
Studies have shown that there are methods of supporting your bone health, whether that be with medications or supplements such as calcium. There is growing evidence that habitually consuming tea, especially green tea, can be beneficial for your bones.†
REDUCE YOUR RISK OF HIP FRACTURES & SUPPORT BONE HEALTH – INVITE HEALTH PODCAST, EPISODE 295. Listen Now>>
The power of green tea
Green tea is a rich source of about 20 catechins. The most active one, called EGCG, has been shown to have an effect on bone health. Studies have shown that this EGCG helps to promote bone health by stimulating osteoprotegerin while modulating rankl release in the body. Rankl causes the production of cells called osteoclasts that break down bone. By EGCG stimulating the production and release of osteoprotegerin, it is blocking the effects of rankl and preventing it from breaking down bone. Studies have also shown that green tea is safe for older, osteopenic patients who are at risk of fractures.† 

How to get EGCG
There are multiple ways to help your body receive the powerful, bone-building benefits associated with EGCG. Studies have shown that drinking one to three cups of green tea daily can be very beneficial for your bones. Its support can also be heightened when combined with regular exercise, such as tai chi. This is also beneficial for muscle health.†
GREEN TEA TARGETS INFLAMMATION AND MORE – INVITE HEALTH PODCAST, EPISODE 245. Listen Now>>
A green tea capsule, such as Green Tea HxⓇ, can also offer EGCG to help with bone health. Green Tea HxⓇ is equal to about three and a half cups of green tea.†
In this episode, Jerry Hickey, Ph. discusses how consistent consumption of green tea can support overall bone health. He delves into various studies featuring tea and explains how the powerful components found in green tea are able to impact the health of the bones.†
Key Topics:
The difference between green tea and black tea

Studies looking at the impact of tea on bone health

How do the constituents in tea impact bones

EGCG and osteogenesis

How exercise and green tea work together
Thank you for tuning in to the Invite Health Podcast. You can find all of our episodes for free wherever you listen to podcasts or by visiting www.invitehealth.com/podcast. Make sure you subscribe and leave us a review! Follow us on Facebook, Twitter and Instagram at Invite Health today. We'll see you next time on another episode of the Invite Health Podcast.


---
---