Returning to School? You Need These Basic Nutrients! – Invite Health Podcast, Episode 171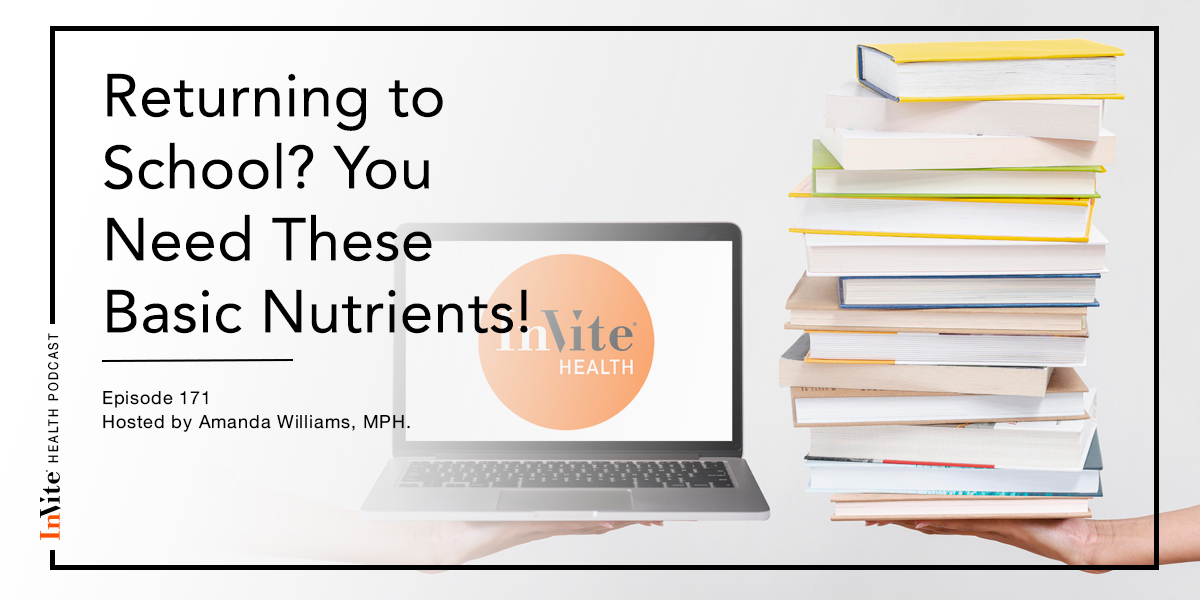 Invite Health Podcast, Episode hosted by Amanda Williams, MPH.
Subscribe Today!
As summer starts to wind down, we know one thing. We know that means school days are starting to gear up. This is certainly a different time for many students. I talked about Phosphatidylserine and the impact that can make in terms of stress and focus and how beneficial Phosphatidylserine can be, but I also want to focus on other nutrients that can be beneficial to school age children.
It doesn't matter if we're looking at elementary school, if we're looking at middle school, if we're looking at high school. Across the board, we have to understand the stressful nature that the new school year can bring upon for many children, especially with the pandemic going on and how this can really disrupt their normal learning environment. Maybe they are going to be doing virtual schooling, perhaps they're going to be in some type of a hybrid type of focused learning, so it's not going to be the norm. Usually kids are used to going back and they go and they get all their school supplies and get their new school clothes or their uniforms for school, and there's this kind of normal routine. 
While this year is certainly different, we want to make sure that we create new routines that help prepare the body for all that the school year requires of us.This impacts not just school children and high schoolers and college students, but can also impact parents as well. For many parents, if your children are going to be doing virtual learning, you may have to make some major modifications to your schedules. This is where phosphatidylserine can be very beneficial to offset a lot of that stress. 
I want to kind of focus on basic nutrients that would be advantageous to consider as the school year is upon us. At the end of the day, what we want to be able to do, is to make sure that we are taking a comprehensive approach to our overall health and wellness. 
INCORPORATING BASIC NUTRIENTS INTO YOUR BACK TO SCHOOL ROUTINE
We can look at something as simple as a daily multivitamin. Only 12% of Americans are metabolically healthy, which is a really clear indicator that most Americans are not eating the right foods. Even if you are trying to take in what you perceive to be good healthy foods, you may still be missing key vitamins and minerals, and we know the importance of our vitamins and minerals when it comes to all functions in the body.†
If we're looking at younger kids, then we want to be thinking about a multivitamin. So we have the InVite chewable multivitamin. This is a really good option for younger kids to get a comprehensive multi spectrum vitamin and mineral combination. This is really quite essential because when you look at vitamin deficiencies in children, this is much greater than oftentimes people even recognize. American children generally have a greater likelihood of having that development of Vitamin D deficiency, for instance. Experts estimate roughly 10 to 40% of American children are deficient in Vitamin D, depending upon geographical area within the country. Vitamin D is not just critical for their bone health, but it is also connected to the brain and the ability to learn and to focus. It's also estimated that 10-15% of American children have iron deficiency. When it comes to the intake of calcium, generally speaking, the National Institute of Health estimates 80 to 90% of school age children are not getting enough calcium from their daily dietary intake. These deficiencies are things that you definitely want to be cognisant of because they can certainly impact the entire learning environment as kids are going back to school. Taking just a simple multivitamin really helps us to cover a lot of those gaps.† 
That doesn't mean that we don't need to focus on other areas. If there is a Vitamin D deficiency, it might be beneficial to add a liquid Vitamin D or a Vitamin D capsule, depending on how significant the Vitamin D deficiency or insufficiency happens to be.† 

We also have the Multi Energy Powder, which is a really nice way to incorporate all of these different nutrients. You're getting your vitamins and minerals, but you are also going to be getting some added boosters for brain health. The formula contains choline, which is essential to the manufacturing of acetylcholine, a brain compound that helps with memory. This is especially important during the school year when it comes to learning new information.The Multi Energy Powder also contains inositol, which is really important for cell to cell communication, especially within the nervous system. Inositol helps make sure that the neurons are firing on all cylinders. The formula has carnitine in it, which is essential for proper energy production within the brain, as well as dimethylglycine. which makes sure that the body has the ability to filter out any free radicals and toxic buildup. The Multi Energy Powder is a very comprehensive way to make sure you're getting all those key vitamins and minerals, but at the same time, adding in some additional brain health nutrients. It's very easy to incorporate into a daily routine. Depending upon the age of who would be taking this, you may modify how much you're taking. This is certainly something you can talk with one of the experts at InVite Health.†
The other options you can certainly look at would be the Reds and the Greens. This is very easy once again to incorporate into a daily routine. The Reds can be incorporated in so easily. You can add this into applesauce, you can add it into yogurt, you can mix it with water. There's a lot of different ways. The formula is going to give you so many of those powerful antioxidants coming from fruit and vegetable extracts. What's also nice about the Reds as well as the Greens is they both contain a broad spectrum probiotic blend. We always have to be thinking about how to support the immune system and remembering that gut-brain connection, so the healthier the gut, the healthier the brain. We're taking in all of these powerful antioxidants coming from the fruits and vegetables, such as black currant fruit, which is really beneficial for eye health.  For a lot of people, being in front of the computer or being in front of your cell phone on a regular basis, that can really start to stress the eyes out, so it has astaxanthin, which can really help to support the eye fatigue people often can get from staring at a computer screen long term. It has lutein in it, lycopene, all these powerful carotenoids to really enhance the way that the eyes are working to offset the oxidative stress and just the fatigue itself. As kids go back to school and as adults go back to school and back to work, being in a different environment and having exposure to higher levels of certain pollutants may trigger an immune system response. This can be helped by the green tea extract and quercetin contained in the formula, both of which can even target issues such as seasonal environmental changes like pollen. The Reds can also be a brain booster with ingredients such as spinach extract, collard extracts and resveratrol.† 
Beets are a powerful superfood! Lets Discuss All Of Their Benefits! Listen Now >>
I always say an omega-3 fatty acid is critical when you think about brain health and overall systemic health, so even incorporating krill oil, fish oil or the Organic Flax Powder could be beneficial.† 
These are the basics of what anyone should be doing, regardless of age. Right now is when people are getting out of their summer free time routine and getting into that school, focused routine, so this is the perfect time to make sure you incorporate in all of these key nutrients to give you that true balance. These basics can help offset stress, ensure you're getting adequate nutrients to support your body, support the brain and enhance your learning capabilities, focus and attention.
Thank you for tuning in to the Invite Health Podcast. You can find all of our episodes for free wherever you listen to podcasts or by visiting www.invitehealth.com/podcast. Make sure you subscribe and leave us a review! Follow us on Facebook, Twitter and Instagram at Invite Health today. We'll see you next time on another episode of the Invite Health Podcast.


---
---