Are Omega-3 Fatty Acids Really An Important Supplement?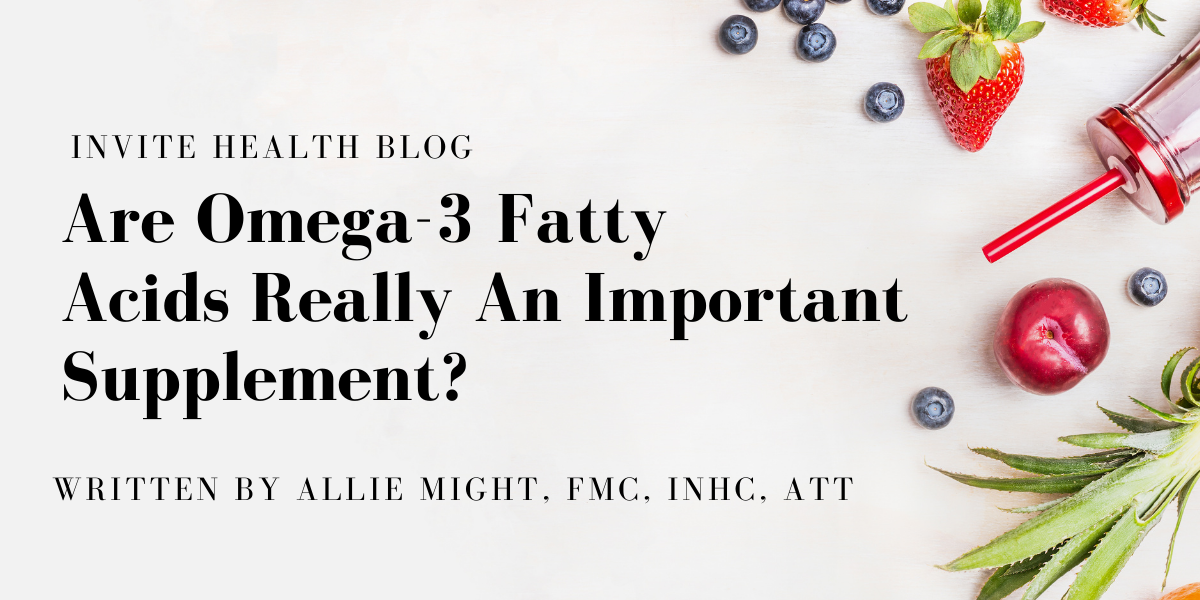 Omega-3
Written by: Allie Might, FMC, INHC, ATT
For further questions or concerns email me at [email protected]
When something is associated with being a "natural" product, but has become so mainstreamed, it's definitely something that everyone notices. Everyone has heard of Omega-3s, or fish oil as it's commonly referred to. There's been countless television and print ads talking about professionals within the medical community acknowledging them and even the American Heart Association (AHA) and U.S. Food and Drug Administration (USFDA) has recognized the incredible health benefits of incorporating Omega-3 Fatty Acids into our daily lives.†
What Are Omega-3 Fatty Acids?
Omega-3s are an essential fatty acids, along with Omega-6 (GLA) and Omega-9 (Oleic Acid), that have an array of benefits. Omega-3s are the most commonly used and researched fatty acid and are a polyunsaturated fatty acids. They are made up of eicosapentaenoic acid (EPA) and docosahexaenoic acid (DHA) or alpha-linolenic (ALA). The EPA and DHA are from animal sources, most commonly from fish such as tuna, salmon, sardines, anchovies and shellfish such as krill. The ALA comes from plant-based sources such as chia and flax seeds or oil. The body helps to convert the ALA into EPA and DHA.†
KRILL OIL AND FISH OIL FOR BRAIN HEALTH, PART 1 – INVITE HEALTH PODCAST, EPISODE 48 >> Listen Now! 
Why Are Omega-3 So Beneficial?
There has been a lot of research done into the benefits of Omega-3 Fatty Acids and the findings have been incredible. For the cardiovascular system, these can help to raise HDL (good cholesterol) levels and lower LDL (bad cholesterol) and triglycerides. It can also help circulation and blood flow. For the brain, these same omegas can help neurological development in infants, as well as ease the symptoms of Attention Deficit/Hyperactivity Disorder (ADHD). This is due to the nourishment the brain gets to help with memory and focus, making it a MUST for a lifetime of brain health and easing the aging of the brain. It also shows benefits for brain conditions such as depression and dementia/Alzheimer's. Omega-3s are also important as they have been shown to help fight inflammation throughout the body. This is important as it can help with eye health, particularly Macular Degeneration as well as joint and arthritic pain. Because of these properties, omegas are helpful to manage many autoimmune diseases. Minimizing flare-ups of such autoimmune diseases like as Lupus, Crohn's Disease and Ulcerative Colitis can help someone ease the suffering and lesson the symptoms of illnesses. When it comes to skincare, omega-3s are a vital part of any regimen. They help to increase hydration for the skin, which is good to maintain healthy, glowing skin, as well as to improve dry/flaky skin. They are also important for those who have Eczema or who are prone to acne. This is due to the omega's relieving the inflammation making it essential for skin conditions.†
KRILL OIL AND FISH OIL FOR BRAIN HEALTH, PART 2 – INVITE HEALTH PODCAST, EPISODE 49 >> Listen Now! 
Studies have shown, adding in Omega-3 Fatty Acids, whether they be Fish Oil, Krill Oil Advanced, Organic Flaxseed Powder, or High Lignan Flaxseed Complex can be helpful for a variety of ailments, as well as maintaining your health.†
Sources
https://www.heart.org/en/healthy-living/healthy-eating/eat-smart/fats/fish-and-omega-3-fatty-acidshttps://www.fda.gov/food/cfsan-constituent-updates/fda-announces-new-qualified-health-claims-epa-and-dha-omega-3-consumption-and-risk-hypertension-andhttps://my.clevelandclinic.org/health/articles/17290-omega-3-fatty-acidshttps://www.medicalnewstoday.com/articles/omega-3-what-it-can-and-cant-do-for-healthhttps://www.webmd.com/healthy-aging/omega-3-fatty-acids-fact-sheethttps://www.nccih.nih.gov/health/tips/things-to-know-about-omega-fatty-acidshttps://www.healthline.com/nutrition/17-health-benefits-of-omega-3https://www.medicalnewstoday.com/articles/fish-oil-for-skin#risks


---
---