Diabetic Neuropathy Basics – InVite Health Podcast, Episode 352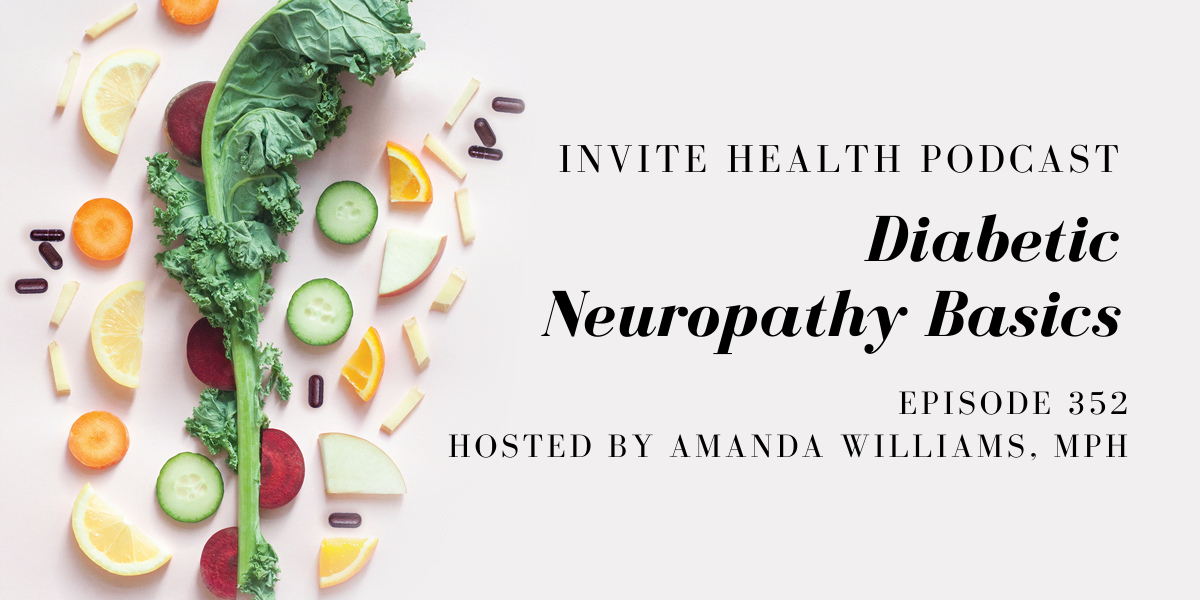 diabetic neuropathy

Invite Health Podcast, Episode hosted by Amanda Williams, MPH
Subscribe Today!
Many people experience the feeling of pins and needles at some point in their lives. Today, I want to focus on diabetic neuropathy, which is nerve pain or loss of sensation that occurs due to excessive glycation brought on by diabetes. I want to talk about what you can be doing in terms of different nutrients that may be very supportive to this condition.†
What is diabetic neuropathy?
When we think of neuropathy as a whole, we know that this is defined as a disease or dysfunction of one or more of the peripheral nerves. This can cause numbness or weakness, which is often described as a sharp shooting pain or as pins and needles. One may also lose the sensation within the area completely, which is usually a very bad thing, especially in the setting of diabetics.† 
THE TOOLS YOU NEED TO LEAD A HEALTHY LIFE WITH DIABETES, PART 1 – INVITE HEALTH PODCAST, EPISODE 9. Listen Now>>
Many people who have diabetes often develop nerve problems because the high blood sugar creates damage to the nerve cells themselves. When this causes diabetic neuropathy, this can make everyday things such as driving and walking difficult because of a loss of sensation. There are additional factors that can play a role in the development of this problem, such as aging, cardiovascular issues and elevated triglycerides.†

How to help with this loss of sensation
Having a healthy diet and regular exercise are crucial, but there are also nutrients that may offer very complementary health benefits when it comes to the nerves. We can look at things such as acetyl-l-carnitine (Alcar) and alpha-lipoic acid (ALA). Both of these nutrients have been shown in clinical trials to show improvement in people who have diabetic neuropathy. ALA is a very powerful antioxidant that targets glycation and oxidative stress, while Alcar helps with the creation of energy within the nerves themselves. This can help with nerve regeneration.†
Omega-3 fatty acids also come into play to help protect the covering of the nerve cells. There are also things that can help target and ease the discomfort of this, such as curcumin, which is found in our Bio-CurcuminⓇ 5-LoxinⓇ formulation. We also have to think about the basics including Vitamin D.†
THE OVERLOOKED IMPACT OF VITAMIN D TO OVERALL HEALTH – INVITE HEALTH PODCAST, EPISODE 230. Listen Now>>
In this episode, Amanda Williams, MPH explains what exactly diabetic neuropathy is and what it may cause. She also goes into detail on various nutrients that may help to protect the nerves from the development of this issue.† 
Key Topics:
How common is diabetic neuropathy?

Common treatments for diabetic nerve pain

How Alcar and ALA can help diabetics

Clinical studies on nutrients for diabetic neuropathy
Thank you for tuning in to the Invite Health Podcast. You can find all of our episodes for free wherever you listen to podcasts or by visiting www.invitehealth.com/podcast. Make sure you subscribe and leave us a review! Follow us on Facebook, Twitter and Instagram at Invite Health today. We'll see you next time on another episode of the Invite Health Podcast.


---
---