Do You Know The Importance Of Multivitamins?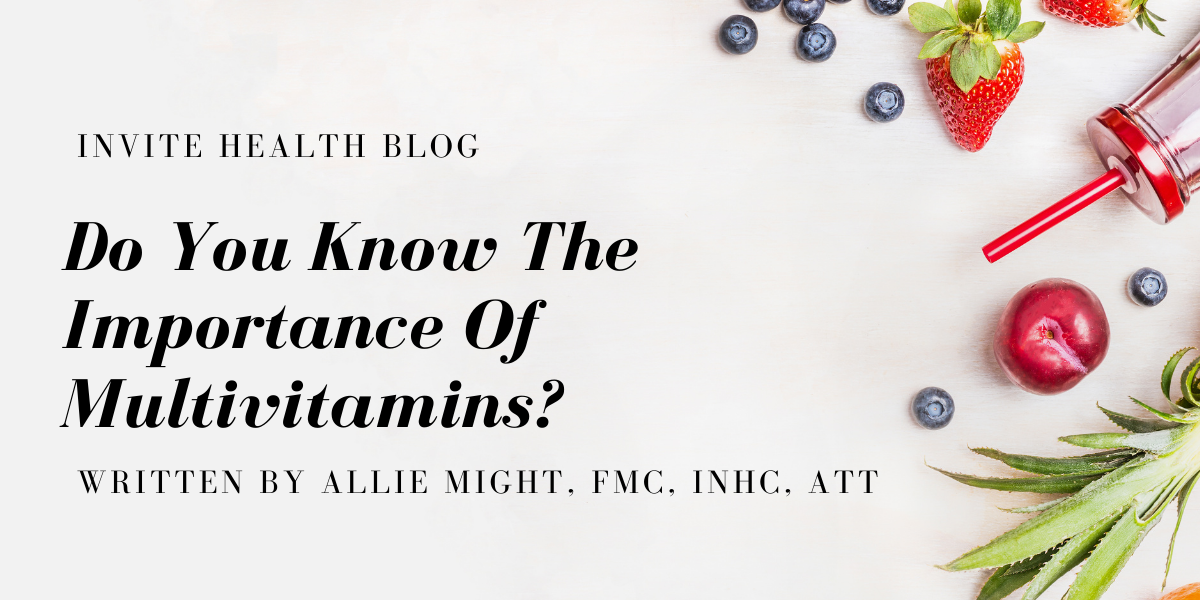 Multivitamins 
By: Allie Might, FMC, INHC, ATT
For further questions or concerns email me at carcidiacono@invitehealth.com
If you're anything like me, my favorite part of my morning growing up was getting my chewable character vitamin. However, as we grew-up, we stopped taking these as they were "just for kids". Why did we not continue to take something as we grew up? Do we really need a multivitamin as an adult?
WHAT IS MULTIVITAMINS?
I like to think of a multivitamin as the base of our daily supplement regimen. From there, I recommend additional supplements based on an individual's unique health concerns and goals. Imagine if you will, that you are building a house. Every house starts with a good foundation. A good multivitamin is just that for us…it's the foundation of our supplements and health. From there, we start to build. In this case, instead of adding rooms and floors, we add the additional supplements we need such as probiotics, omega-3 or even collagen. But the most important is a solid foundation…or a good multivitamin.
DOES MULTIVITAMINS REALLY MATTER?
Of course it does…and just like anything else, quality matters. Look for naturally sourced ingredients as opposed to all synthetic. Naturally sourced is something that comes from a plant or animal source. For instance, lycopene comes from certain fruits and vegetables. This type of sourcing is better than making lycopene in a lab by combining chemicals. You also want to look for NON-GMO, or non-genetically modifies organisms. These are the true form of a crop, as opposed to genetically modified, the process where a lab creates a crop by splicing different DNA together. Something else to look for is an acronym, cGMP; current Good Manufacturing Practices. This is an FDA certification that can help to ensure the quality of a product through testing; typically used for pharmaceuticals and supplements.
WHY ARE VITAMINS IMPORTANT?
Vitamins are studied all the time so we know how they are used in the body. For instance, B-Vitamins are important for energy, brain health and the development of a fetus; where folic acid is essential for the brain and spinal cord. We've all heard how Vitamin C is good for our immune system, but it's also helpful for healing and promoting the production of collagen. Just think of how many skin care products contain Vitamin C! Finally, let's not forget about the powerhouse that is Vitamin D. We know how important it is for bones, but having a low Vitamin D level can effect mood and contribute to depression.
ARE MINERALS ESSENTIAL?
Calcium and magnesium aren't the only essential minerals. Zinc is also needed for the blood, our sense of taste and smell. Deficiencies in it can effect male fertility by lowering testosterone and sperm count. Then there's Chromium, which not only helps regulate blood sugar, but has also been shown to be effective for issues like heart health, Parkinson's disease and PCOS.
WHAT IS AN ANTIOXIDANT?
Antioxidants work to protect our cells from free-radical damage and oxidative stress. Without this protection, we become more susceptible to illnesses and diseases. While there are hundreds, if not thousands of different antioxidants, incorporating such common nutrients like vitamins A, C, E, and Lutein can be beneficial to the cells and start giving us the protection we need.
ANTIOXIDANT CAROTENOIDS FOR A LONGER, HEALTHIER LIFE – INVITE HEALTH PODCAST, EPISODE 283 >> Listen Now! 
So, it is super important to get the right vitamins, minerals and antioxidants. Incorporating a good multivitamin that contains a variety of all these nutrients is a great start to your day and a healthy lifestyle.
Sources
https://www.healthline.com/nutrition/synthetic-vs-natural-nutrients-whats-the-difference
https://www.fda.gov/drugs/pharmaceutical-quality-resources/facts-about-current-good-manufacturing-practices-cgmps#:~:text=CGMP%20refers%20to%20the%20Current,of%20manufacturing%20processes%20and%20facilities.
https://www.ncbi.nlm.nih.gov/pmc/articles/PMC6970300/
https://www.webmd.com/diet/supplement-guide-chromium
https://www.medicalnewstoday.com/articles/301506#types


---
---