Microbiome Basics – InVite Health Podcast, Episode 350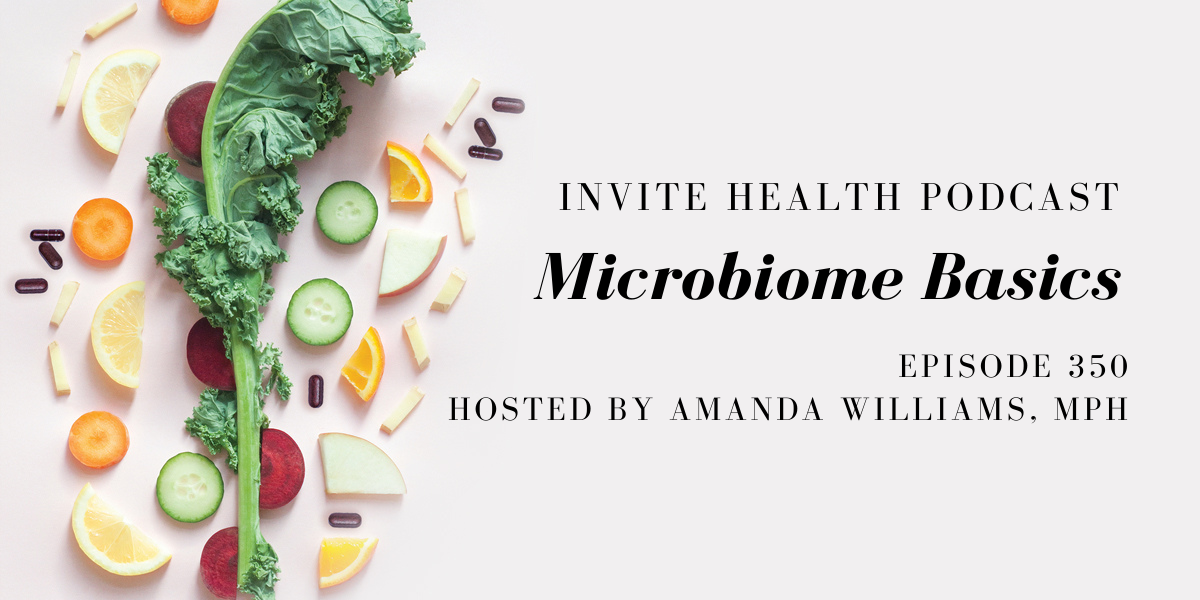 microbiome

Invite Health Podcast, Episode hosted by Amanda Williams, MPH
Subscribe Today!
You've probably heard a lot about gut health, digestive health and the microbiome, but what does this really mean? Today, we're going to discuss what the microbiome is, what it does, why it is so important for our overall health and what you can be doing to make sure you are maintaining your gut microbiome.† 
THE GUT-BRAIN AXIS: THE LINK BETWEEN YOUR GUT AND BRAIN, PART 1 – INVITE HEALTH PODCAST, EPISODE 175. Listen Now>>
What is the microbiome?
In recent years, there has been an influx of studies looking at different bacterias and how they can impact our health, either in a negative way or a positive way. The microbiome is basically this environment for or community of these microbes or bacteria that live within the human body. This is located predominantly in the intestines. There are hundreds of different strains of bacteria that exist within the individual human microbiome environment.†
The amount and type of bacteria present in the microbiome can vary from one person to the next. There are common bacteria that can be found in all people, but we can sometimes have a lot more of one and not enough of another.† 

There are different factors that can impact or disturb the normal homeostasis of the microbiome. This can include how you're born, dietary patterns, hormones and use of antibiotics.†
The good bacteria located in the microbiome are needed to help maintain our immune system. An imbalance in these bacteria can lead to seasonal allergies, obesity, mood issues and more.† 
How to support healthy bacteria
Since the microbiome is so important to the health of our entire body, it is imperative that we help support and maintain its health. We can help promote the health of our good bacteria by eating a diet that is rich in high-fiber foods, such as the Mediterranean diet. We also want to make sure that we have adequate omega-3 fatty acids.† 
We also want to utilize a probiotic supplement. Studies have shown that there are certain bacterial strains that can help promote digestive health, cardiovascular health, skin health, respiratory health and immune health. A good quality probiotic supplement such as our Probiotic HxⓇ offers multiple strains of these good bacteria to help support various systems within the body. This can help to enhance the health of our airways, digestive tract, skin, ears, eyes and more, as each of these have their own unique microbial ecosystems that rely on good bacteria to function properly.†  
CLINICALLY STUDIED STRAINS OF BACTERIA TO SUPPORT OVERALL HEALTH – INVITE HEALTH PODCAST, EPISODE 288. Listen Now>>
In this episode, Amanda Williams, MPH explains what the microbiome actually is and why it is so important for your overall health. She details the various functions of the microbiome and also offers recommendations for how to ensure your good bacteria are working to the best of their ability.† 
Key Topics: 
Research on the importance of microbes

Sources of good and bad bacteria

What is a probiotic?

The special components of Probiotic HxⓇ
Thank you for tuning in to the Invite Health Podcast. You can find all of our episodes for free wherever you listen to podcasts or by visiting www.invitehealth.com/podcast. Make sure you subscribe and leave us a review! Follow us on Facebook, Twitter and Instagram at Invite Health today. We'll see you next time on another episode of the Invite Health Podcast.


---
---