Nutrients to Target Seasonal Bronchitis – InVite Health Podcast, Episode 435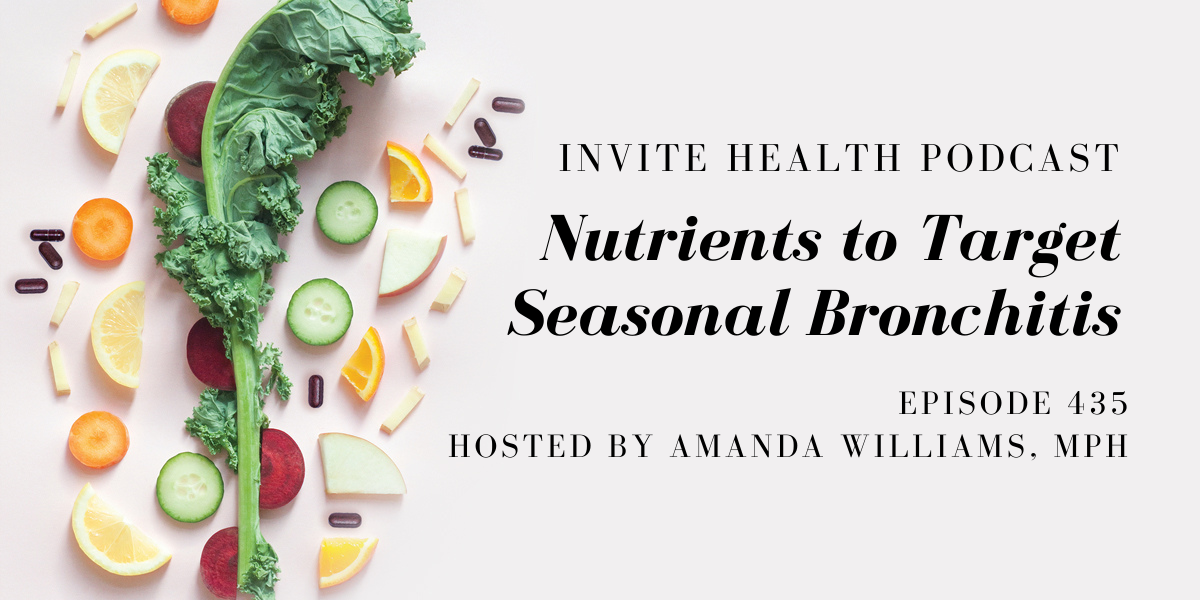 bronchitis
InViteⓇ Health Podcast, Episode hosted by Amanda Williams, MPH
Subscribe Today!
With cold and flu season being right around the corner, that means it is time for acute bronchitis season to flare up as well. Today I want to talk about what acute bronchitis is and what you can be doing to support your respiratory system.† 
What is acute bronchitis?
Every single year, roughly 5% of the population deals with acute bronchitis. This can lead to over 10 million office visits at doctor's appointments every single year. Like many viral diseases of the respiratory tract, acute bronchitis is commonly seen in the fall and winter months.†
GETTING YOUR IMMUNE SYSTEM READY FOR WINTER, PART 1 – INVITE HEALTH PODCAST, EPISODE 427. Listen Now>> 
Acute bronchitis is an acute inflammation that occurs in the respiratory bronchi. This triggers the secondary inflammatory response in the body. The inflammation in the bronchial walls leads to a mucosal thickening, which is incredibly problematic. If someone has acute bronchitis, they will present with this very productive cough and will often have a difficult time breathing. They may also experience wheezing. The predominant complaint is this thick mucus that you continue to cough up.†  

Nutrients to support your respiratory tract and immune system
When you're dealing with bronchitis, you just want it to go away. We know that viral infections are the main driver to this. We can look at natural ways to allow your immune system to get a better grasp on the respiratory system and provide the body with an added layer of protection.†
We can look at things such as N-acetylcysteine (NAC). This is great because it helps to bolster up your natural glutathione production. It also helps to thin out the mucus in the respiratory bronchi and lungs that is thickened by the inflammatory system. Oftentimes when people have or are prone to acute bronchitis and they have this hacking cough for several weeks, NAC can do so much in terms of minimizing those yucky symptoms.†    
Formulations such as the Immunity HxⓇ can also be beneficial to get much-needed Vitamin C, Vitamin D and zinc. We also have to look at things like black seed extract, which helps to ease inflammation throughout the respiratory system. It's combined with rosemary extract and it really helps to offset some of the other allergen triggers, such as histamine. The addition of cordyceps mushrooms also helps to enhance our immune defenses. It's a really great formulation combination for acute bronchitis.† 
WHY YOU NEED COPPER IF YOU ARE TAKING A ZINC SUPPLEMENT – INVITE HEALTH PODCAST, EPISODE 147. Listen Now>>
In this episode, Amanda Williams, MPH discusses acute bronchitis, what causes it and the symptoms commonly associated with it. She also provides recommendations for nutrients that can help fend off this inflammation within the respiratory system.†
Key Topics:
Is bronchitis associated with a bacterial infection?

Typical signs and symptoms of this issue

The way diet can impact the immune system 
Thank you for tuning in to the InViteⓇ Health Podcast. You can find all of our episodes for free wherever you listen to podcasts or by visiting www.invitehealth.com/podcast. Make sure you subscribe and leave us a review! Follow us on Facebook, Twitter and Instagram at InViteⓇ Health today. We'll see you next time on another episode of the InViteⓇ Health Podcast.


---
---