The Surprising Benefits of Calcium – InVite Health Podcast, Episode 365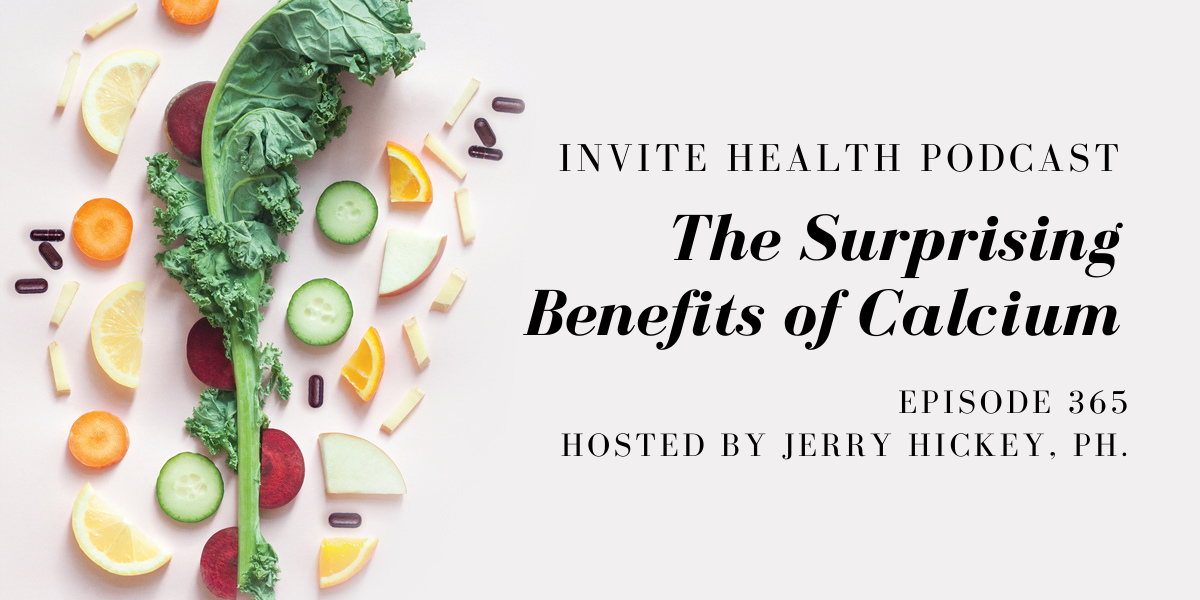 calcium

InViteⓇ Health Podcast, Episode hosted by Jerry Hickey, Ph.
Subscribe Today!
Calcium is well-known as being beneficial to bone, but it also affects many other parts of the body. Inadequate levels of this mineral can lead to fatigue and muscle spasms. It can also impact your mood, nails and skin.†
Signs of a deficiency
When you don't consume enough calcium, whether it's from food or supplements, it's going to cause muscle spasms. This nutrient works at the cellular level within the muscle to allow it to contract properly during physical activity. One of the reasons you may develop muscle fatigue or spasms after exercise is that you have pumped the calcium out of your muscles. This can also be accompanied by issues within your joints. Take some calcium and Vitamin D after extreme exercise to help replenish the nutrients in your muscles.†  
HOW TO PREVENT MUSCLE SORENESS – INVITE HEALTH PODCAST, EPISODE 115. Listen Now>>
Low levels of this mineral can also impact heart health, energy levels and sleep. You may also experience lightheadedness, dizziness and brain fog.†

Getting sufficient amounts of calcium
If you get enough calcium, this can benefit your blood pressure. Studies have shown that getting sufficient levels of this mineral from the diet can help lower elevated blood pressure. Adequate amounts of calcium are also important for bone health. You also need enough sleep for bone health, as well as other nutrients such as strontium, Vitamin D, Vitamin K, phosphorus and magnesium.† 
This mineral is also important for your teeth. When other parts of your body lack calcium, they pull it from your teeth, which can lead to brittle teeth, tooth decay and gum issues. You can also develop dry skin, eczema, dry nails, coarse hair and hair loss.†
HOW TO MANAGE ECZEMA AND PSORIASIS – INVITE HEALTH PODCAST, EPISODE 272. Listen Now>>
In this episode, Jerry Hickey, Ph. discusses the important role that the mineral calcium plays in the body. He explains various signs of low calcium levels and details looking at the benefits of this mineral.†
Key Topics:
Critical minerals for heart health and energy

What is osteopenia? 

Studies on the benefits of calcium 
Thank you for tuning in to the InViteⓇ Health Podcast. You can find all of our episodes for free wherever you listen to podcasts or by visiting www.invitehealth.com/podcast. Make sure you subscribe and leave us a review! Follow us on Facebook, Twitter and Instagram at InViteⓇ Health today. We'll see you next time on another episode of the InViteⓇ Health Podcast.


---
---