The Many Health Benefits of Chromium – InVite Health Podcast, Episode 398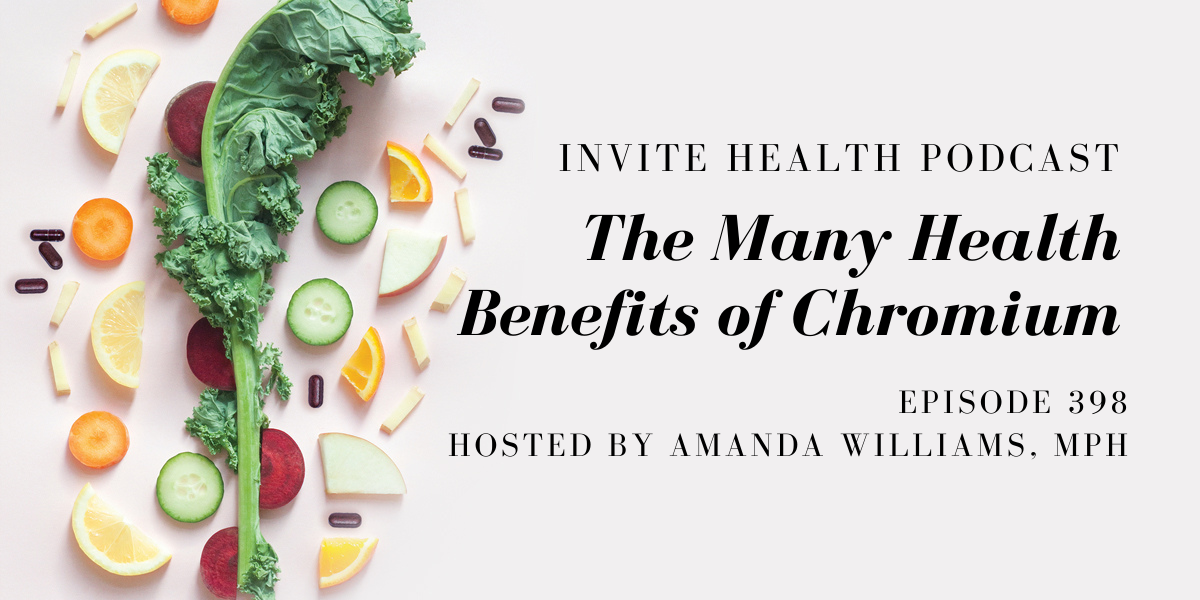 chromium
InViteⓇ Health Podcast, Episode hosted by Amanda Williams, MPH
Subscribe Today!
When it comes to microminerals in the body, there is one in particular that plays such a critical role to our overall health, including heart health, blood sugar health and cholesterol health. This nutrient is often coined as the "forgotten mineral." Today, I'd like to talk all about chromium.† 
Why is chromium important?
Chromium is a trace mineral, but it's so easily forgotten. Many people are actually deficient in this nutrient, including athletes, diabetics, elderly people and pregnant women. These are all people who are at risk for chromium deficiency.† 
Once this happens, this can lead to an impairment in insulin function. We have to make sure that insulin is responding to increases in blood glucose and when this happens, it becomes a big red flag. When we think of people who have metabolic syndrome, for example, they have this trifecta of elevated triglycerides, elevated glucose levels and increased body fat. If we also have a chromium deficiency or insufficiency occurring, this can really exacerbate things.†
THE LINK BETWEEN COCOA, DIABETES AND INSULIN SENSITIVITY – INVITE HEALTH PODCAST, EPISODE 269. Listen Now>>
We know that we have to have chromium when it comes to energy production. There are many different ways in which chromium is highly regarded within the biochemistry of the human body.†  

How to make sure you're getting this nutrient
You may wonder if you're getting enough chromium through your dietary intake. The problem is that, for the most part, our diets are often lacking chromium, so they do not have enough to keep up with all of the biochemical utilizations of this mineral.† 
There is some misinformation regarding this nutrient. There are different types of chromium. You have trivalent and hexavalent. The hexavalent form is the kind that you find in the industrial world. This is the problematic form that can be toxic when inhaled. The trivalent is the form that you use in terms of dietary supplementation. When you're utilizing chromium picolinate, you're using that trivalent form.†   
NEW FINDINGS ON THE MINERAL MAGNESIUM – INVITE HEALTH PODCAST, EPISODE 366. Listen Now>>
In this episode, Amanda Williams, MPH explains the importance of the micromineral chromium. She discusses many of the ways this nutrient functions within the body, as well as the different forms this mineral comes in.†
Key Topics:
The role this mineral plays in blood sugar health, cholesterol levels and more

Studies on the role of this nutrient in the body
Thank you for tuning in to the InViteⓇ Health Podcast. You can find all of our episodes for free wherever you listen to podcasts or by visiting www.invitehealth.com/podcast. Make sure you subscribe and leave us a review! Follow us on Facebook, Twitter and Instagram at InViteⓇ Health today. We'll see you next time on another episode of the InViteⓇ Health Podcast.


---
---