Supplements to Target Eye Floaters – InVite Health Podcast, Episode 389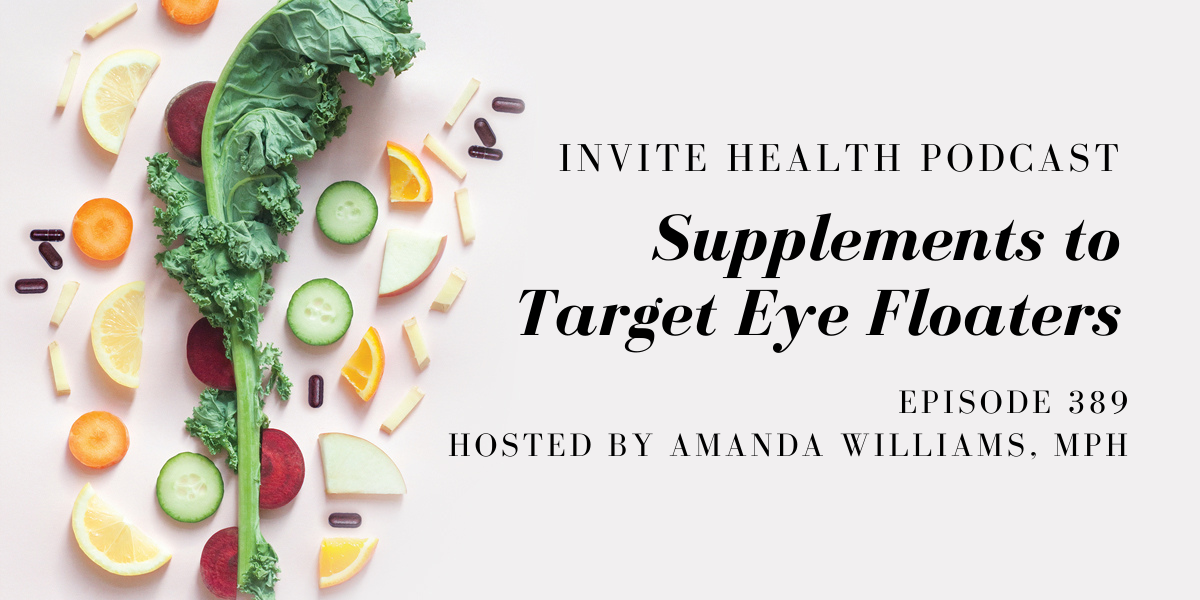 floaters
InViteⓇ Health Podcast, Episode hosted by Amanda Williams, MPH
Subscribe Today!
Have you ever noticed little shapes or squiggly lines in your vision? This is known as eye floaters. Today, I want to talk about why floaters occur, when they become incredibly problematic and what you can be doing to stop this from occurring in the first place.† 
What are eye floaters?
Floaters are actually pretty common as we get older. They start to increase. Researchers estimate that by the time someone is in their 70s, about 30 to 40% of the population has chronic eye floaters.†
HOW TOO MUCH SCREEN TIME IMPACTS YOUR EYES – INVITE HEALTH PODCAST, EPISODE 67. Listen Now>>
Floaters appear as these small spots which are right in your field of vision. They are certainly age-related or induced because of the aging process. One of the things that we recognize about eye floaters is when we have a breakdown of certain nutrients in the body, such as inadequate Vitamin C, a lack of antioxidants and the wearing away of hyaluronic acid. These are all factors that can actually exacerbate or even create floaters.†
When we look at the anatomy of the eye, there is a gel-like substance that is in the middle part of the eye called the vitreous. As we get older, that vitreous starts to shrink within the eye itself, creating these small particles. It is these particles that we're actually seeing as they pass in front of the macula.† 

Nutrients to help with this issue
We have to think about why we are having this issue in the first place. Is it because we're not getting adequate nutrients?† 
We can certainly look at Vitamin C. This is a powerful antioxidant that does a wonderful job in terms of the elimination of toxic waste build up and helps to target and neutralize free radicals. Citric acid itself helps to improve upon proper lymphatic and circulatory supply. Having adequate Vitamin C really does so much to support our visual health. When people experience floaters, having adequate amounts of Vitamin C on board can be very beneficial.†   
We can also look at a basic, comprehensive eye vitamin, such as the Macula HxⓇ Advanced. It has NAC, the mineral zinc, Vitamin C, zeaxanthin, bilberry extract and powerful carotenoids. Giving your eyes the nutrients that they need each and every single day is very helpful.† 
There is also a strong relationship between eye floaters and calcium. As people get older, there's always the concern about bone health, so they will begin to use a calcium supplement. There's an interesting link between the use of calcium supplements and the lessening of frequency of eye floaters. This is why I oftentimes recommend the Bone Powder and the Calplex HxⓇ to people with floaters.† 
HOW TO BE PROACTIVE ABOUT BONE HEALTH – INVITE HEALTH PODCAST, EPISODE 232. Listen Now>>
In this episode, Amanda Williams, MPH explains what eye floaters are. She describes the ways that this issue can come about and provides recommendations of supplements that can help.†
Key Topics:
Can floaters dissipate? 

Underlying problems and factors that can impact this issue

Other ways to take care of your eyes

How does glycation impact eye floaters?
Thank you for tuning in to the InViteⓇ Health Podcast. You can find all of our episodes for free wherever you listen to podcasts or by visiting www.invitehealth.com/podcast. Make sure you subscribe and leave us a review! Follow us on Facebook, Twitter and Instagram at InViteⓇ Health today. We'll see you next time on another episode of the InViteⓇ Health Podcast.


---
---