Supporting the Thyroid to Promote Healthy Energy and Weight – InVite Health Podcast, Episode 413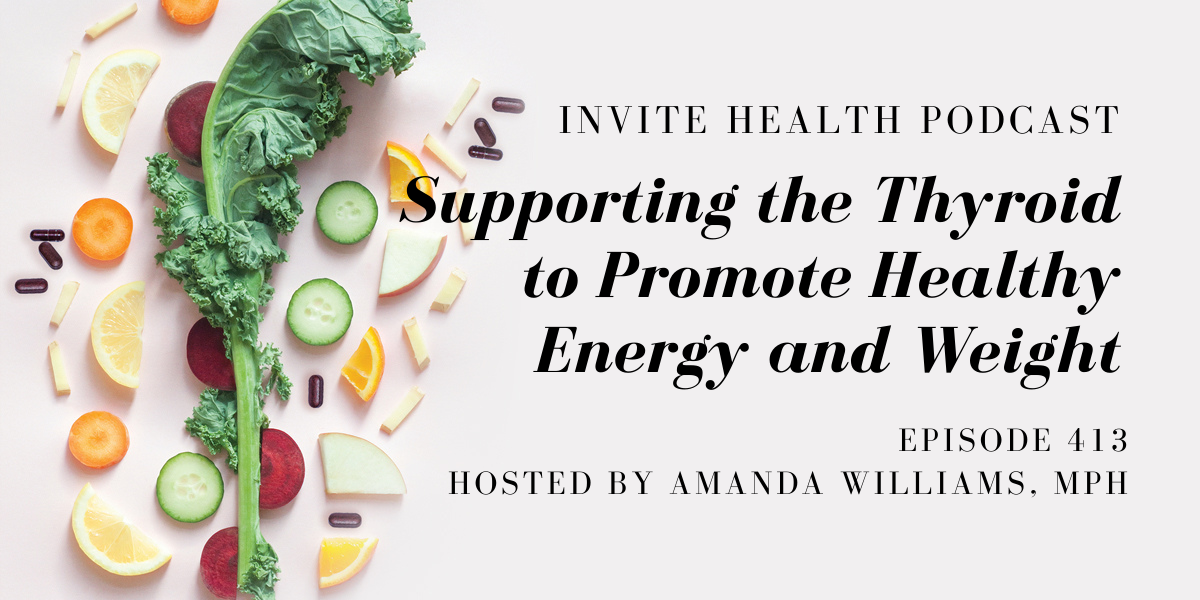 thyroid
InViteⓇ Health Podcast, Episode hosted by Amanda Williams, MPH
Subscribe Today!
Feeling sluggish? Gaining weight? Is it your thyroid? That is always the question to ask yourself. I always encourage people to have a comprehensive thyroid blood test done because this is critical to how you feel each and every single day.†
What do we know about the thyroid?
We know that the metabolic rate of every single cell in the body is controlled by thyroid hormones. In particular, when we think about T3, which is your active thyroid hormone.†
It is very common for people to have suboptimal thyroid function that can contribute to issues such as weight gain and fatigue. When we look at hypothyroidism, for example, we know that this is pretty prevalent in the United States. This issue impacts about 5% of the U.S. population. The symptoms that go along with hypothyroidism include things like tiredness, weight gain, dry skin, hair loss and muscle aches.† 
BEAT THE SUMMER HEAT AND MUSCLE ACHES WITH BEETS HX – INVITE HEALTH PODCAST, EPISODE 381. Listen Now>>

Nutrients that support this gland
We know that there are certain nutrients that this important gland must have in order to properly disperse itself. We must have things such as iodine, zinc, selenium, iron, magnesium and Vitamin E. These are all things that the thyroid is heavily reliant on in terms of being able to make active T3. If we don't have adequate amounts of selenium, tyrosine and iodine, this is going to be a problem.† 
Americans are deficient in magnesium, omega-3 fatty acids, zinc and Vitamin D, all things that this gland needs. Zinc in particular is essential when it comes to the thyroid. If we do not have zinc to release thyroid-releasing hormone, then the gland itself is going to be sluggish.†
There are nutrients that we can be taking in to help support this gland. The Thyroid HxⓇ formulation contains iodine, tyrosine and ashwagandha extract to help support the thyroid, as well as the adrenal system. I also commonly turn to rhodiola for people who are complaining about not having good energy and feeling sluggish. We need to make sure that we can make energy in the body.†  
FEELING BURNT OUT? RHODIOLA CAN HELP! – INVITE HEALTH PODCAST, EPISODE 186. Listen Now>>
In this episode, Amanda Williams, MPH discusses the importance of a healthy thyroid gland. She explains why everyone should have their T3 levels checked and offers recommendations for nutrients that can help support this gland.†
Key Topics:
How does this impact the entire body?

The relationship between the thyroid and the adrenal glands

Why these issues are commonly overlooked
Thank you for tuning in to the InViteⓇ Health Podcast. You can find all of our episodes for free wherever you listen to podcasts or by visiting www.invitehealth.com/podcast. Make sure you subscribe and leave us a review! Follow us on Facebook, Twitter and Instagram at InViteⓇ Health today. We'll see you next time on another episode of the InViteⓇ Health Podcast.
---
---