The Impact of Alcohol on the Immune System – InVite Health Podcast, Episode 371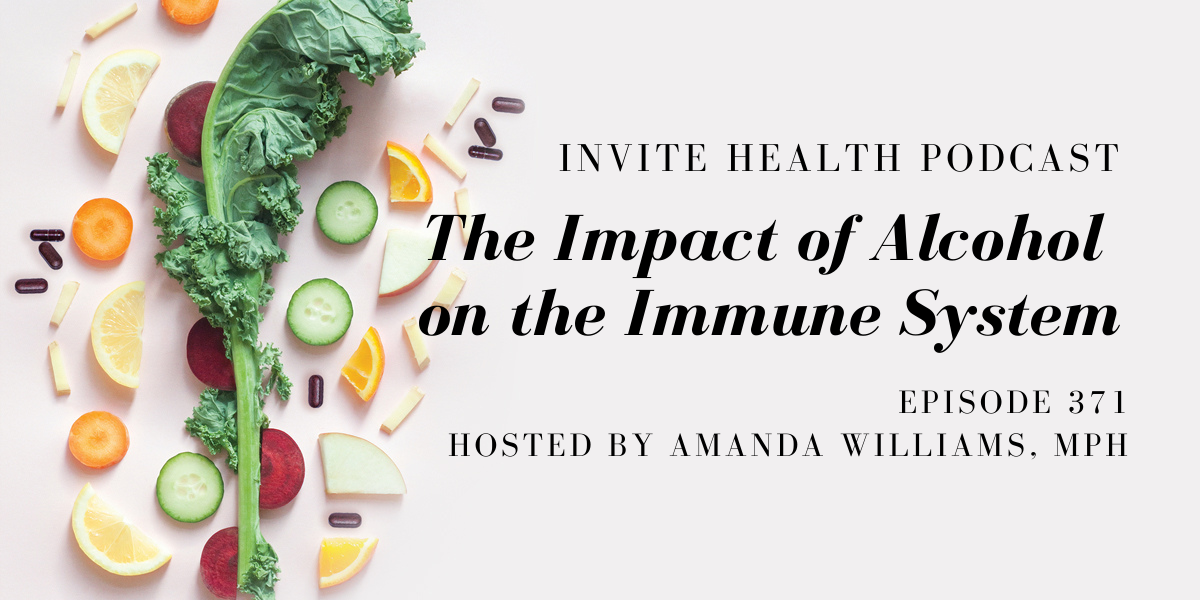 immune system
InViteⓇ Health Podcast, Episode hosted by Amanda Williams, MPH
Subscribe Today!
Being aware of the negative impact that alcohol has on our bodies is certainly important for us to recognize. It is important for us to know the difference between the potential benefits of moderate intake of certain alcohols such as red wine and the negative impacts that overindulging in alcohol can have on the entire body. Today, I want to talk in detail about the impact that alcohol has when it comes to the immune system.† 
THE IMPACT OF ALCOHOL ON YOUR HEART – INVITE HEALTH PODCAST, EPISODE 280. Listen Now>>
What happens when we consume alcohol?
Let's talk about alcohol in general. When we consume alcohol, it passes into the small intestine and it's absorbed rapidly into the blood. That absorbed alcohol is converted into acetaldehyde within the liver.† 
In and of itself, acetaldehyde is a neurotoxin and is a known carcinogen. This is why heavy, excess drinking has been linked to certain types of cancers, such as hepatocellular cancer and pancreatic cancer. We know the long-term impact that high consumption of alcohol can actually have.†    
The relationship between alcohol and the immune system
Now, let's look at how alcohol itself is impacting the immune system response. We can first start out by looking at the microbiome and the disruption that occurs within our microbial environment. Alcohol is absorbed through the small intestine and we know that our intestinal health is highly responsible for our immune system health.†  

Alcohol can actually suppress multiple mechanisms of the immune system response, which may lead to an increase in common infections like the common cold. We can also leave ourselves open to more severe viral infections or bacterial infections.†  
Many studies have been conducted on the impacts of alcohol on the body, especially inflammation and immune health. Research has shown that certain nutrients found in specific alcohols, such as the polyphenol resveratrol that is derived from red wine, can be beneficial to the body when consumed in moderation. However, on the other hand, studies have also indicated that long-term high level alcohol consumption led to more severe health issues such as diabetes and cancer due to the presence of acetaldehyde.† 
A SUPERIOR ANTIOXIDANT: RESVERATROL – INVITE HEALTH PODCAST, EPISODE 45. Listen Now>>
We need to recognize the important role that antioxidants play in helping to fend off this damage in the body. Antioxidant consumption in this country is very low. The average American is lacking important, endogenous antioxidants such as glutathione. Acetaldehyde also decreases our levels of B-vitamins, including folic acid, as well as zinc. This is significant because zinc and folic acid both play a very crucial role in our immune system responses.†
In this episode, Amanda Williams, MPH discusses the effects that alcohol has on the body, especially in terms of immune system function. She explains why it is important to drink in moderation, as well as how to make sure you are getting the nutrients that alcohol consumption may deplete within the body.†
Key Topics:
What is acetaldehyde?

Is red wine helpful or harmful for the body?

Research on alcohol consumption, immune system health and chronic disease states
Thank you for tuning in to the InViteⓇ Health Podcast. You can find all of our episodes for free wherever you listen to podcasts or by visiting www.invitehealth.com/podcast. Make sure you subscribe and leave us a review! Follow us on Facebook, Twitter and Instagram at InViteⓇ Health today. We'll see you next time on another episode of the InViteⓇ Health Podcast.


---
---