Dealing with Age-Related Muscle Loss, Part 2 – InVite Health Podcast, Episode 409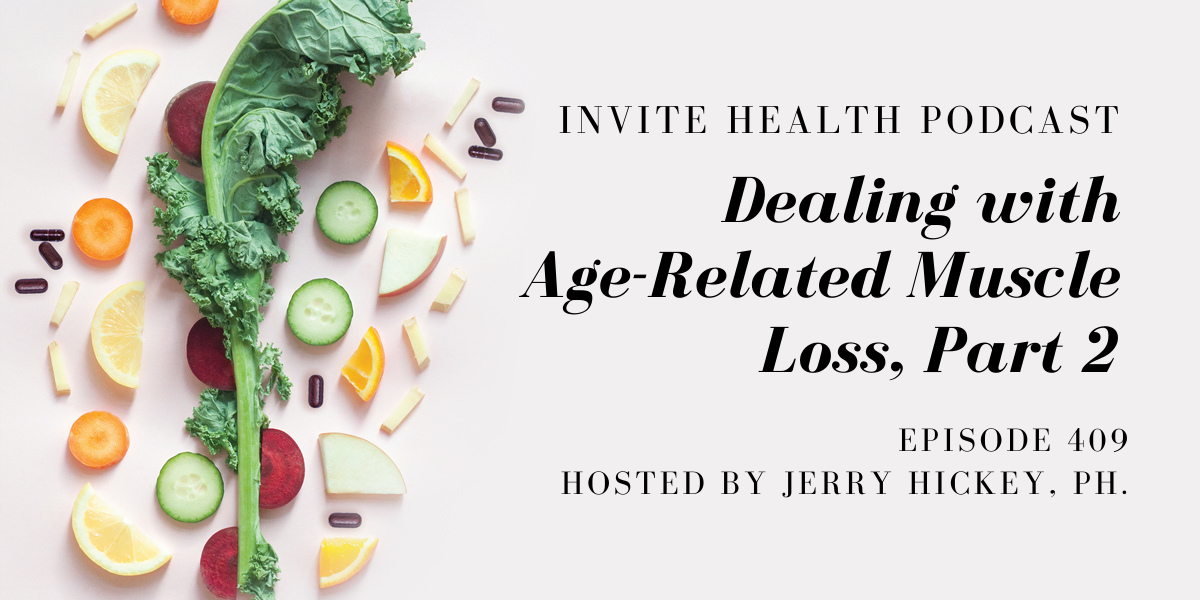 muscle loss
InViteⓇ Health Podcast, Episode hosted by Jerry Hickey, Ph.
Subscribe Today!
In Part 1 of this episode, we discussed how muscle loss can lead to sarcopenia and frailty syndrome. In Part 2, I will explain additional nutrients that can benefit overall muscle health.†
The importance of HMB
I really want to focus on why beta-hydroxy-beta-methylbutyrate (HMB) should be at the core of rebuilding muscle and strength in aging people.† 
BEAT THE SUMMER HEAT AND MUSCLE ACHES WITH BEETS HX – INVITE HEALTH PODCAST, EPISODE 381. Listen Now>>
A study published in the journal BMC Geriatrics looked at people 70 years of age or older who were living in nursing homes. The researchers said that exercise and HMB supplementation are separately effective in improving the strength and the health of older people, so they wanted to see if the effects were even better if these two factors were combined. The subjects of the test were 104 frail, older adults who were developing frailty syndrome. The study lasted for 24 weeks. The researchers found that when people who were frail were put through a guided exercise program, it could really mean something.† 
A meta-analysis of clinical trials also looked at the impacts of HMB. They found that HMB alone or HMB with exercise helps to bolster muscle mass in older people with a variety of clinical conditions. They said that there was strong evidence that this supplement can help support muscle strength and muscle mass.†  

Additional methods of helping with muscle loss
If you took 100 products used in the gym, only a handful of them actually work for supporting muscle health and muscle building. HMB is one of these, as well as creatine monohydrate and whey protein.†  
AGING GRACEFULLY WITH CREATINE – INVITE HEALTH PODCAST, EPISODE 391. Listen Now>>
There are also non-gym related supplements that may help people facing muscle loss. This includes Vitamin D, calcium and fish oils. Drinking green tea and eating green, leafy vegetables can also help. We also know that ubiquinol, the active form of coenzyme Q10, can help.†
In this episode, Jerry Hickey, Ph. continues his discussion on muscle loss. He focuses on the important role HMB plays in muscle health and also delves into the importance of stretching.† 
Key Topics:
Research on supplementing with HMB

How these nutrients work together in the body

Why stretching is important for muscle health
Thank you for tuning in to the InViteⓇ Health Podcast. You can find all of our episodes for free wherever you listen to podcasts or by visiting www.invitehealth.com/podcast. Make sure you subscribe and leave us a review! Follow us on Facebook, Twitter and Instagram at InViteⓇ Health today. We'll see you next time on another episode of the InViteⓇ Health Podcast.


---
---