All About Vitamin B6 – InVite Health Podcast, Episode 328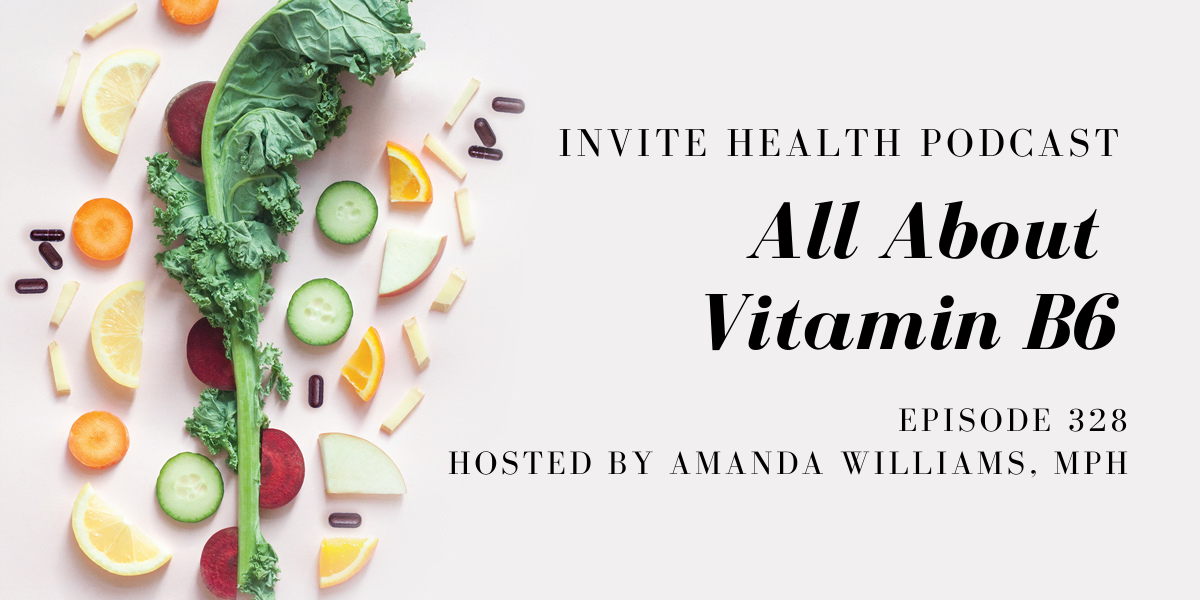 Vitamin B6

Invite Health Podcast, Episode hosted by Amanda Williams, MPH
Subscribe Today!
B vitamins play a really important role when it comes to supporting energy levels, metabolism, heart health, brain health and so many more systems that are crucial for the everyday functions of the human body. One specific B vitamin is often overlooked in terms of its overall importance and that is Vitamin B6.† 
B COMPLEX VITAMINS & YOUR BRAIN, PART 1 – INVITE HEALTH PODCAST, EPISODE 102. Listen Now>>
What is Vitamin B6?
We know Vitamin B6 as pyridoxine. This nutrient is incredibly important to so many different functions in our everyday life. Pyridoxine is required for more than 160 enzyme-driven reactions in the body and this can affect things from amino acid transformation to the synthesis and breakdown of different neurotransmitters. It can also impact cellular energy production, the immune system and methylation reactions in the body.† 

Getting enough pyridoxine
We usually obtain an adequate amount of Vitamin B6 when it comes to our food sources, including foods such as chicken and peanuts. However, many people are starting to show insufficient or deficient levels of this nutrient, often due to the Standard American Diet. Low levels of Vitamin B6 can be incredibly problematic when we think about all of the different health implications. Studies have linked low levels of pyridoxine to issues such as depression, anxiety, inflammation and more.†
Supplements can help to boost your blood levels of Vitamin B6. Additional studies have shown that supplementing with this nutrient can help support heart health and proper inflammatory responses. Research has also shown that pyridoxine can target harmful end products from glycation that can impact eye health, skin health, memory and more.†
BENFOTIAMINE: THE VITAMIN THAT SUPPORTS MEMORY – INVITE HEALTH PODCAST, EPISODE 270. Listen Now>>
In this episode, Amanda Williams, MPH discusses the importance of Vitamin B6, as well as how risky a deficiency in this nutrient may be. She shares several clinical studies demonstrating the many problems associated with pyridoxine deficiencies, as well as the potential benefits that may accompany supplementation.† 
Key Topics:
The importance of obtaining B vitamins

Foods that are rich in pyridoxine

The risks of B6 deficiency

Studies on Vitamin B6 supplementation
Thank you for tuning in to the Invite Health Podcast. You can find all of our episodes for free wherever you listen to podcasts or by visiting www.invitehealth.com/podcast. Make sure you subscribe and leave us a review! Follow us on Facebook, Twitter and Instagram at Invite Health today. We'll see you next time on another episode of the Invite Health Podcast.


---
---